The Best Hardware Tools For Any Kitchen
If you are fixing up your kitchen, then you will need new cabinet hardware to replace the old ones. However, there are a lot of things to buy for your kitchen cabinets. From knobs to hinges to organizers, there are many things you need to buy plus the number of different varieties of these items that exist in hardware stores makes it hard to figure out which ones to buy.
On the other hand, there are good lists out there that you can find around the internet. If you want to know the best hardware tools for your kitchen, then we advise you to stay and read this article.
In this article, we will go over 10 of the best home hardware for your cabinets and your sinks right here. We will tell you what their use is plus their benefits that will make your kitchen look brand new!

The 10 Best Kitchen Cabinet Hardware:
If you are looking to spruce up your kitchen cabinets, then you should invest in these ten products that we will be going over in this article. Like we mentioned in the last section, we will go over the most important information for your conveniences like what each of them does and their benefits. We will also provide a link to some of the best stores to find these products, ranging from our store to other ones. Without further ado, let us begin at number 10:
Number 10: Cabinet Knobs And Pulls

What They Are Used For?
Practically everyone uses a cabinet knob or pull. This part of the cabinet helps you open your cabinet so you can see what is inside. This is one of the most important parts of the cabinet because without it, how can you open it?
Benefits Of Cabinet Knobs And Pulls:
As we mentioned in what they are used for, knobs and pulls are on cabinets because they are what you use to open your cabinet. Having a sturdy knob and pull not only helps you open your cabinet, but also makes your kitchen look visually appealing.
Where Can I Buy The Best Knobs Or Pulls?
You can buy any knob or pull at any hardware store, however, the best store we suggest is hardware sources. At Hardware Source, they have tons of knobs or pulls for kitchen cabinets that come in different colors. You can also choose either raised or panel depending on what your cabinet style is.
Number 9: Concealed Hinges

What Are They Used For?
Hinges are another main principle for cabinets as they hold everything in place. Concealed hinges are similar to regular hinges, however, this type of hinge hides in a cabinet door, hence the name.
Benefits Of Concealed Hinges:
Unlike other hinges, concealed hinges give surfaces a more smooth appearance for the outer part of the cabinet.
Where Can I Buy The Best Concealed Hinges?
You can find the best hinges right at Venace! Our concealed hinges have a substantial effect on reducing noise. It also has great loading capacity and, to make the product strong for your cabinet, we also have double plating. Also, We focus on B2B customers, if you are a dealer or want to buy in bulk, just feel free to send us a quote.
Number 8: Drawer Slides

What Are They Used For?
If you need something that extends beyond your cabinet, then drawer slides are for you. Using a telescoping design, drawer slides are typically used if any countertops are overhanging that get in the way of any cabinet.
Benefits Of Drawer Slides:
Besides helping you access drawers that are blocked by countertops, they are also silent, flat enough so you can pull it out easily, and prevents you from tipping things that may cause damage to contents and making a mess on your floor.
Where Can I Buy The Best Drawer Slide?
We sell the best drawer slides for any cabinet. Made with the best materials and quickly produced, all products have a special quality control process because Venace believes that quality can keep our clients going on. If you are finding a good drawer slides supplier, come and talk with Venace. Our drawer slides as simple to install in your cabinet. Once you install the drawer slide, it will give you a not only extension but also silent sliding so you don't make too much noise and will last a lifetime.
Number 7: Gas Springs

What Are They Used For?
Also known as gas struts, gas springs are rod-like objects that are installed horizontally and are used for multiple things like doors, hatches, lids, and covers. They help support these things which will be mentioned in the next section.
Benefits Of Gas Springs:
Because they can be used for multiple applications in the kitchen, they support doors, hatches, lids, or covers by either lifting, positioning, or lowering them.
Where Can I Buy The Best Gas Spring?
If you want to purchase one pair or 2 pairs, we suggest you buy a gas spring from the website Suspa They have about five different types of gas springs to choose from that can be used for different appliances. Each has the same benefits like easy installation, designs that will last forever, etc. However, if you are a dealer, kitchen cabinet maker, or wholesaler, and want to buy in bulk or looking for a manufacturer of gas springs, Venace is your choice.
Number 6: Catches and Latches

What Are They Used For?
Catches and latches are a type of fitting that can be used for doors or cabinets. Both catches and latches keep doors closed. Both have different mechanics that separate them: catches are in the cabinet and uses different mechanics while a latch can be operated by simply pushing it or by using magnets.
The benefit of Catches And Latches:
Catches and latches are essential for any door or cabinet as it keeps it closed. Without a latch or catch, your cabinet door wouldn't be able to stay closed.
Where Can I Buy The Best Catches And Latches:
If you are looking for a new catch or latch for your cabinet door, there is a site where you can find the best. The website is called Van Dyke's Restorers. They have many designs in their library, from rustic-looking to victorian cottages. They also come in different metals and finishes, so you should look around their website to find the right one for you!
Number 5: Pull-Out Cabinet Organizer

What Are They Used For?
Organizing your items is crucial if you want your kitchen to look nice and if you want to find things more easily. This is where pull-out cabinet organizers come in! Not only are they pull-out, but they also help organize things in your refrigerator like condiments, cans, and other things.
The Benefit Of Pull-Out Cabinet Organizer:
The biggest benefit of this kitchen tool is that it organizes your things. This helps you find things quickly without having to rummage through your cabinets. It also makes your cabinets look better on the inside.
Where Can I Buy The Best Pull-Out Cabinet?
Want to organize your cabinet? We produce the best cabinet organizer that you can also pull out. We have about six different depths for you to choose from. The pull-out cabinet comes with storage space for your kitchen utensils like knives, whisks, spoons, etc. It is easy to install and is against rust and fingerprints. As a cabinet hardware supplier, Venace welcomes each type of B2B buyer from every country! We have clients over the world.
Number 4: Stainless Steel Sink

What Are They Used For?
Besides kitchen cabinets, sinks are also very popular in every kitchen. There are many types of sinks that you can buy, however, stainless steel sinks are one of the finest sinks you can buy. Sinks are used to putting dirty dishes or glasses and used to clean them.
The Benefit Of Stainless-Steel Sink:
As it is in the name, the steel sinks are stainless, meaning you don't have to worry about stains to clean. Other than the stainless part of these sinks, they are also inexpensive, are resistant to any chipping or cracking, and are heat-resistant.
Where Can You Buy A Stainless-Steel Sink?
The most popular hardware store Home Depot is a good option if you want to buy a steel sink. Their stainless steel sinks are different and have an assortment of bowls from single to double to triple. Check out Home Depot if you want to find a good stainless steel sink.
Number 3: Faucet

What Are They Used For?
Every sink comes with this essential part known as the faucet. When turned on, it sprouts out either hot or cold water.
The Benefit Of Faucets:
If you have a good working faucet, it will give you water whatever it is hot or cold. The best type of faucet is the hands-free faucet. It is easy to put in your kitchen and it reduces waste of water.
Where Can I Buy The Hands-Free Faucet?
The best company that sells these hands-free faucets is Bob Vila. They are motion-activated faucets that come in different styles. On their website, they go over in detail each of the faucets they have. If you want to know more about this type of faucet, we advise that you go check out their website for more information.
Number 2: Lazy Susan Basket

What Are They Used For?:
Lazy susans are a perfect tool if someone wants to distribute food more efficiently. They are mostly used for cabinets that are low or upper and they can also rotate. There are three different types of lazy Susans: D-shaped, rounded, and kidney-shaped.
The Benefit Of Lazy Susans:
Lazy Susans are great if you need to distribute food or just need to organize better in your fridge or cabinet. There are different types of lazy susans and if you do want to know more about this kitchen tool, then you should check out our article about lazy Susans after this article.
Where Can I Buy A Lazy Susan?
We will tell you that you can purchase lazy Susan corner organizer in bulk at Venace! You can use our lazy Susan if need space on your counters. Our lazy Susan also doesn't cause scratches and you can always adjust the height of it if it is too high. Also, We have D-shaped, rounded, and kidney-shaped.
Number 1: Pantry Shelving Organizer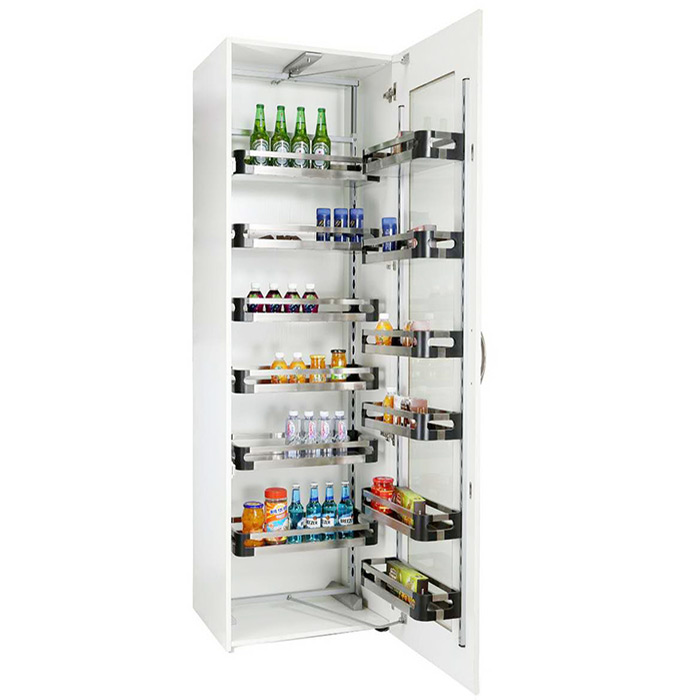 What Are They Used For?:
The last item we highly recommend is the pantry-shelving organizer. This tall organizer will help you tremendously if you need to get your items sorted out in your kitchen.
The Benefit Of Pantry-Shelving Organizer:
There are many benefits of the pantry-shelving organizer, but we will give you a little list of the most important ones.
It is stress-free due to the multiple storage spaces

You increase your organization when you install the pantry shelving organizing

Like other organization tools, we have on this list, finding an item that you need is easier due to the simple organization
Where Can I Buy A Pantry-Shelving Organizer?
You can wholesale this last item right here on Venace. We have an article dedicated to this last product if you want to know a little more about this type of storage space. Click Here to our blog post if you want to know more about this storage.
Those are all of the essential tools that you need for your kitchen. There are plenty of others that you can find, but these are the best we suggest for you.
Conclusion:
Making your kitchen look nice takes time and money, especially if you are looking for new and kitchen cabinet hardware ideas, improved products to replace the old ones. Finding the right ones take research, but finding lists like these will make your decision a lot of more quicker. We hope that this article helped you in finding the right kitchen utensil or organizer.