Are you considering adding more useful storage space in your home? Then you should have a big larder unit system. There are many benefits to installing a pull out larder unit in your kitchen. Here are a few of the best reasons for adding a larder unit system to where close to the food preparation areas.
♦ Increased Storage and Organization
One of the main benefits of installing a larder unit system/larder cupboard/pantry door shelving storage organizer is the increased storage and organization they provide. By installing Venace's big standing pull out larder unit in your kitchen, you will gain as much as 50% additional storage.
♦ Great Stress-free
Another great reason to install larder units is the stress it takes off the users. Many of Venace's terminal clients are baby boomers and seniors. Common ailments can make accessing items in their cabinets difficult.
With Venace's kitchen pull out series, the elderly get a more convenient kitchen and save their knees and backbones. People can put everything in their kitchen at their fingertips without having to bend, lift or twist.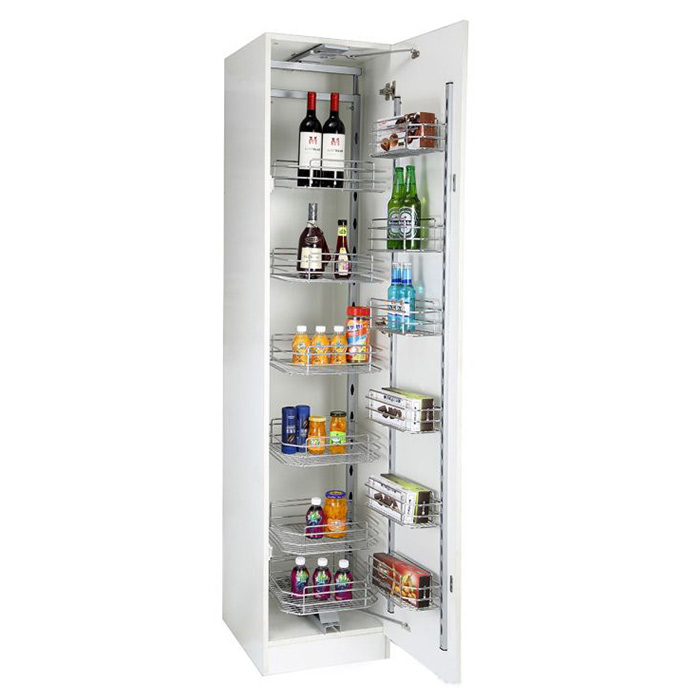 ♦ Clear Objects Assortment and Easy Access
Venace's pull out larder units come with another unique benefit. They each contain at least eight height adjustable baskets and can store all grocery items for a clear view. Only a gentle pull moves the entire contents out from either side at very fast access. They can be a perfect component of people's kitchen cabinets.
You can click here to learn more specifications of the Multi-tier Larder Unit Systems. Or you meet with one of our design consultants, you will receive a complete plan for every cabinet you want to have modified with pull out baskets.