What is Lazy Susan?
Imagine this scenario: you are working on polishing your kitchen and you are almost finished. You painted the walls, you installed a new floor, you got some new things to organize your things, it seems you are almost done with your room. However, you need something to organize your essentials easier.
This is where lazy susans come in! Have you ever heard of lazy susan cabinet hardware or lazy susan parts? This kitchen tool helps you organize your kitchen by providing storage space for your items. If you want to know more about lazy Susan's, then we advise you to stay as we tell you the essential information about this type of storage space. We will go over what lazy susans are including which ones you should check out.
Definition of lazy susan
Lazy Susan is a type of turntable that is typically in a circular or tray shape. They can rotate and are mostly used as a way to distribute food more efficiently at the dinner table. They can be used for both lower and upper cabinets.
There are three different types that we will tell you about in the next section.
What Are The Three Different Types?
There are three types of lazy Susans you can get at the store. The three types include:
D-Shaped

Round

Kidney Shaped (a little different with Pie-cut)
We will break down each of these and what their design looks like.
D-Shaped Designs: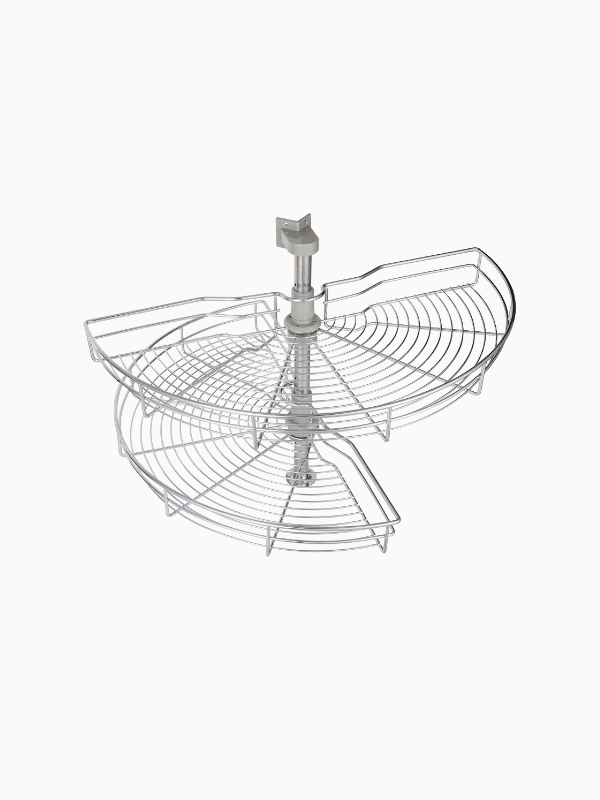 D-shaped lazy Susan hardware is used for wall cabinets in refrigerators and pantries. There are two different designs on each side. On one side, it is flat while the other side is round. The reason for the two different designs is because it allows the pantry door to close easily when it goes against the D-shape.
Round Shaped: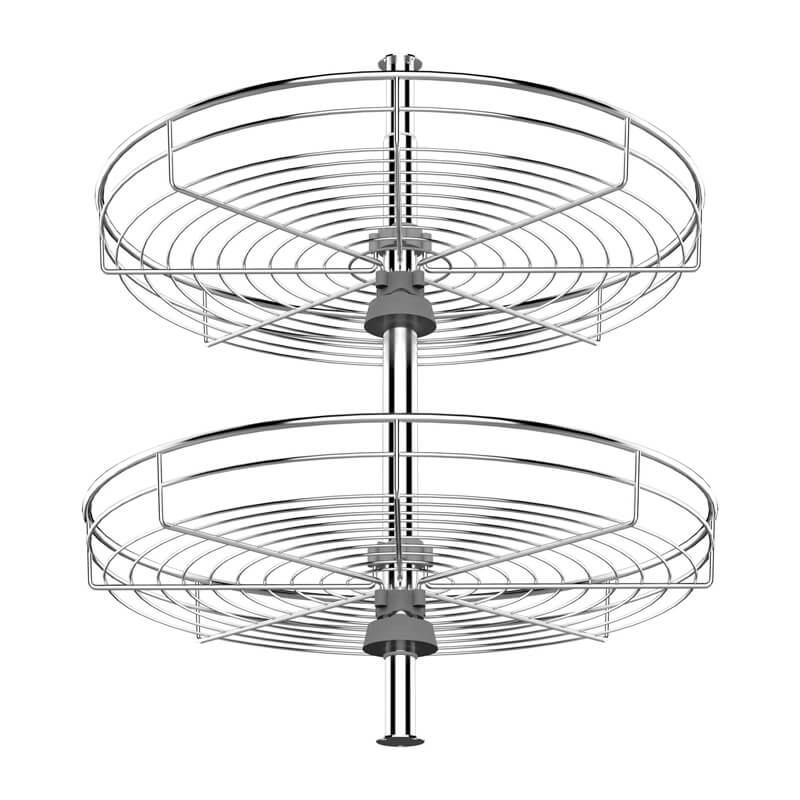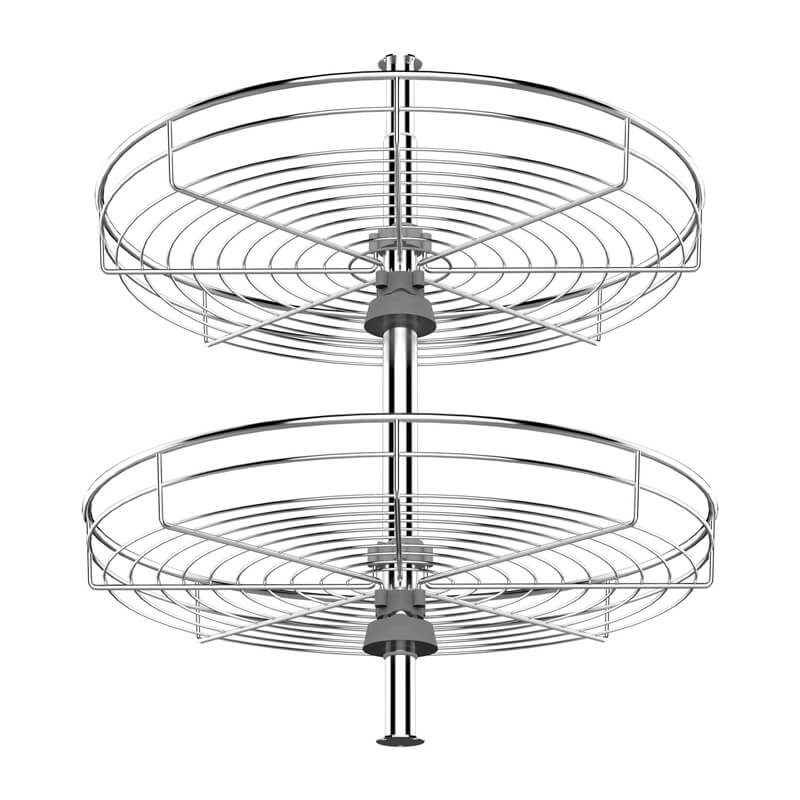 The most common type out of the three, the round-shaped lazy susan turntable has multiple purposes for the kitchen as it can be used for base cabinets, counters, or tables.
Kidney-Shaped: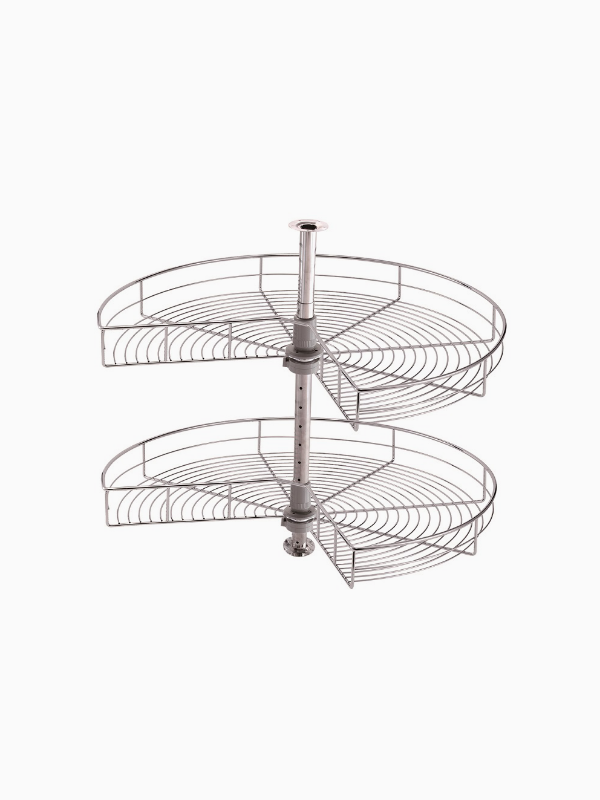 The last design of the lazy Susan turntable we would like to tell you about is the kidney-shaped lazy Susan's. Kidney-shaped Susans are shaped almost like a pizza with a piece missing. Kidney-shaped Susans are used for doors due to the cutout. This helps with doors that have a 90-degree corner in the cabinet.
Now that you know the three basic ones you can buy, why should you go for a Susan? Here are some reasons why you should buy one that will be mentioned in the next section.
Why Should You Consider Buying One?
There are multiple reasons why you should buy a lazy Susan cabinet hardware for your house which we will list in this section:
If you need a better storage solution for your kitchen. They make accessibility a lot easier. Additionally, they can also be used for any type of cabinet you may have in your house.

They come in different types like the ones we mentioned in the last section. It depends on what you are looking for and what your cabinets are like.

Other than the three we mentioned, there is also a glide-around, a type of Susan that goes a full 360 degrees. They also include drawers that can extend out that is located in the middle of the glide-around and other spaces on the sides.
With these three reasons alone, it is a great option to buy a lazy Susan cabinet hardware. Now that you know the background about what they are and the different types, let us go over the five of the best lazy susan replacement parts you can buy.

5 Of The Best You Can Buy:
If you are interested in buying this type of kitchen accessory, then it is important to know which ones you should buy. Here we will give you five of the best including the links to the product if you want to buy this product:
There are plenty of other lazy Susan parts you can buy, but these top five are the best according to us. If you want to find any more information about these products, leave your ideal for us.
Conclusion:
If you need something to organize your kitchen, then it is great to get lazy Susan parts! They are great storage solutions for spices, condiments, and other things in your kitchen. We suggest you buy one of the five that we recommend, but always look for one that will be suitable for your needs. Get organized today with the lazy susan replacement parts!