Kitchen Hardware and Storage Solution
Kitchen Hardware Classification
Sort kitchen storage products from high to low in the kitchen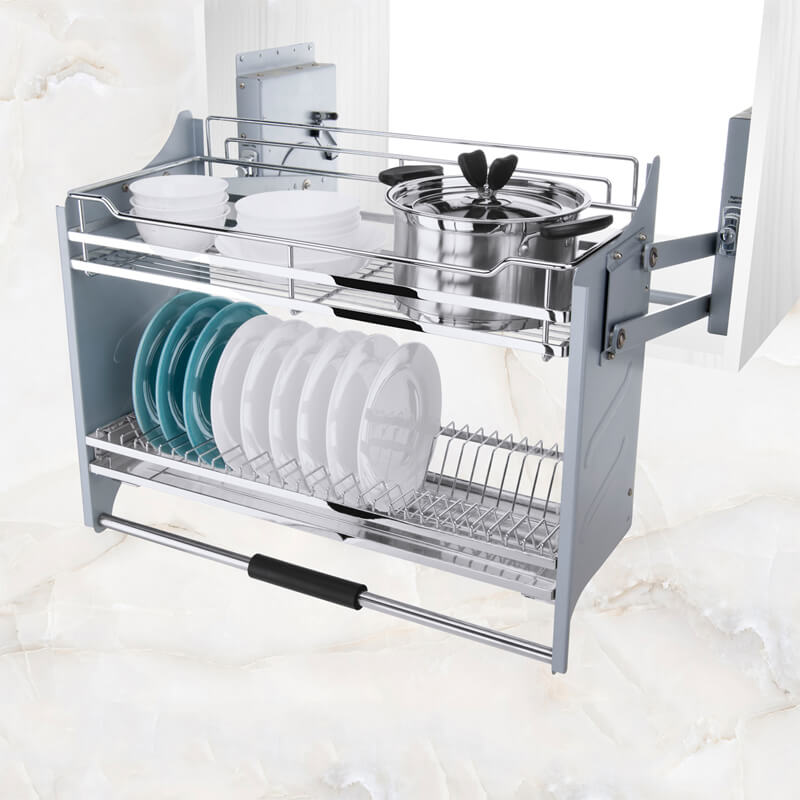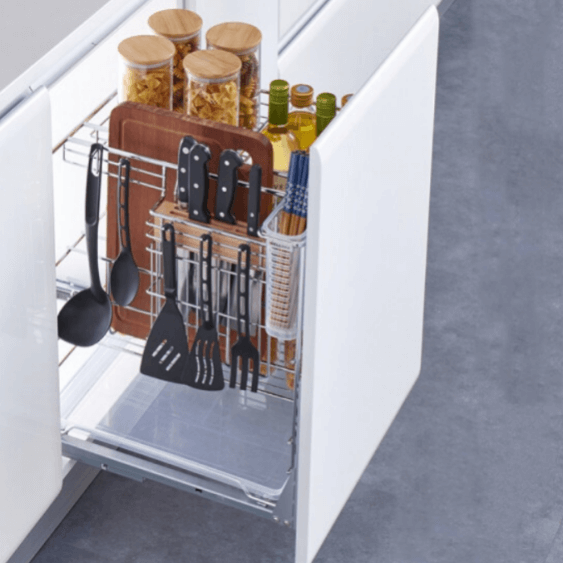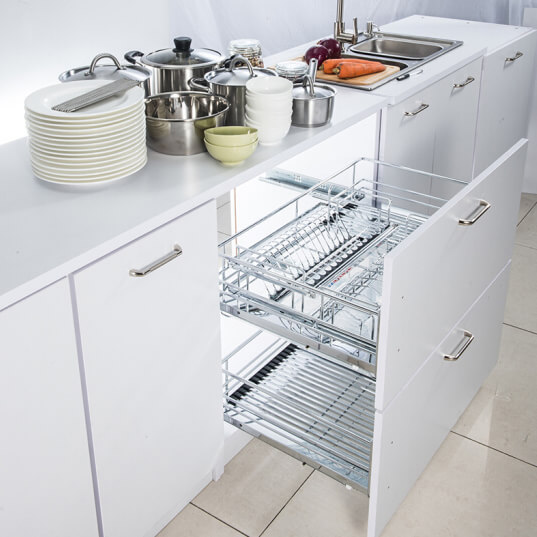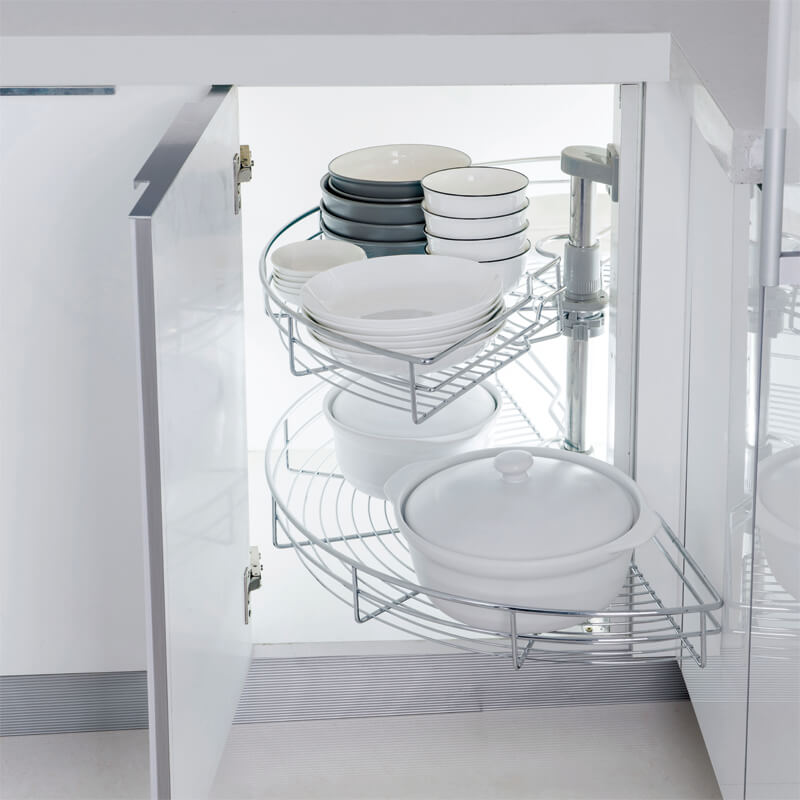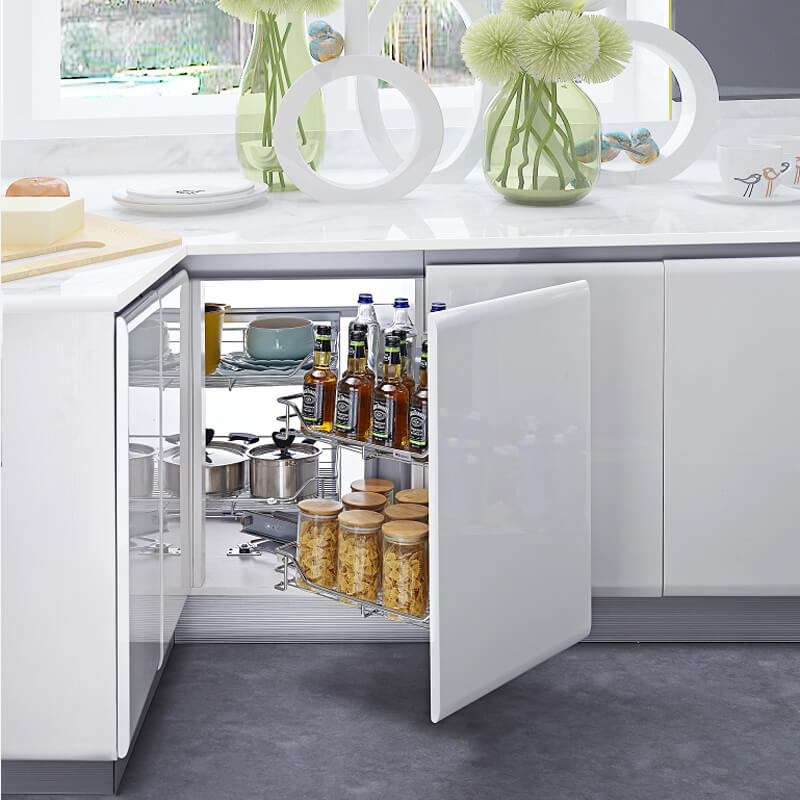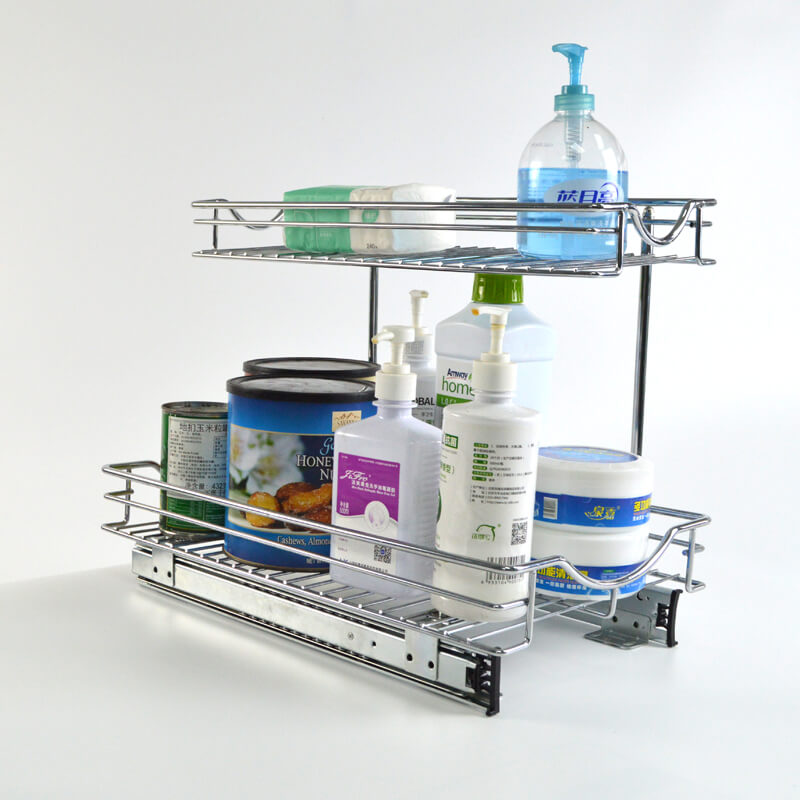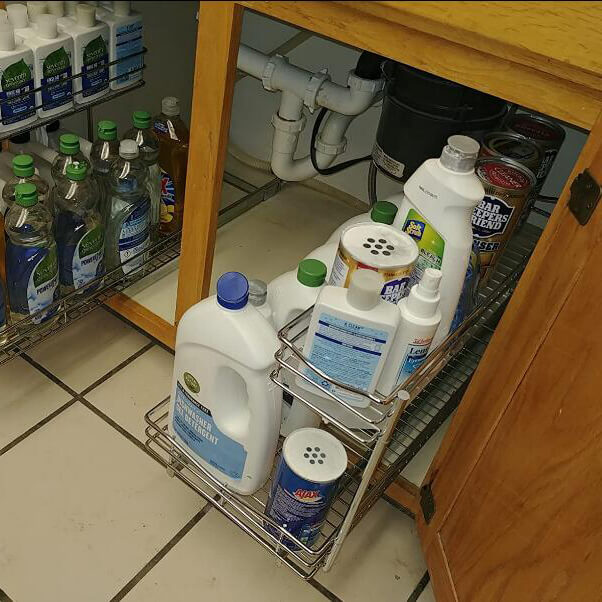 Wall cabinet storage:
Kitchen countertops are generally at a high distance from the ceiling. People usually install some wall cabinets in this distance, but some wall cabinets are too high to access tableware at all. The pull-down shelf designed by Venace allows people to make full use of the wall cabinet space. You can easily access the kitchen supplies in the higher cabinet. Another wall cabinet storage product is the dish rack, enabling people to store and pick the dishes. It is also very convenient for use.
Countertop storage:
The kitchen countertop is the place you touch most frequently during you use the kitchen. At this time, all the kitchen utensils placed on the countertop must be in order, which will help you increase efficiency and passion when working in the kitchen. The dish rack on the sink is the most common kitchen hardware. It is convenient for people to put the washed dishes and tableware, at the same time, it can help drain the water, and can even put commonly used knives or tools. In addition, there are some common small organizers for spices storage.
Kitchen cabinet storage:
The cabinet here refers to the cabinet under the kitchen countertop. The most common storage tool is a drawer pull-out basket or cabinet pull-out basket.
Convenient to access, these kitchen storage baskets are to sort and store kitchen supplies in order. You can use these Venace pull-out baskets to store kitchenware, condiments, utensils, knives, and other items. Making most of the storage solution will help you design your kitchen as a professional chef.
Kitchen cabinet corner storage:
The most troublesome thing in the kitchen is the blind corner. It is inconvenient to access after storing the kitchen supplies. If space is not used, the kitchen space is wasted. Therefore, the special kitchen hardware – blind corner organizers come in handy at this time to help corner kitchen cabinet storage. The main two corner kitchen cabinet storage solutions. They are a lazy susan cabinet organizer and magic corner.
Among them, lazy susan is divided into 180°(D-shaped), 270°(Kidney), 360°(Full-circle) different types, and magic corner is divided into magic corner I and magic corner II.
Other kitchen corner storage products include 2 Tier Swing Tray Pull Out Organizer, Pivot Out Wood Trays, Half Moon Corner Organizer Pull Out.
Under kitchen sink storage:
Because the cabinets under kitchen sink have different things in every home, and the storage space is also irregular, it is hard to install square racks in this area. Under kitchen sink organizer can make good use of this storage space. And it is designed to slide out, which is very convenient for access. This under kitchen sink storage solution will help you full use the space under the sink and also help you easily get the things store there. One thing to notice is that the humidity and poor airtightness make it more suitable to store groceries such as cleaning items. Do not store food-related items in such a place.
Other storage:
1. Kitchen pantry unit; 2. Kitchen wall hangers; 3. Kitchen cart; 4. Kitchen pull out trash bin (kitchen storage bin);
1. Robot Welding Process;
Nowadays, most production and manufacturing use machine automation, and the manual assembly line production mode is gradually replaced. Machine welding is used to make the solder joints more beautiful and smooth, durable, and not easy to desolder. The use of machine welding can not only improve production efficiency but also increase the yield rate. This is one of the reasons why Venace can deliver kitchen hardwares to customers on time and obtain customer satisfaction.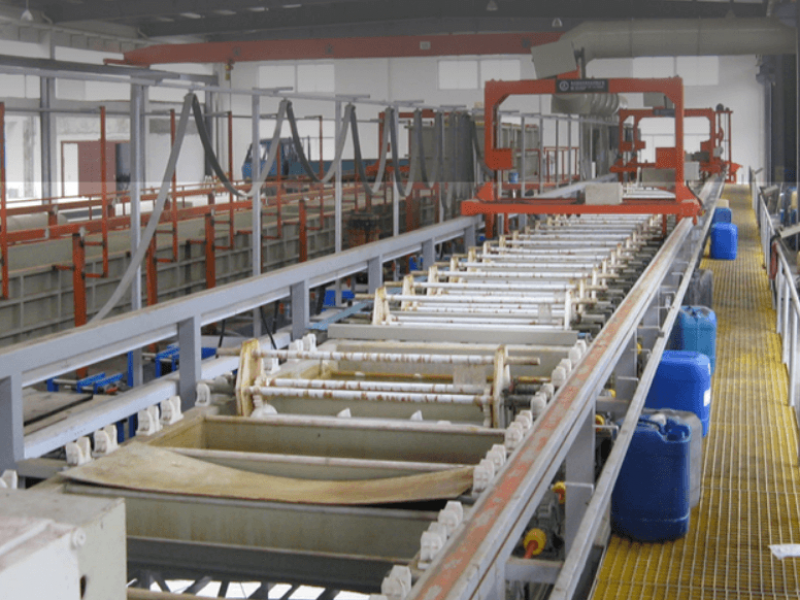 2. Cyanide-free Environmental Protection Plating;
Venace's electroplating plant is well-known in the industry. High-level electroplating technology is one of our core strengths. Venace not only manufactures high-quality products and improves people's lives, but also contributes to the protection of the ecological environment and sustainable development. Venace adopts its non-cyanide environmentally friendly electroplating process, no toxic substances are precipitated, and it does not pollute tableware, food, and other items. At the same time, the products have good corrosion resistance and prevent rust.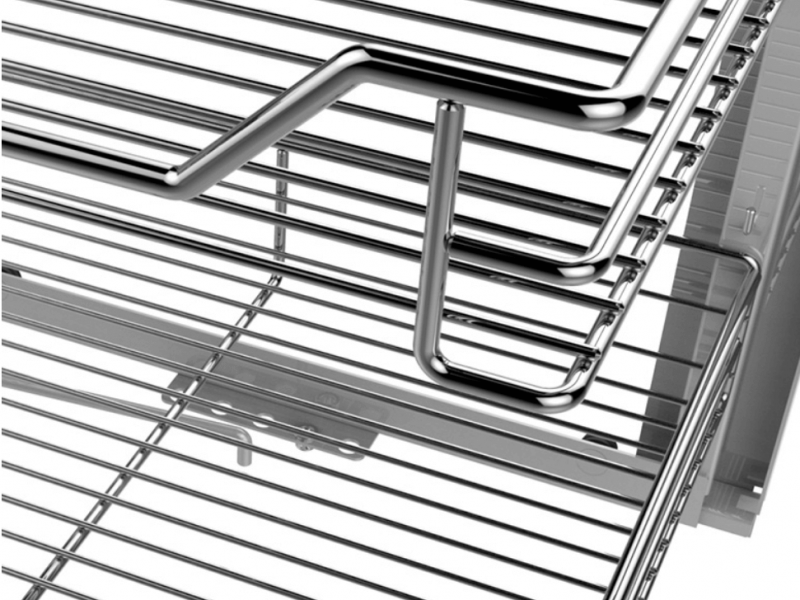 3. Exquisite Design, Beautiful Appearance, and Easy to Use;
Every product manufactured by Venace is inspired by the R&D team from numerous user needs and market research. After the design team has carried out the appearance design and has undergone countless revisions, each Venace kitchen hardware has its design concept. Venace's concept is "better life better price," which aims to make users comfortable and convenient to use and to help users improve the overall aesthetics and quality of life of their kitchens.