Best Kitchen Accessories to Make Cooking Easier
Kitchens should be built differently than other areas of your home since they are a useful space that is being used often. Cooking that is both smart and simple necessitates the use of the appropriate tools. Let's take a look at some kitchen accessories which can help make cooking easy.
1. Some storage tools
Kitchen storage tools can help you optimize the storage space of your kitchen, let you store kitchen supplies neatly, you can save a lot of time when using them and clearly know their roles and locations.
Non-food storage
Modular kitchen basket-Thali Basket- plate stand for modular kitchen- It is one of the modular kitchen accessories which keeps the dinner and quarter plates in their proper places. The plates are easy to grasp and place in because of their upright posture. It also keeps the plates from clattering and cracking together if they aren't made of steel.
Cutlery Tray- As a result, this fitting guarantees that all of the spoons (for cooking and eating) are properly organized. It's also useful for sorting knives and other objects such as sieves. Whenever you organize your spoons into slots, you can quickly find the proper spoon when you need it.
Kitchen wire basket – Small bowls, platters, as well as other miscellaneous utensils are commonly stored in this area. It provides a place to store items that are frequently used when cooking or serving.
Corner Carousel/ Lehman's Corner- Without the carousel accessory, the shelf at the far end of the kitchen corner is merely space. As a result, the shelves on a rotating stand help you to make the most of this area by improving access. The carousel addition is more expensive as compared to its equivalents, given how

important its purpose is and how unusual its positioning is.
Food Storage
Vertical drawer- This vertical drawer with 2 steel shelves is ideal for storing tall bottles or large spice jars. As a result, putting them in a provide you to readily identify them.
Pull-out Pantry– The pantry-pullout item is meant to hold all of your kitchen's groceries. You can simply pull out the shelves to get everything you want from the cabinet. This improves access which may be hampered by the cabinets' significant depth.
Kitchen cabinet baskets made of wicker- Several households stock up on dry veggies like onions and potatoes, which are stored in wicker baskets. These are simple to clean, so you wouldn't have to be concerned regarding the residues that these vegetables leave behind.
2. Some cooking tools

Non-stick frying pan
Because eggs and pancakes are finest cooked on a non-stick surface, every home uses a non-stick pan for morning duty. It's also a multi-purpose pan that may be used to roast meats, sauté veggies, and make sauces.
When you need to prepare something with liquids, like boiling pasta and veggies or simmering sauces as well as beans, a saucepan is ideal. A 4-quart saucepan is easy to operate and handle, and it's ideal for cooking for one or four people.
Stockpot
You would like a 12-quart stockpot on hand for larger amounts of soups, and pasta. Its foundation ensures even heating, ensuring that your soups are cooked evenly.
Sheet pans
Roasting vegetables, toasting nuts, baking meats, and, of course, baking cookies may all be done in these pans.
3. Some cutting tools
Knives
When you're trying to cook, you'll need a knife. Get a chef's knife when you only have space and money for one knife. You'll be using this knife for 90% of your meal prep,
so invest in a good one and take good care of it.
Peeler
When stocking your kitchen with the essentials, make sure you have a good, sharp peeler on hand to remove vegetable peels, shaved cheese, and veggie ribbons.
Cutting board
Having a cutting board is essential since it gives you an excellent grip and will safeguard your fingers throughout all of your prep work.
4. Some Cleaning Holder/Accessories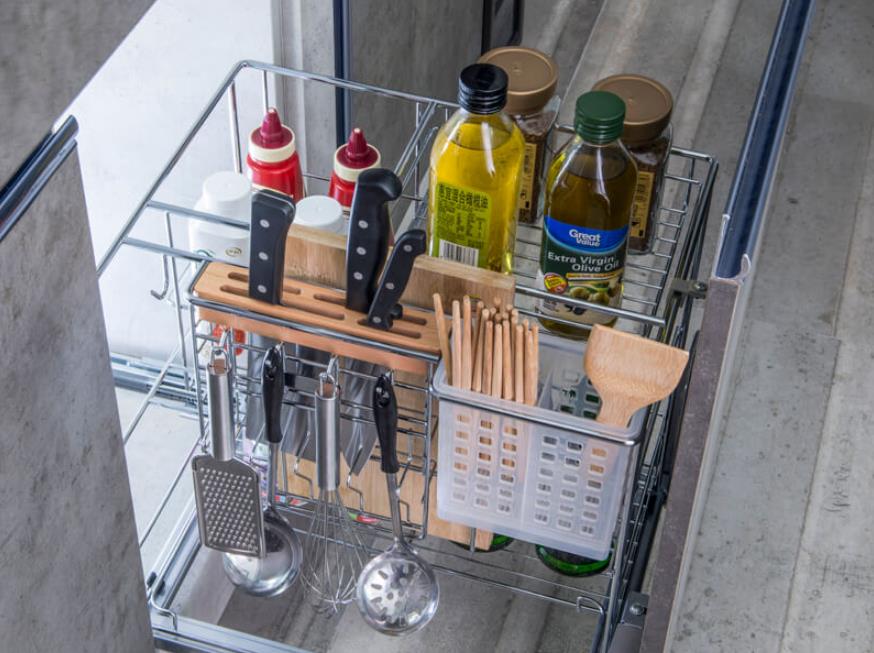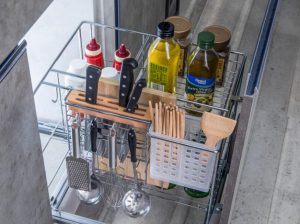 Pull-out/Holder for Detergent
This addition is ideal for storing cleaning supplies such as detergents, phenyl, dishwashing soap, and some other cleaning products in one convenient location. Additional scrubs or cleaning brushes could be stored here as well.
Holder of a bin
Simply described, it is a holder into which the rubbish bin can be inserted. It ensures that your trash can is shoved into the cabinets rather than being seen from the exterior of your kitchen.
Organizer for Drawers
This item serves the same purpose as the detergent pull-out. It's simply easier to be used as it's in a drawer rather than a cabinet. Also, if you want to store up on cleaning goods, this provides more space.
Pull-out from the wall
This item serves the same purpose as the detergent pull-out plus drawer organizer. It is, nonetheless, easily accessible due to its placement on the upper shelves. It's also designed for kitchens with limited cleaning supplies.
5. Miscellaneous accessories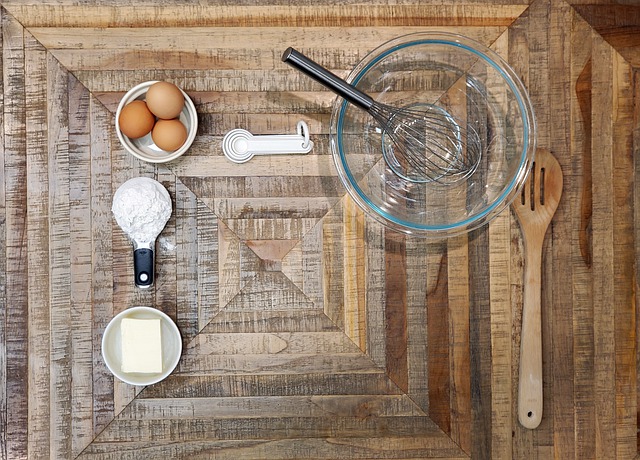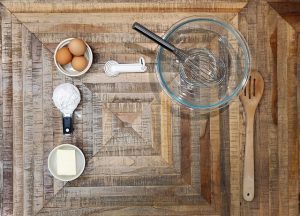 Measuring spoons
Even if you prefer to "eyeball" items, having a pair of measuring spoons on hand will come in helpful when you need accurate measurements. They can also be used as little spoons to scoop spices plus dried herbs!
Measuring cups
Measuring cups are essential for bakers, but they're also useful in regular cookery. For weighing dried ingredients and little amounts of liquid, always have a four-piece set on hand.
Wooden spoons
Wooden spoons are gentle on your cooking surfaces and will last a lifetime. Don't place them within the dishwasher, though! Select a set with a range of wooden spoons, such as this 6-piece set, so you may use it for several culinary methods.
Whisk
While forks and chopsticks are useful for emulsifying materials like vinegar and oils, a whisk is better and more efficient.
Can opener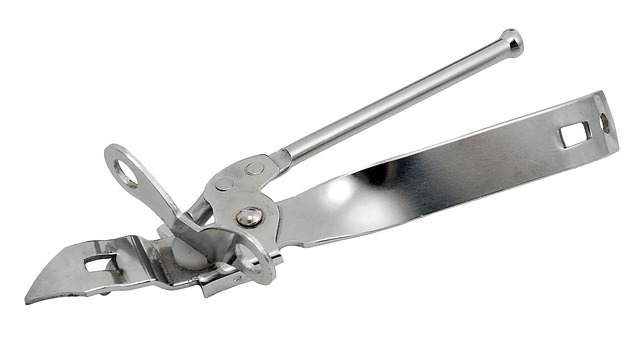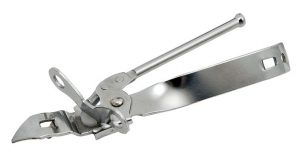 Canned beans and veggies are fantastic pantry mainstays for quick cooking, but a lot of other products come in cans that require a can opener, such as curry paste, coconut milk, crushed tomatoes, fruits, and so on.
Bowls of all sizes
Every kitchen should have a set of prep bowls to keep all of your items organized. You'll save a lot of room and also have the comfort of coverings that can lock off ingredients that aren't quite ready to cook yet if you acquire collapsible prep bowls. Glass prep bowls, on the other hand, can be used as serving dishes!
Conclusion
A kitchen, unlike a living room, isn't only about picking colors and finishes. As a result, getting the correct storage units is only the beginning. Furthermore, the accessories for modular kitchens are just as significant as the cabinets or countertops in the design phase.