The Galley
Are you planning on redoing your kitchen all over or want to find a good layout for this part of the house? There are many ways and styles to set up your kitchen. It all depends on what you want your kitchen to look like and where you want everything to be. There is one particular style that can be perfect for your kitchen: a galley kitchen style!
You might be pondering to yourself: what is a galley kitchen? How can I design my kitchen this way? For these questions, we will be glad to answer them right here! We will answer the essential questions like what a galley kitchen is, why you should go with this style, and how you can design the kitchen.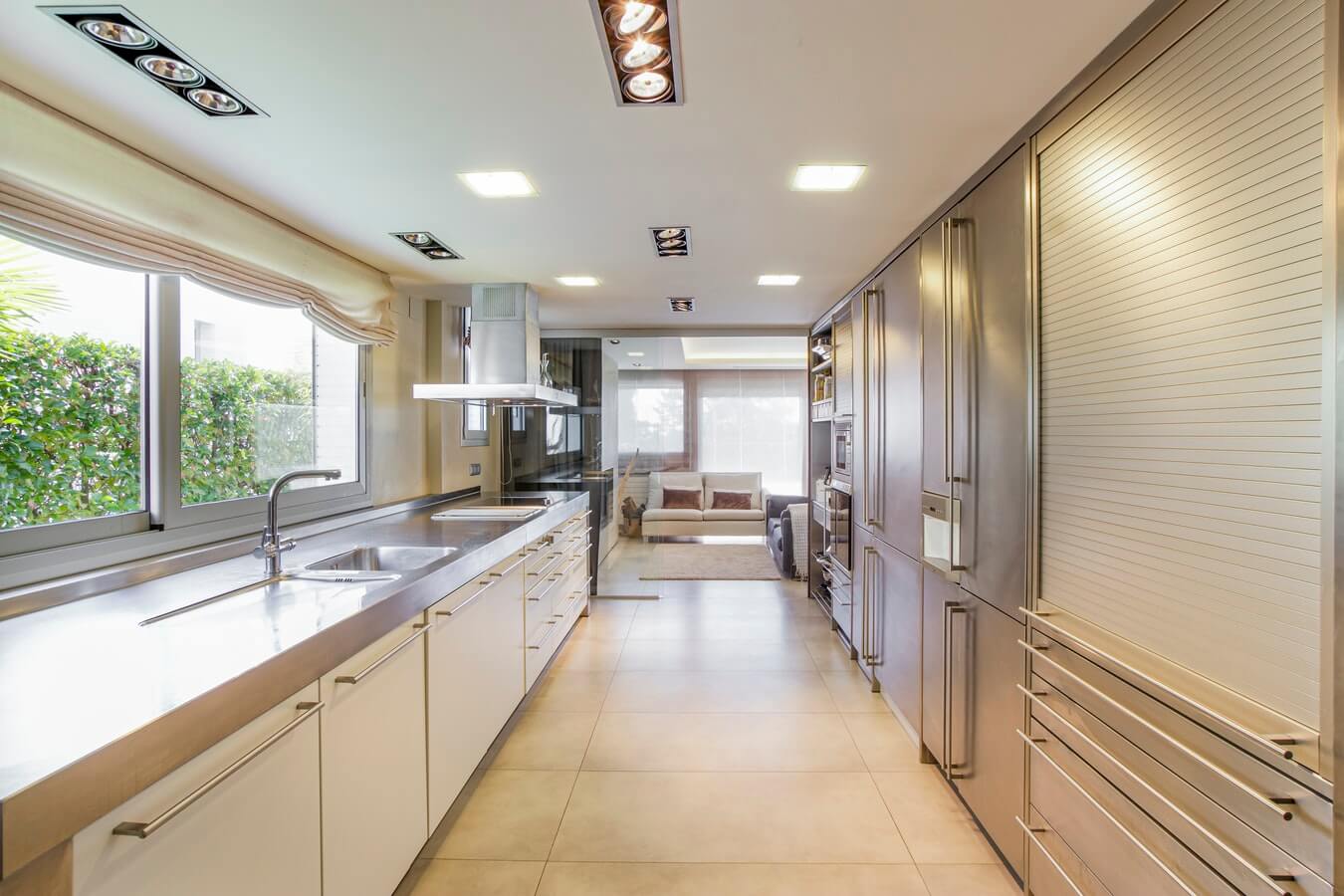 What Is A Galley Kitchen?
Let us start with the obvious question: what exactly is this style of kitchen? A galley kitchen is a style of kitchen that is described as being narrow. Along being the narrowest form of a kitchen, it is lined with storage spaces for cabinets among the bases and walls, counters, and other things. Among the countertops, they have other kitchen utensils like fridges, sinks, cabinets, and other items.
Galley Kitchens can also be called a corridor kitchen due to its small size. Galley kitchens have benefits compared to the other kitchen-style counterparts.
Why Get A Galley Kitchen?
There are a few reasons why getting a galley kitchen is better than other kitchens. We will list the reasons right here:
Benefits Of This Type Of Kitchen
Since they are smaller in size compared to other styles, they are cheaper to install or re-do.
These types of kitchens give you more space in your house.
All of the main sources your kitchen uses such as water, electrical, and gas are all located in the kitchen
To add to the first benefit, the floor space is less, therefore, you don't need to spend too much on flooring
Among other benefits. Despite some of these benefits, there are some disadvantages this style of kitchen. Following are some of the disadvantages:
Disadvantages Of This Type Of Kitchen
Because of its small size, it can feel claustrophobic, so if you don't want a space that feels cramped, then it is best to avoid this type of kitchen.
Also, you can't have too many people in the kitchen, so it is best to have one person do the cooking or otherwise it's going to feel even more cramped.
If you are selling the house, you might have problems because people tend to not prefer this style of kitchen.
Your appliances will have to be standard size in order to fit in this type of kitchen.
With that being said, this type of kitchen is only good if are looking for a style that is small or inexpensive. Now that we discussed the benefits and the disadvantages, we want to give you tips and design ideas that you should try as suggested by Country Living and Forbes.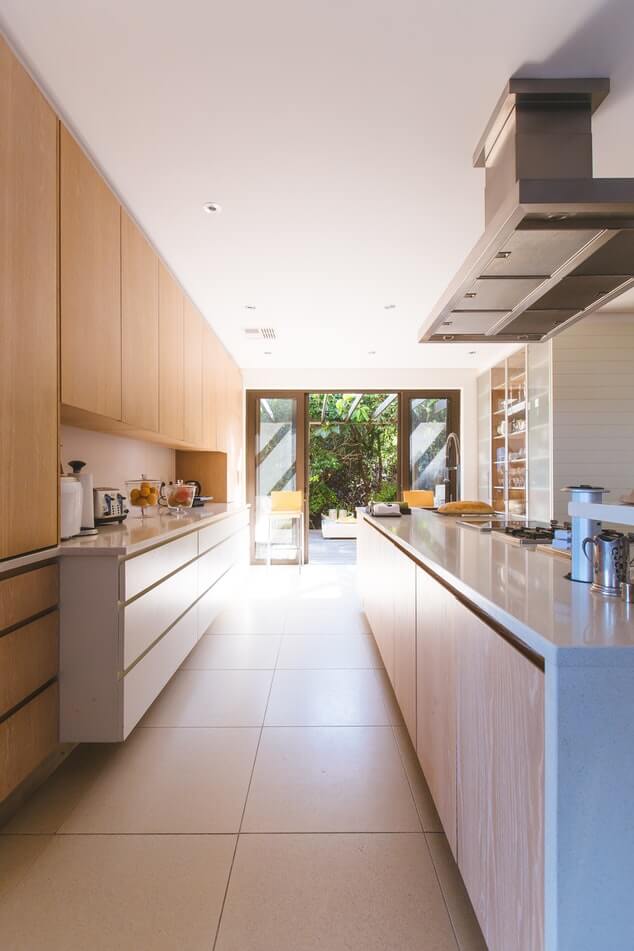 The Best Tips For Starting A Galley Kitchen:
There are plenty of tips on how to start a galley kitchen, but we want to give you the most important ones. These tips are provided by Forbes and we will only give about five out of the ten they have on their site. If you are curious to learn more about these tips or want to read on.
Let us start with the number one tip.
Number 1: Figure Out How You Want To Set Up Your Kitchen
The most important step to take if you want to have this type of kitchen in your house is to figure out how you want to look. This type of kitchen works with both small or medium-sized spaces, but you want to watch the opposing sides. You don't these sides to be too far apart from each other.
It is also important to note that this type of kitchen is enclosed that doesn't come with a dining area, so keep that in mind when you are designing your kitchen.
Number 2: Choose Symmetrical or Asymmetrical
Along with step number one, you also want to determine what you want your kitchen to look like. Galley kitchens can look two ways: symmetrical or asymmetrical. For most of these kitchens, people choose symmetrically due to making the length long and that you can put your appliances in different places and that you can arrange them whatever you like.
On the other hand, you can also go asymmetrical where you can opt-out with two different approaches. One approach you can try is that one side of the kitchen has tall cabinets and tall appliances while the other side has the base and wall units or you can try a mix between the two for both sides as the other approach. Go with one that fits your kitchen.
Number 3: Work With The Space You Have
Since this type of kitchen is typically narrow, you need to work with the space that you have. You should also go by how many people you have living in your household. If you are a parent with small children or have pets, be aware that they don't charge through the kitchen, especially if you are cooking.
Despite this, there are ways to make your kitchen safe. As long as you plan carefully on where the sink and cooktop are on the same side, then you don't have to worry about your children or pets getting in the way.
Number 4: Add The Close Wall
Once you plan out what you want your kitchen to look like, you should add more to the closed wall. You can put different items at the end of this wall like a chalkboard, a painting, to-do lists, or a stool so you can write your shopping list.
Number 5: Make Your Kitchen Look Nice
The last tip we will advise you to do is to make your kitchen look inviting. The important thing that every kitchen needs is furniture that has pale colors since they can reflect colors along with doors and drawers without handles. Another thing to consider is the lighting. The lighting must be placed in a good spot as this will soften your overall look in your kitchen.
These are just some tips that Forbes has that we feel are key to having a good-looking galley kitchen. As we said above, there are five more tips that you can follow if you want to have this type of kitchen, so please read the other tips. The last thing we will talk about is three of the best styles according to Country Living.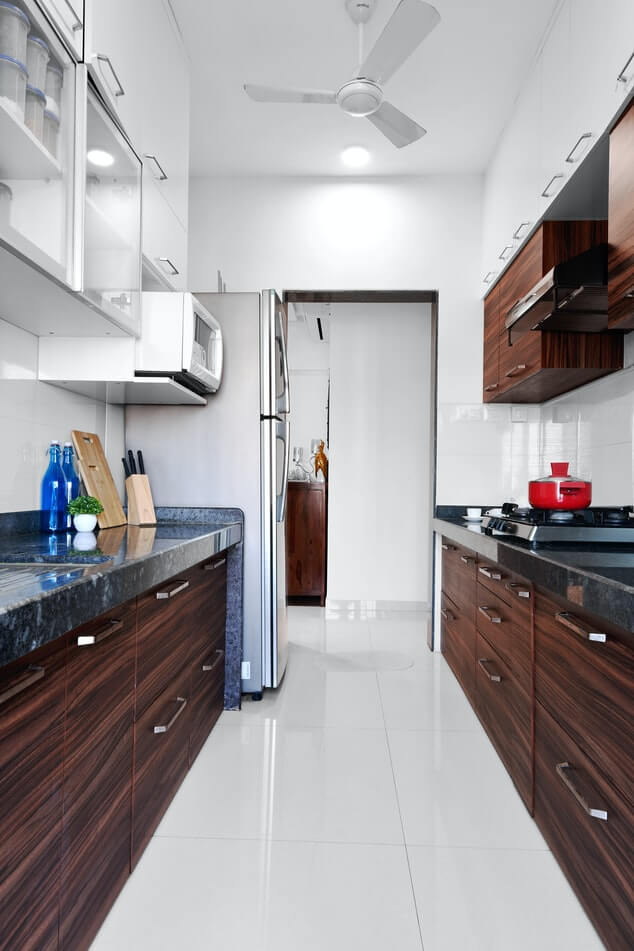 3 Best Styles Of Kitchen For You:
On the Country Living article, there are about fifteen different ways to choose from for this type of kitchen. We will give you three of the best including the link to Country Living if you want to find a different one from the ones we mentioned.
Style #1: Cool-Style Californian
Want a style that is a galley kitchen but also has a little more space for you? Look no further than the cool-style Californian! This style of kitchen requires work that you can simply do yourself. The things you have to make yourself include the cabinets and drawers that you will also have to spray paint. With this style, you are going to expand the space. You are also going to buy the following things for your kitchen like Cedar & Moss lighting, Cabinet Hardware from Lewis Dowlin, among other things.
Style #2: A Melancholy-Looking Kitchen
You might think that this type of kitchen only goes for lighter colors, but believe it or not, it can work for darker shades as well. With this type of kitchen, your cabinets are going to be shaded with darker grey while your countertops and tile are going to be black. If you want to go with a more moody style for your kitchen, then you should follow on Semi-Handmade if you want to try out this style.
Style #3: A White-Wood Kitchen
The last style we would like to mention is the white-wood kitchen. A lot of kitchens use wood as it is aesthetically pleasing. What makes it even better is the white walls that will accompany the kitchen. If you want to have a wintry feel to your kitchen, then you should read here at Westelm.
These are three out of the fifteen that are mentioned on Country Living. If you are not satisfied with the choices mentioned here, then please take a look at the Country Living article or anywhere else online. Country Living lists out different styles.
Conclusion:
Having a galley kitchen in your house is perfect if you want a room that inexpensive and easy to re-do when it is time. You don't need any big company to help you with redoing your kitchen. Plus, there are plenty of styles to choose from, so look for one that meets your standards!