How to Design A Kitchen
Designing the perfect kitchen for your home or for your hotel is an exciting task but it can be a stressful one.
There is so much to think about if you really want to get it right the first time.
Not only does space need to look beautiful but you'll also need to think about what essential elements need to be a part of it as well as how everything should be laid out so it can be as practical as possible.
So, with a lot to think about, we want to walk you through how you should go about designing your kitchen the right way…

Figure out the elements you want in your kitchen
Analyze what you currently have in your kitchen now, and try to think about what you need in your new kitchen.
Subtract what you no longer need and add what you think you might.
Even before you go see your kitchen planner.
Go off into your kitchen, with a bit of paper and a pen, and just take note of what there and what isn't.
Ask people around you what they think should be part of your kitchen too, as a way for you to avoid overlooking something.
You're looking to determine whether you need things like:
Additional kitchen cabinets

If you want a kitchen island

In built microwave
These are all things that you MIGHT want in your home.
Get brainstorming!
Think about your ideal layout
It's great to have everything you need in a kitchen, but you'll also want to make sure the layout is right too.
Think about:
How the kitchen might be used? The kitchen should be perfectly designed to enable whoever is using it to cook the food they want.
Are you looking for an open-plan space? Focus on the working part of the kitchen, as suggested above, but then consider if you want to have an open plan so you can incorporate something like a dining table into the space.
The working triangle kitchen rule – To better plan the space, use the design concept of the working triangle. Imagine three points are the fridge, sink, and the cooker with imaginary lines between these 3 forming a triangle shape. You'll want these three points near enough so meal preparation can be efficient but not so close where these 3 individual areas feel restricted.
Start to draw up a detailed floor plan
Now that you know what elements you want to include as well as how things should be laid out, it's time to make a detailed floor plan of your brand new kitchen.
Ideally, you'll want to ask a kitchen company or an architect to help you with this, but if you're on a budget then you're going to have to use some graph paper and do it yourself.
Mark up a floor plan – Mark the exact location of internal and external features like doors and windows, so you can correctly understand the flow of your kitchen to scale.
You'll need to create zoning if you want to have an open-plan kitchen.
Plot out the cabinets and the appliances – the best way to do this is to get another piece of paper and make cut-outs of to-scale appliances and cabinets; though if you're not feeling too artsy, then get a pencil and just draw them out instead.
Though make sure you have an eraser on hand!
Once you have everything mapped out, you will now have an idea of the space you've got to work with.
Giving you the ability to make adjustments where you see fit; adding things to be more efficient or taking away things so you can stay on budget.
It's time to choose the materials
Next, you'll want to figure out the visual appeal of the whole place; this means you need to begin thinking about kitchen units, the sort of finishes you want and everything else that might be a part of the finished product.
Of course, this area of designing your kitchen depends heavily on your budget; but you should always invest in the best possible kitchen quality you can.
Not only will it add value to your home, but it will mean that your kitchen will last longer too.
Here are some materials which you could use for your kitchen space.
We're not saying you should use them, but we just want to provide a few so we can get those cogs turning in your head so you can begin to find out what you might want to use in your own kitchen:
Hardwood – Best and most hard-wearing material you could possibly choose for your kitchen
Fibreboard – usually quite inexpensive but is very long-lasting and can give you the minimalist look you're after
Plywood – A good choice if you're on a budget since its slightly cheaper than solid wood
Choose a color scheme that works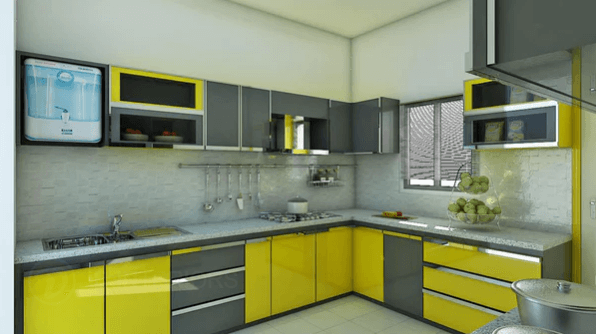 Let's talk about the color scheme.
Perhaps you'll have a kitchen that is beautifully efficient and modernized but if it doesn't look visually appealing then it almost has no business being a part of your home in the first place.
For this reason, you'll want to carefully consider what sort of color scheme you're going to choose so that you can be sure that the kitchen is going to feel like it's meant to be part of your home.
The obvious choices are things like whites, creams, and pale greys; a great option if you want to use your kitchen as a backdrop so that you can then add other colors and design pieces that will allow you to show off your personality.
Doing something like this will also mean that you'll have a kitchen which won't really age.
So in the future, if you wanted to, you can switch out the design piece you've added for something else if you want to go with a totally new look.
Don't forget about lighting!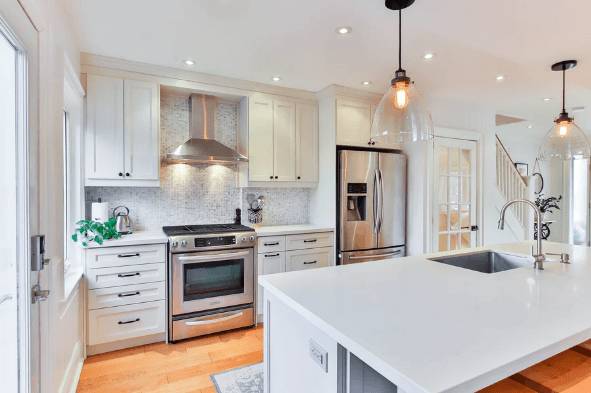 Lastly, don't forget about lighting!
You'll seriously notice how well your lighting choices hold up when it gets to those cold winter months where natural light is lacking.
Ambient lights need to be good enough so you can see what you're doing with sharp knives but also not too bright to the point where it makes your kitchen look a little odd.
It's all about finding the right balance when it comes to lighting in your kitchen.