Understand The Evolution of Kitchen Designs.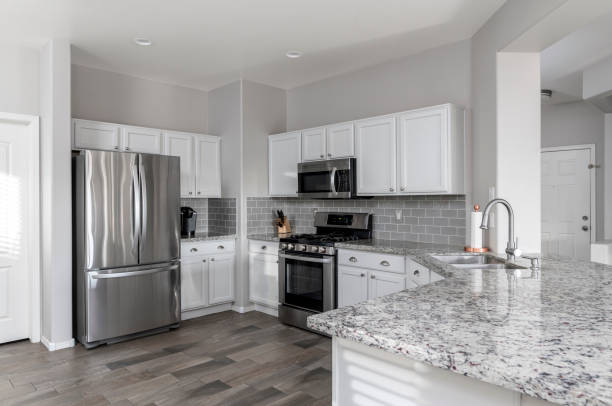 We've gone a long way in terms of cooking and kitchen design. Modern kitchens are very different from early kitchens because of advancements in electricity, water pipes, and other materials. Today's modern kitchen has so many features and equipment that previous generations could never have imagined. If you go back in time to the beginning of the kitchen, you can see what kind of luxury we have now.
Kitchens are open to the public.
Peasants, in reality, did not have their kitchens during the Middle Ages. Only the privileged or wealthy had their kitchen, usually with a cook, and utilized public kitchens. It's a fascinating universe that's so far off from our current way of living. Cooking was primarily done over an open fire, which was a much longer and more complex operation than we are accustomed to nowadays. Fires were used to stay warm and cook, and the cuisine was straightforward. However, even our earliest ancestors enjoyed eating a meal with others, and it has always been regarded as a social occasion, even in the early days of humanity.
The iron stove was introduced as technology advanced.
Instead of an open fire, these stoves were enclosed, making cooking more efficient. By the late nineteenth century, gas cooking had become considerably more prevalent. Cities began to develop pipes, sewers, and other forms of infrastructure, making life a little easier and ensuring a continuous and stable gas flow. However, kitchens were still far from modern, and the cooking area was frequently used as a bathroom or sleeping room.
Kitchen of a middle-class household
The kitchen was frequently utilized as the main family room by the middle classes, while the upper classes used it solely as a kitchen and usually allowed the space to be controlled totally by cooks and maids. All of the modern conveniences we take for granted, such as running water and sinks, power to boil a kettle or light a room, were not once so readily available. People had to carry pots or jugs of water a considerable distance in the early days.
Uses in the kitchen
In today's world, we use the kitchen for more than just making food. It is a gathering spot for friends and family to spend time together and consume cuisine. Our modern kitchens reflect our personalities, and there is still a definite class distinction, albeit less pronounced than in the past. Kitchens at people's homes with a lot of money, such as celebrities or wealthy business people, are usually significant. However, with modern designs, fitted kitchens, and a wide choice of options, most homes today have gorgeous kitchens and kitchen renovation. Also, good kitchen storage has undoubtedly taken off in recent years.
Design of a kitchen
We can now create almost any kitchen we desire because there are many different designs and layouts, accessories and appliances to choose from. If you have the space, open plan kitchens are becoming increasingly fashionable. Modern equipment, as well as a wide range of colours and items, make it much easier to create the kitchen of your dreams.
Kitchens have evolved in the same way that fashion has.
Modern kitchen designs 50 years ago were very different from what we see today, thanks to the advancement of technology. Many influences came from Europe, particularly Italy, France, and Germany. Some individuals want to communicate with their kitchens by using bright colours or unusual appliances and furnishings. Others want a minimalist look and feel, while others favour classic or conventional styles.
Kitchen designs that are one of a kind
If you are looking for a kitchen for sale or unique kitchen ideas, a peek over the ages and the journey we have taken may inspire you. Planning a modern kitchen with all the bells and whistles may be a lot of fun, and we are undoubtedly privileged in these modern times with many comforts and gadgets that make using the kitchen a joy and much easier to use. Understanding where we've been and where we're going in kitchen usage is important because it offers us a deeper understanding of a room that the kitchen isn't just for making food but also for social and interaction space.
Ideas for Modern Kitchen Design
While many ostensibly modern kitchens are deeply based in history or have some nostalgic reference point, true contemporary style is always original.
To be effective, this highly personalized approach takes a great deal of expertise and experience, as well as, of course, unwavering confidence. These kitchen interiors are severe and demanding, with no clutter or unnecessary adornment. Rooms are significantly redesigned if necessary to produce the right proportion, shape, and suitable quality of light: ceilings are raised, windows are altered, and doors from suitable kitchen hardware are shifted from one wall to another.
Solve traditional difficulties.
It would be best to devise novel solutions to traditional problems, as compromise has no place in this context. Colour is employed loudly and dramatically, while textures and surfaces are chosen for maximum impact. Everything is precise; every detail is flawless, and each piece of equipment has its own meticulously planned location. Furniture is typically manufactured to order, whether it is made of natural or synthetic materials.
Style of contemporary kitchen design.
The contemporary kitchen design style appeals to those who appreciate clear, clean, and open spaces and those who define comfort as a setting that makes them feel relaxed and serene. If the modern style has any resemblance to the past, its minimalism is most likely inspired by Zen philosophy, which seeks to produce quiet and simplicity.
We are using the services of an architect or designer.
Hiring an architect or designer to assist you in creating a one-of-a-kind kitchen may be a very effective collaboration; the more you participate in the process, the more likely it is to represent your personality rather than be a display for someone else's style.
Contractors and construction experts
Before deciding, most contractors and building specialists recommend that any homeowner obtain at least three to five estimates. In most cases, this indicates that the homeowner has already developed a budget and discussed it with the designer. Once a decision has been made, it is critical to ensure that a schedule is produced and that the chosen design firm will adhere to the specified timeline. Many high-quality kitchen design professionals collaborate with a team of contractors and subcontractors to ensure that the work runs smoothly and fits the client's specifications. If you can find a business that gives a point of contact or a contractor, you will avoid many common issues with practically any big home project.