Types of Lazy Susans for Cabinets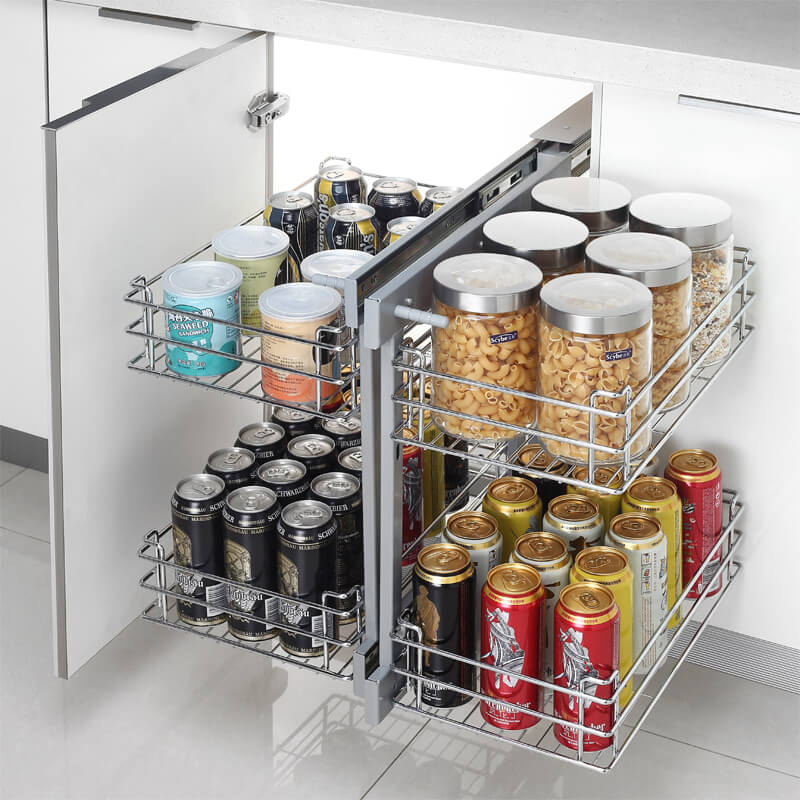 With the best quality and unwavering endurance, the Lazy Susan collection is considered the most comprehensive in the market. Lazy susans have a variety of purposes in the home these days. The most common being in cabinets to aid in maximizing access to stored products. You'll find useful knowledge about the major types and shapes of lazy susan cabinet doors in the sections below.
Styles and applications of the lazy susan
Kitchen cabinets with lazy Susans can improve productivity by providing easy-access space in a difficult-to-access corner cabinet.
If the kitchen is lacking in space, a Lazy Susan cabinet door may be the answer. You can put this handy spinning tray layout in almost every cupboard, and many homeowners like to utilize a corner cupboard for a kitchen cabinet, which is often underused or ineffective without a design.
Following are mentioned some types of lazy susan sizes for your kitchen:
Kidney Shaped
Kidney-shaped design is smooth, round, and triangular. Because they're built for the 90-degree angles present in several kitchen cupboards, these kinds of Susans are the most common. Since its 32-inch circle is the widest Susan that can go into a regular 24-inch-deep cabinet, it's a big plus. Shorter kidney-shaped lazy susan, like the 18-inch-diameter one that goes in a 12-inch-deep top corner cabinet, are accessible. The cupboard doors are connected with a specific cupboard hinge that allows them to slide open, allowing access to the equipment.
Full Round
Full round kinds are revolving, circular racks that complement standard-sized cabinets with a diagonal edge instead of a 90-degree side. However, there's many smaller versions available for top corner cupboards.
Pie Cut
Lazy Susans featuring a pie shape are contrasted with those with a kidney design, as mentioned above. The basic structure is similar, but the pie cut shelves feature a square within the corner, allowing the cabinetry to join without alteration and create a precise 90* angle. The doors should be constructed as inset panels because they are connected to the rotating lazy susan cabinet door and must revolve into the cupboard opening.
D Shaped
D Shaped types feature a flat side and are comparable to complete circular lazy susans. They operate well in both normal and corner cupboards, and in some cases, they save space. Since this flat side enables a cupboard door to shut completely over the Susan, such Susans are meant for wall cupboards, generally above freezers and pantries. D-shaped types with three to five revolving shelves are common.
Half-moon
This type of lazy susan has a half-moon form! They're a great option for blind corner cupboards because the shelf pivots and pulls out, allowing easy access to contents.
half-Moon ones are usually door mounted. A half-circle form of the Susan lets it go through the cupboard door, allowing you to move or rotate this out for shelf reach. This is a simple method to utilize the difficult-to-reach area in a sharp bend.
Lazy susan shades and elements
Polymer Susans come in two colors: white and almond. A wheat-colored one is no longer available. It was a lot richer brown than the almond color you have now. If you'd like a new wheat-colored shelf, purchase two almond-colored shelves and replace them. Wheat or almond aren't a good mix, and wheat color has been out of production for a long time.
Wood
Because of its rich, tactile appeal and remarkable ability to fit the wooden surfaces of cabinets, these lazy susans are becoming increasingly popular.
Most wood Susans are made of birch wood, or wooden pieces bonded together to prevent warping. The cabinet edges are covered with similar plywood, about 1 inch in height, once the parts are joined together. This prevents goods from slipping off the rack while it rotates.
Polymer
The most prevalent form of lazy susan composition is a molded polymer. Ribbing for durability and a textured top for a non-skid advantage are common features of polymer Susans. Such shelves are cost-effective, long-lasting, and easy to clean. They are typically offered in two colors: white or almond.
Wire
Wire Susans are made of strong gauge, soldered metal and have their origins in European architecture. For a crisp, contemporary aesthetic, every wire is coated in metal and coated in epoxy-coated lacquer after it has been assembled. As a result, these types of Susans are ideal for cabinets with a more contemporary appearance.
Lady susan cabinet
When choosing a lazy susan, look at the cabinet style and practicality. Because it's impossible to say whether substance or function goes first, the great way to maximize an immediate purchase is to know the different functions so you will be confident with the type you choose has the characteristics you want.
It's difficult to overlook the materials utilised to construct the cabinet. Lazy Susan can be made out of a variety of materials. Wooden, polymer, or wire are the popular materials.
It's important to remember that each type has its own set of characteristics. Every Lazy Susan substance has its own set of advantages and disadvantages. Take some time to consider what you expect to gain from a wooden or a polymer Lazy Susan cabinet before you purchase one.
Blind corner system
Corner cabinets usually have plenty of capacity, but if you have got super-long hands or know how to use a grabber tool, you're wasting a large space in the deeper cabinet levels. Pullout racks in a corner arrangement are triggered when the door opens or a button is pushed, bringing the shelving closer to you.
The first step is to figure out what size cabinet you'll need. Evaluate the door area within the face panel from bottom to top to determine the minimum width. Take notice of the height of the facial frame from head to toe.
Installation advice
Here are a few pointers to aid you along the path:
Ensure the gun's battery is recharged at all times. There's nothing more frustrating than running from battery amid a job.
When you begin the job, double-check that you get all of the necessary tools. Various setups may necessitate different sets.

If you don't have a screw gun, you can use a screw driver with a bit of oil will suffice.

Each lazy susan package will be different. Ensure you have all you need by reading the instructions that came with the kit.