Types of Drawer Slides and How to Choose the Correct One
Drawer slides are the main attachments that allow a drawer or shelf to move. It can be in vertical or horizontal directions.
The thing, though, is that drawer slides do not work as a one-size-fits-all accessory. Instead, there are various types of drawer slides. These will mainly depend on the slide's structure and purpose. Meaning, you can't just use whatever is available.
It can be hard to do individual research on every slide type. This is why in this article, we have listed the 7 main types of drawer slides that you should know. You can use this as a reference for your own drawers.
Wooden
Wooden drawer slides are probably one of the most durable ones. This is most especially if you avail of a hardwood slide. This comes as a group of wood strips attached horizontally to a cabinet's face.
One of the best things about this slide type is it assures easy opening and closing. This is also easier to set up since you won't need to work with mechanical systems nor metal hardware. Hence, expect that aside from being durable, this is also a cost-efficient option.
Roller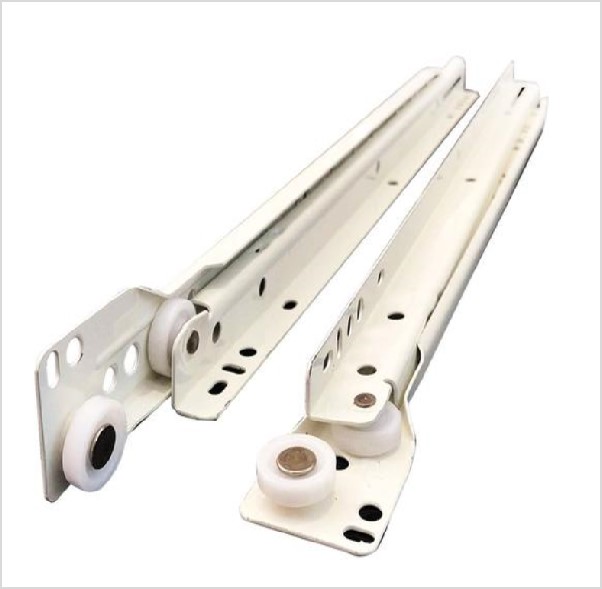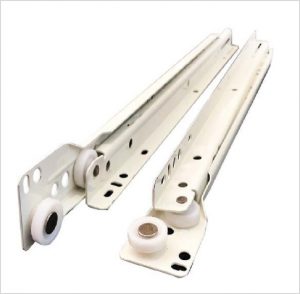 Roller slides mainly work through the combination of two components. These are the cabinet member and drawer member. Each of the parts comes with a roller. From the name, this slide uses rollers to move the drawer horizontally.
If you want a stable horizontal motion, then you should go for this slide type. It also allows full expansion, which makes it an ideal storage space.
Self-Closing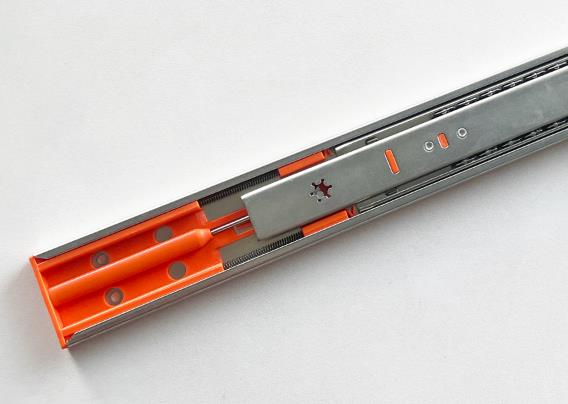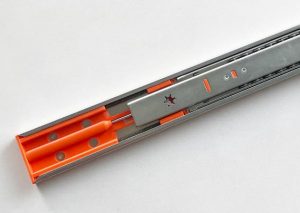 Self-closing slides use undermounts to automatically close/lock themselves after use. This makes it one of the most convenient choices for slides. Usually, self-closing slides allow upward-downward and forward-backward motions.
This slide type is silent-moving, full-extending, and smooth-running. Though a little pricier than others, this is a worthy investment. Basically, buying this means availing of an almost invisible drawer slide.
Push-to-Open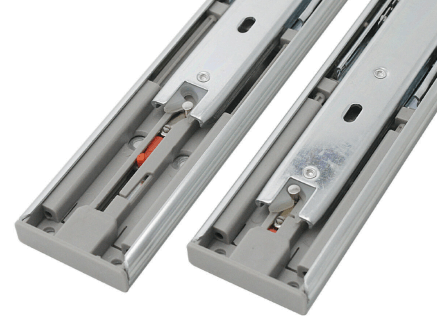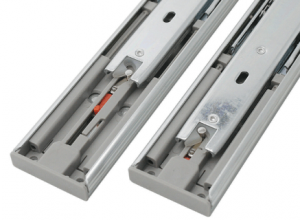 Push-to-open slides require a manual action (push) before one can open the drawer. This won't need handles and assures an easy open system. At the same time, you won't have to hassle yourself with having to exert a lot of effort in opening a drawer.
Drawers with push-to-open slides rarely get stuck. If you want a more modern function for your shelves and drawers, then this is a good choice.
Soft-Close
Soft-close drawer slides are almost the same as self-closing ones. This, however, solely focuses on minimizing the noise that comes with opening and closing a drawer. Thus, you can also expect less impact on your cabinet's hinges and overall structure.
These drawer slide types assure a lengthy use. Not only can you save money from constant slide replacement, but you won't also need to endure repairs on your cabinets.
Ball-Bearing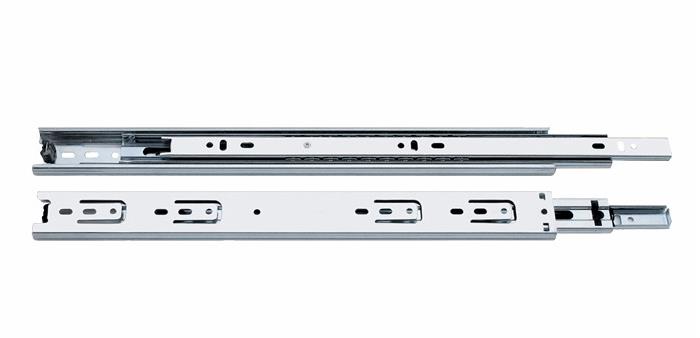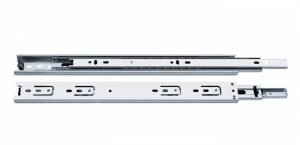 Moving on, ball-bearing drawer slides work just like a roller slide. You can also get the same benefits that you will get from a roller slide. For instance, you can expect stable horizontal movements and vast expansion.
The only difference is that instead of rollers, this uses ball bearers. This is also more compatible with industrial use because of its heavy-duty versions.
Center Mount
Center mount drawer slides come in a single lightweight mount attached to the cabinet's very center. This is one of the easiest to install. If you plan on using the slide for a drawer that won't need to hold a lot, then center mounts are the best choice.
One disadvantage, though, is the slide's incompatibility with large and heavy-duty drawers. In addition, because of its central structure, it can only handle a limited weight load. Thus, using it for those can lead to broken and non-functional slides.
How to Choose the Right Drawer Slide for Your Space
Here are some tips that you can do when choosing the right drawer slide:
Consider Essential Drawer-Related Factors
The most crucial thing to consider is the condition of the cabinet that you will be working with. To be specific, here are some of the factors that you need to take into account:
Mount Type

Slide Length

Slide Extension

Motion Type

Weight Load

Cabinet Type
You may need to take a close look at your cabinet and its drawers for this. This can get a little time-consuming, but it will ensure the perfect fit for your needs.
Take Your Interior Design into Account
If you're very particular with your interior design, you should also set the same standards with the drawer slide. You can choose anything if you're not going for a specific look. However, if you're building a theme, you may need to consider each slide type's color and finishes.
Set Your Preferred Budget
Keep in mind that the types of drawer slides cost differently. Hence, you should first set a budget before starting the project. In this way, you can have the best value for your money without having to worry about getting short on budget.
Look Into High-Quality Drawer Slides
Your task does not end once you find the right type of drawer slide. You still need to ensure the quality of the specific product that you will get. This is where its durability and slide movement will depend on.
The tasks above will surely bring you to the right type of drawer slide. But, all in all, it will boil down to your needs and preferences. If you want (and if it's possible), you can also combine two kinds of drawer slides.
If you need a bit of more accurate advice, we recommend working with experts in the field. You can also ask your local carpenter.
Summary
All in all, here are the most common drawer slides:
Wooden

Roller

Self-Closing

Push-to-Open

Soft-Close

Ball-Bearing

Center Mount
Each of these has different movement systems, and of course, purpose. Hence, it's just right that you consider several factors before installing one. These can include the type of cabinet you're working with, the slide's possible obstacles, and the drawer's dimensions.
For best results, you should consider working with an expert on this matter. You can work on it alone, but make sure that you have the right skills.
Most importantly, you should ensure that you will be getting high-quality types of drawer slides.