A Guide to Choose the Best Kitchen Countertop
As a famous Chinese saying goes, hunger breeds discontentment. A clean and comfortable kitchen means a lot for high-quality lives for every family. People always spend a lot of time designing their kitchen, including decoration, countertop, cabinets, cookers, etc. Since we need to cook and keep things on the kitchen countertop almost every day, choosing a beautiful and durable countertop is crucial. Various materials with different performances will bring diverse experiences. Therefore, when we select our kitchen countertop, we need to figure out our needs and master the purchase skills in order to buy the desired product. The most common and popular materials we use today include granite, marble, quartz, wood, etc. What is the difference between them? How should we buy a cost-effective countertop? This article will briefly introduce you to 8 types of kitchen countertop materials and some tips for selecting the most suitable one.

Eight Common Types of Kitchen Countertop Materials
1. Solid Surface Countertops
Solid surface countertops, made of solid synthetic materials, are widely used in the modern kitchen and bathroom. This type of countertop has premium quality, lower prices, multiple styles, making it the first choice for many families. There are many benefits to choosing a solid surface countertop. It is solid and durable, non-porous, and stain, and bacteria-resistant. The seamless appearance makes it easy to clean and low maintenance. Even if the countertop gets scratched, the damage can be easily rubbed off.
However, the solid surface is relatively soft and can be easily scratched by knives or sharp utensils. You need to be extra careful during use. At the same time, the countertop is not as heat-resistant as stone and quartz countertops and is susceptible to damage from hot pots and pans.
2. Granite Countertops
Unlike man-made materials, granite countertops are made of purely natural stone. As one of the most common countertop materials, granite is extremely hard and durable. Heat and scratch-resistant, it is difficult to break, scratch and chip. Also, the unique texture makes the granite countertop a great choice to add beauty to your kitchen.
However, poorly sealed granite may stain easily and can harbor bacteria. If you choose to buy a granite countertop, careful care is required. Also, this type of countertop is not suitable for DIY and is prone to cracks or chips if installed incorrectly or when heavy objects are dropped in the corners. The price of a granite countertop is also relatively expensive.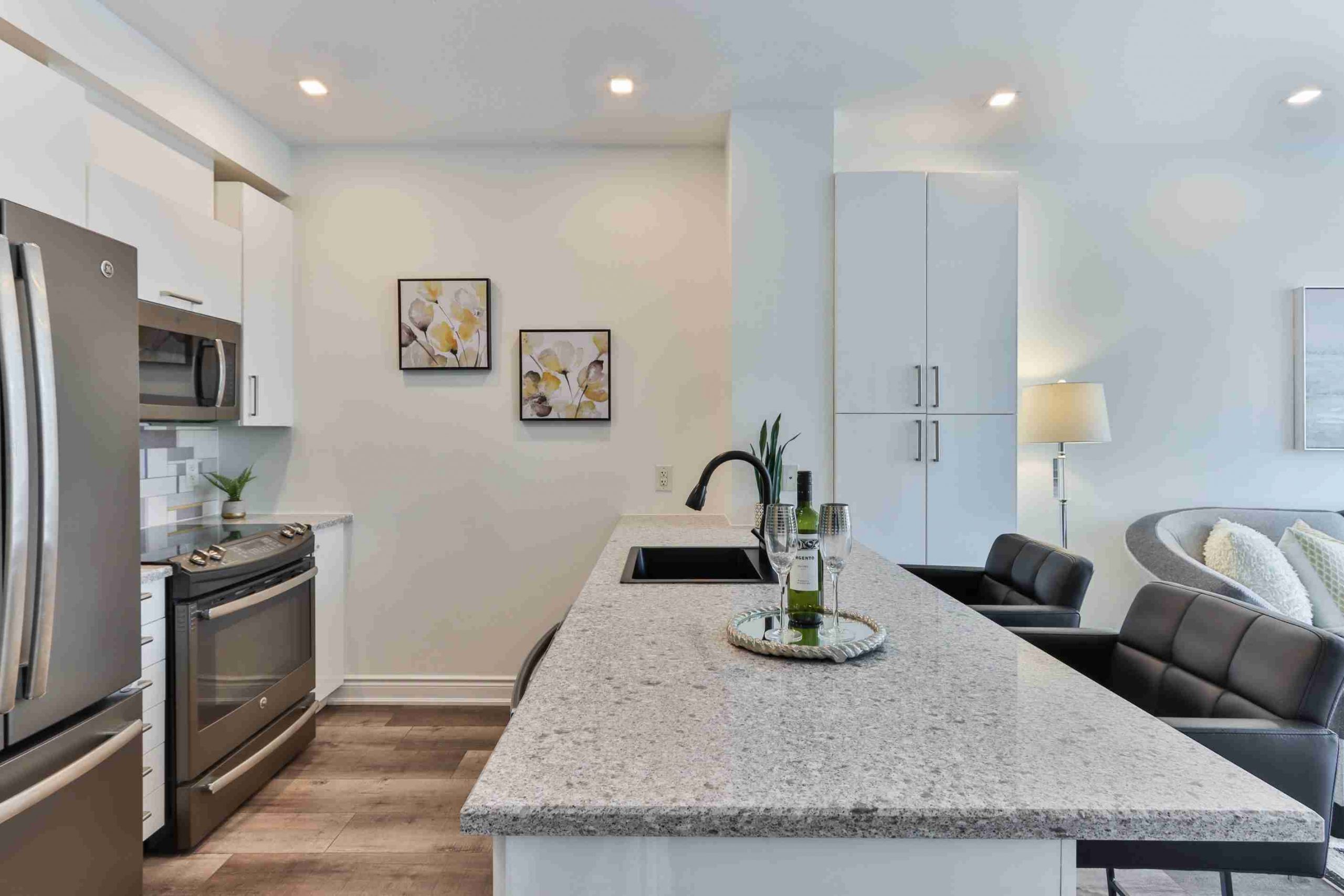 3. Marble Countertops
A marble countertop is also composed of natural materials with a high concentration of minerals. Similar to granite, the texture of each marble countertop is unique. If you want to have an elegant and luxurious kitchen, a marble countertop may satisfy your needs. Marble countertops are hard, water, and heat resistant.
However, the porous structure makes it easy to stain and breed bacteria if the countertop is not carefully cleaned. Compared to granite, this type of countertop is more likely to be scratched. Also, if you purchase a marble countertop, you have to be prepared for regular maintenance. You will need to clean the stain as quickly as it arises and seal the countertop regularly. This countertop is not only more expensive than most countertops but also has a higher maintenance cost.
4. Quartz Countertops
Unlike granite and marble, quartz is an engineered stone product that is made from natural quartz with a resin binder and mixed with pigments to make it more colorful. With richer colors, patterns, and textures, quartz countertops are extremely durable and scratch-resistant. The non-porous structure of the surface makes it stain-resistant and anti-bacterial. At the same time, it is easy to maintain, meaning you don't need to seal it in any way.
However, as one of the most expensive countertop materials, quartz countertops have poor heat resistance, and prolonged direct sunlight can lead to fading, warping, and cracking.
5. Stainless Steel Countertops
Stainless steel has always been a popular choice in commercial kitchens. However, it is also gradually becoming a trend in home kitchen decoration. If you want to have a stylish, industrial feeling kitchen, stainless steel countertop will give you a different experience.
This countertop is strong and durable for long hours of use, and its seamless appearance makes it very stain resistant, making it the easiest kitchen countertop material to clean. It is non-porous making it impossible for liquids or other substances to penetrate, which is good for avoiding the growth of bacteria. However, it also has obvious disadvantages. It is easy to leave fingerprints, but also easy to be scratched and produce dents.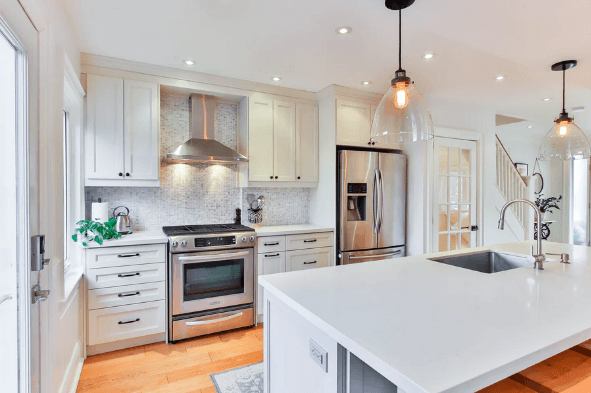 6. Wood Countertops
Wooden countertops are one of the classic kitchen countertop options. Available in a variety of textures, tones, and finishes, a wood countertop can create a rustic and warm kitchen for you. It can be affordable or extremely expensive, depending on the type of wood used.
Wood countertops are easy to clean and relatively low maintenance. When properly cared for, wood is durable. However, the material is prone to dents and scratches, and stains leave marks. Also, it is susceptible to water erosion and the wood is easily damaged. Improper sealing can also lead to bacterial problems. It is best to keep this countertop away from the kitchen sink when installing it, while the wood has a tendency to crack if not properly maintained. You must maintain it regularly with gaskets and wood oil.
7. Laminate Countertops
Laminate countertops are composed of a particleboard covered by layers of plastic laminate. It is becoming more and more popular due to its low price and diverse styles. Its non-porous surface makes it stain-resistant and easy to clean. You do not need to seal this type of countertop so it can save you time and money. It is suitable for DIY installation.
However, this material is not resistant to high temperatures and scratch. Once the countertop is scratched, it is troublesome to repair.
8. Concrete Countertops
Unlike other materials, concrete is usually custom-made and suitable for decorating spaces of varying shapes and sizes. With an industrial and modern look, a concrete countertop can make your kitchen cooler and more unique. This material is hard, durable, heat-resistant, and scratch-resistant.
However, custom countertops tend to be expensive. The porous structure makes it necessary to seal and maintain regularly. Prolonged use may crack the concrete. Also, it is not DIY-friendly. Since a concrete countertop takes a long time to dry completely, it will not be an optimal choice if you have to use the kitchen soon.

Key Factors of Choosing a Kitchen Countertop
1. Brand
Normally, products with famous brand names tend to have better quality as well as after-sales guarantee. Since the kitchen countertop needs to be used for a very long time, the brand may give you a quality guarantee if any after-sales maintenance is required.
2. Texture and Thickness
You can choose a kitchen countertop by the feel of the product and the moistness. Feel good, A countertop that feels good and moist may look more beautiful, and has a sense of texture. The thickness of the product is also an important key. For example, the thickness of a general quartz countertop is 15 mm, while the thickness of a high-end quartz stone can be up to 20mm thick.
3. Pattern
When purchasing a kitchen countertop, appearance is another necessary element. Don't forget to consider the overall style of the decor. The countertop should ideally be harmonized with cabinets.