How can we select materials for our kitchen wall panel?
When renovating a house, a high-quality kitchen is necessary and essential. Since the kitchen is hot and humid, the requirements of the materials used in the kitchen are more demanding. Take the kitchen wall panel as an example. We not only need to consider whether the walls are beautiful, but also make them easy to clean and resistant to high temperatures. So, what material is good for the kitchen walls? How can we choose the proper materials for our kitchens? Here's a look at five common wall covering options for kitchens and some tips for selecting the best materials.
5 Common Materials for Kitchen Wall Covering
When it comes to materials used in kitchen walls, ceramic tiles are always considered one of the most cost-effective materials. With a wide range of colors and patterns, ceramic tiles give people abundant choices to make it easy to fit the overall home decor. Water and stain-resistant, ceramic tile can withstand acid and alkali intrusion. It is easy to maintain and clean, durable, as well as tough.
The most noteworthy aspect of ceramic tiles is that the grouts tend to accumulate dirt and grime. So it is generally recommended that you should choose kitchen wall materials with a smooth glazed surface, which is easier to clean. A new type of tile with an antibacterial effect has now emerged on the market. This tile is added inorganic antibacterial agent to inhibit the growth of bacteria, odor, etc., helping you create a hygienic and comfortable kitchen. In addition, mosaic tiles are another option, which adds variety to the design sense and makes your kitchen more stunning.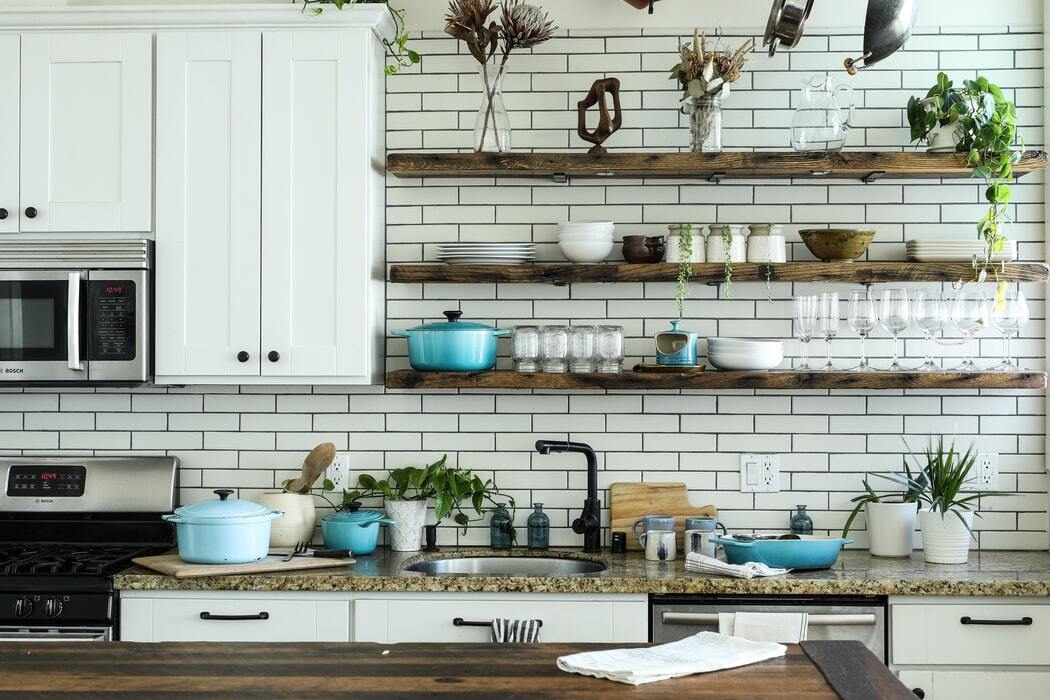 As a common material for wall covering, a fireproof panel is composed of calcium silicate and rock wool. This type of wall cladding has a colorful surface and detailed texture. The biggest advantage of this material is that it is resistant to high temperature and fireproof, guaranteeing home safety. Also, it will not stain easily, not easy to fade and deform, and convenient to maintain. Besides, fireproof wall panels can protect your home from sound, heat insulation, and moisture, thus they are often used in the main kitchen wall behind the stove. However, because fireproof wall panels don't look as exquisite as tile and stone when used extensively, they are mostly used for transitional embellishment.
If your kitchen is small or good lighting, you may choose tempered glass wall cladding for your kitchen. As a result of tempering treatment, this glass is resistant to high temperatures and rupture so it is very safe to use. As this glass penetrates well, the outdoor light source can pass through the tempered glass to the interior, which can visually expand the space of the kitchen. If you desire a bright kitchen, tempered glass wall cladding may be a favorable choice. Furthermore, you can install a light source behind the glass wall for indirect lighting.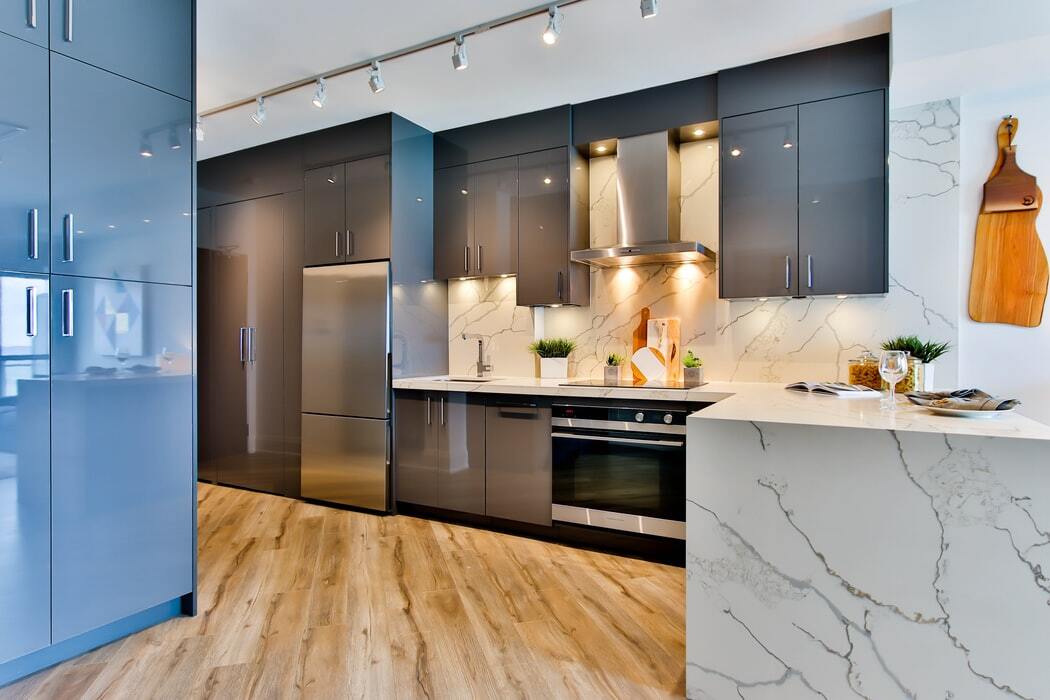 Stainless steel is durable, wear-resistant, easy to clean, and fireproof. However, due to the single color of the pattern and the difficulties in repairing the wall if scraped by hard objects, stainless steel is relatively less used in the kitchen. But if you love the chic and stylish style, a stainless steel wall may give you a surprise. It is generally recommended that stainless steel can be applied to the wall near the stove to make it easy to clean. And you need to pay attention to the pipeline configuration and safety measures when applying the stainless steel that is conductive.
Compared with other materials, paint is inexpensive and economical. It helps you to have a more harmonious and colorful open kitchen. Even if the walls fade or accumulate grease after a period of time, it is convenient for you to get new and fresh walls by repainting them. Usually, water-resistant and washable paints are preferred. And the paints with anti-mold additives will be more durable and enable your kitchen to look brilliant.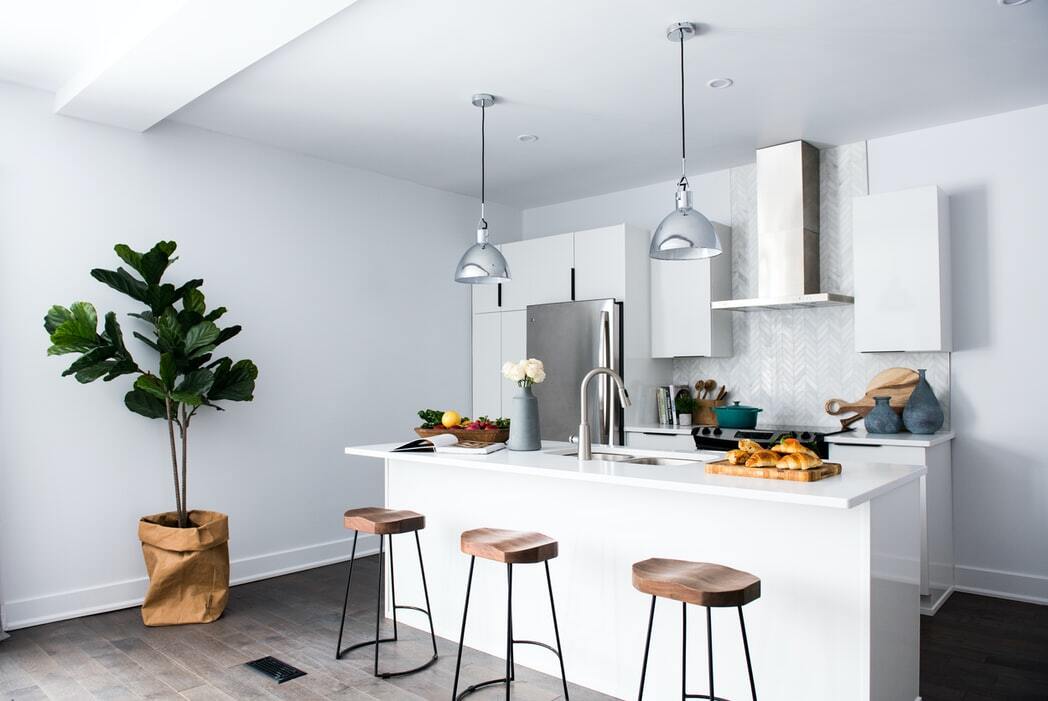 How to choose the most suitable materials for your kitchen?
On the one hand, the appearance of the materials should keep in line with the overall home decor. The right style can give you the desired kitchen, making it the dream place for the home to make deals every day. On the other hand, the utilities and qualities of the chosen materials should be taken into consideration. Take the kitchen wall panels as an example. Usually, heat-resistant and waterproof materials are more preferable such as ceramic tiles. Since the kitchen is prone to cooking fumes, grease, and waste, the wall cladding should be easy to clean and maintain. In terms of kitchen floors, the stone is not recommended to use because kitchen floors are generally more humid. Wood and reinforced materials are also not ideal because they are easily deformed by moisture and damaged by water.
In conclusion, we need to choose economical and practical materials based on the overall style of kitchen decoration.