When you are choosing an adjustable table, what do you consider? What features can you get? What is the price? Even if you are at home, it does not mean that you cannot use the desk.
Why use a standing desk? This is a very good question, you can refer to our previous article:3 of the best standing desk for 2021 | Venace. We have already explained this. In short, maintaining a fixed posture for a long time is unhealthy, and we move naturally even when we sleep.
Firstly we will advise you not to sit all day, and we will also tell you not to stand all day, but this is no longer a recommendation. This is the way to change your working position.
Back to our first topic, what would you consider when choosing an adjustable table? Maybe you want to DIY your own lifting desk, so my suggestion is to choose the best standing desk frame first. Then choose the table top that suits you.
When you are choosing the best standing desk frame, our suggestion is not to choose a manual standing desk frame, but an electric standing desk frame only, because a manual one is too boring. The following are the precautions we listed:
1.Make sure the standing desk frame only is electric;
2.Make sure that the elevator table has memory function and gear adjustment, that is, the function of the control panel should be comprehensive;
3.Make sure the standing desk frame has a strong motor;
This is related to how much weight your desk will put in the future (ie, the load-bearing capacity), and the lifting speed of the desk. If the motor is strong enough, it will not burn out easily. The best Venace lifting table frame I can suggest to you is the following this dual-motor three-section electric lifting table. This is not for sale. Believe me, it is a hot item on Amazon. We have not received any negative reviews so far. It is also suitable for making the best DIY lifting table frame.
4.Ensure that the warranty period is long enough; Because some suppliers only have a 2-3 year warranty, but Venace's best standing desk frame can support a 5-year warranty. Is it interesting?
5.Find suppliers who can deliver fast;
Obviously, when you shop online, you are definitely keen to receive the goods quickly, so it is best to find a supplier with fast delivery. We have our own warehouse in the United States and use the FedEx service. It usually takes 2-3 days to complete delivery. Everything is for the sake of the user experience. We think this is also the most basic.
The Best Standing Desk Frame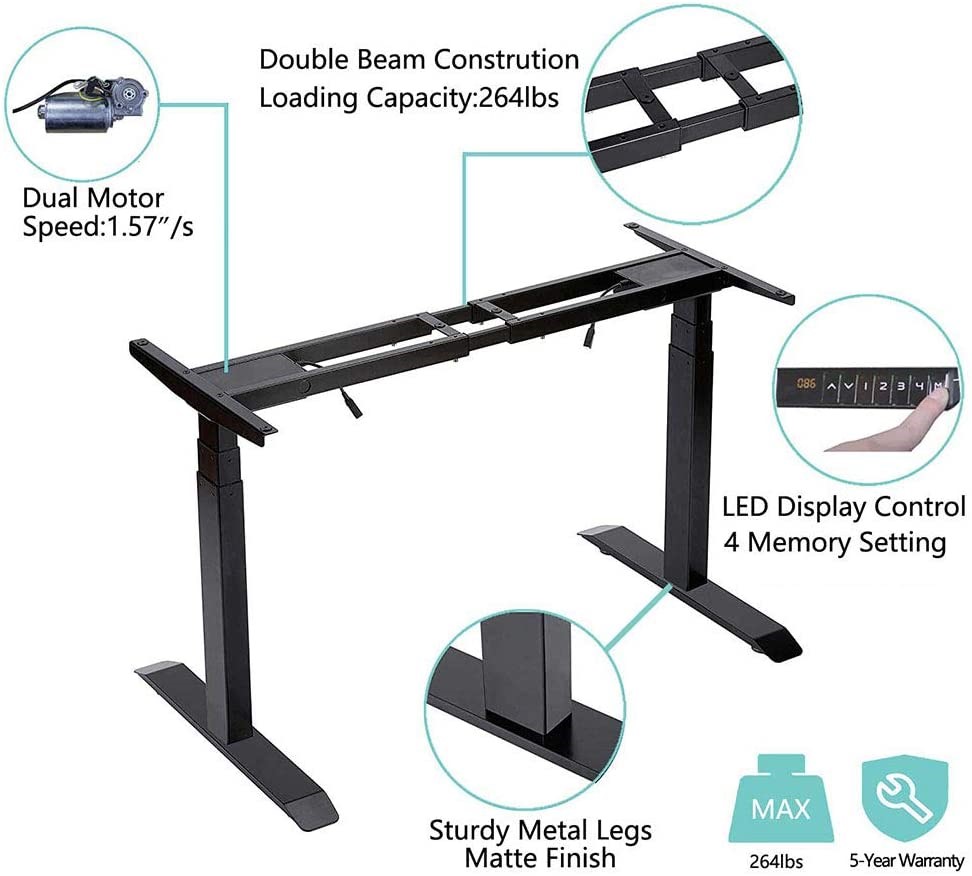 【ELECTRIC HEIGHT ADJUSTABLE LIFT SYSTEM】– 3-stage Dual motor lift machanism provides a smoother height adjustments from 25.2″-50.8″, being easily operated, at a speed of 1.57''/s with low noise(under 50 dB) while running.
【ONE-TOUCH PROGRAMMABLE BUTTON】– The LED backlight control panel constantly displays the height of desktop. Programmable digital memory with 4 height settings by managing the button on the controller; Configure the accurate adjustment automatically with the Stand Up Table.
【BEST STABLE STRUCTURE】– Metal structural parts are made of high quality cold-rolled sheet metal; Table bases are equipped with direction adjustment pads which appress the floor, making the sit stand desk stable.
【BUILT FOR HEALTHIER WORK】– Allow independent and remote workers to stay active, healthy, and productive while working from home or at office. Precisely adjust your office desk to your height and insert healthy movement into your day. This is the best choice of office desk.
【5 YEAR WARRANTY】– Construction meets CE/UL/CB/SAA/BIFMA standards for safety; Notice: Please reset the motor after installation or keypad no reaction.
Of course, in addition to the above list, you can also choose to add some standing desk accessories, such as CPU holder, cable tray, and keyboard tray.
Finally, if you have any doubts, you can send me an email, and we can discuss the best lifting table frame together!