9 tips to Combine Your HDB Service Yard and Kitchen
August 24, 2021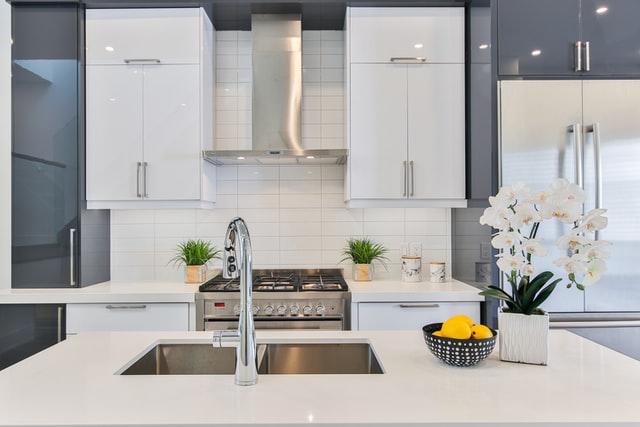 Singaporeans are cooking and entertaining at home more frequently as foodies, and as a result, their kitchens are being remodeled to be comfortable enough to prepare a feast and party-ready. When you're confined to the confines of an apartment, that's a difficult task. Many of us who stay in HDB flats or tiny condominiums struggle to make the most of the service yard, which serves as a laundry room/utility facility.
There are several reasons why a service yard and kitchen would be combined. Sometimes it's due to a lack of space, and we can't afford to set up a specific place for our washing needs. It might also be related to a desire for larger cooking surfaces in some situations. Whatever the case may be, you'll want to merge the two zones in a stylish manner that doesn't compromise practicality. For the vast majority of residents in Singapore's HDBs or other areas, our service yard is all they require. Should we even refer to it as a room? is typically confined to the rear of the kitchen and is frequently a neglected section of the home. Its design was a last-minute addition, and we seldom mentioned it to our housewarming visitors "have you seen my service yard?" isn't a typical icebreaker.
However, we found out a method to increase the kitchen's floor area by recovering the service yard's area and integrating the laundry operations into the cooking space. We came up with the following:
Dismantle Your Service Yard's Wall
By tearing down your service yard wall and eliminating the pre-installed windows and bi-fold door, you may significantly increase the amount of space in your house. It's also a fantastic option to have a wet and dry kitchenette where a sink is put directly all across the washing process to make a wet kitchen. Keep in mind that if you want to hack or demolish any existing interior partition walls, you'll need to acquire HDB's permission first (whether partially or fully). Make sure you and your remodeling contractor or interior designer are on the same page when it comes to submitting the application.
You'll be rewarded not just with a big kitchen and service yard, but also with a home that might have a greater market value due to the ease of its outstanding design.
Conceal
The laundry machine is hidden behind a set of casement windows that fit in with the rest of the kitchen cabinets thanks to the same woodgrain plywood. Corner doors, unlike traditional hinged doors, maybe tucked neatly inside cabinets for easy access without obstructing the view.
Glass partitions should be installed.
You're probably familiar with the pre-installed glass windows and bi-fold doors that come with a HDB BTO apartment. If you don't like the pre-installed ones, replace them with sleeker floor-to-ceiling glass doors and glass dividers to improve the look of your house. This allows light to enter the service yard, immediately brightening it!
Face the Facts
For a more seamless look, an area beneath the counter was left aside for the washer installation, but the entrance faces the opposite side, away from the rest of the cooking space.
Additional Counter Space
When you combine your service yard and kitchen, you get more overall area. Use the extra space to build an extra counter to fit your washing machine beneath while utilizing the top as a prep station or a storage place for smaller countertop equipment.
Practically Prepare Your Service Yard
It's a great idea to hand wash garments that leak color when they're laundered. A sink, conveniently situated next to your washing machine, would be quite beneficial in this situation. It may be used to clean shoes, rinsing cleaning cloths, and more.
Other useful aspects to think about are:
Make your own clothes rack to hang ironed or air-dried garments.

Having a wall mounted ironing board is a must.

A folding-clothes countertop
In addition, strategically placing cabinets around your service yard may provide a plethora of storage for your laundry detergents, powders, and cleaning supplies. You can check our product through https://www.venace.com/product/wall-mounted-fold-down-ironing-board/ in order to purchase an ironing board that leaves enough space by folding down by pulling the release bolt. It gives your interior quite aesthetic by installing on the wall of ironing rooms.
Counter that has been raised
Consider building a raised counter especially for your washer and dryer if your laundry machines require more clearance room than the standard counter height provides. Using the same countertop material as that of the rest of the kitchen means that, despite differences in height, it still seems like it belongs in the kitchen.
Flush it out
If you're going to set apart sections in the kitchen cabinetry for the washer and dryer, ensure there's enough depth for your equipment to be flush with the rest of the cupboards. This will give them a more finished, almost built-in look. Make sure your laundry machine and dryer have enough room on the top edge for airflow, but not that much.
Proudly hold it up in the air
If you don't want your washing machine to be confined to built-ins, place it on its own at the edge of your countertop. This works in this kitchen since the counter's width and height are equal to the washers, so the equipment doesn't look out of place. Furthermore, depending on how much room you have, keeping the laundry area tidy may make a huge difference. Besides a laundry cart with wheels is an excellent household investment if you intend to drag your laundry from one area to another.
In order to create an open-concept kitchen, two ends of the cooking space in the house had to be opened. It's preferable to knock down the wall between the kitchen and the service yard so the kitchen has a separate wet area and additional storage. Creating a house that is distinctly yours is within reach, whether it's sprucing it up with décor or completely changing the layout of a flat.