Suitable Kitchen Renovation Made Easy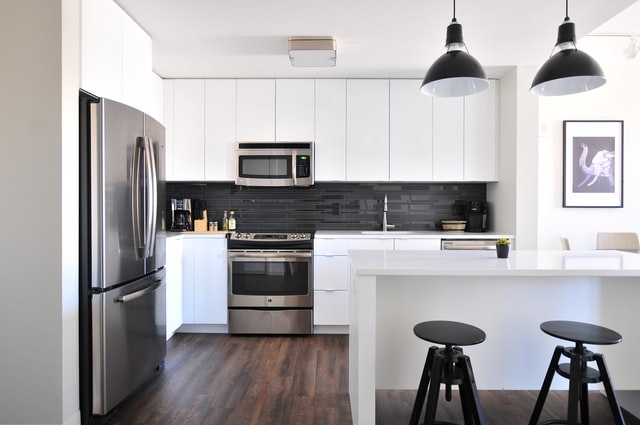 An efficient and comfortable kitchen is becoming increasingly popular in new homes. Traditionally, the kitchen only acts as a food preparation room. However, in today's modern homes, it also serves other purposes in addition to serving. As more and more homemakers become working mothers, the perfect kitchen should also accommodate their different requirements.
You would already have a general layout written out when planning your kitchen renovation. Next, consider the minor touches that will round out your kitchen improvements. Cabinet height, appliance placement, and sustainable kitchen products to be used are just a few of the factors to consider.
When selecting cabinetry or appliances for your kitchen improvements, consider high-quality materials. Compared to the rest of the house, the kitchen is where you spend the most time, and this pattern has been repeated for years. Things must last a long time, or you will have to pay extra money to replace equipment or renovate your kitchen after a few years. Kitchen renovations primarily involve updating the countertop, replacing cabinetry, altering the flooring, and repainting. Depending on your budget, you can choose between marble, granite, natural materials, and synthetic materials for your countertops. When redesigning your kitchen, replacing the cabinetry is considered the most expensive project. The sustainable kitchen products for the cabinets should be dictated by the concept you've picked and your personality. It is good to know how to have a sustainable kitchen. When considering a kitchen makeover, here are a few pointers to keep in mind to ensure the comfort and functionality of your new home.
Utilize High-Quality Materials
The kitchen makeover is relatively costly. Thus it is a rare event in the home. Make sure you spend on high-quality materials to transform them into your ideal kitchen. Choose materials that will not collect dirt over time. Choose smudge-free tiles and countertops. Allow adequate time for the search for the perfect kitchen countertop. Kitchen countertop ideas can be obtained by visiting showrooms and home improvement outlets. Always opt for high-quality materials for your kitchen. When you select sustainable kitchen products for your tiles, cabinets, and drawers, your kitchen is likely to last for many years without needing to be remodelled.
Choose your Design
Decide on the theme of your kitchen before you begin purchasing all of the components. When you have a vision of the kitchen you desire, renovating it becomes much more manageable. Coordinate the items in your kitchen with the fixtures and wall colour. Match your kitchen to your personality and the general theme of your home, whether it's in a contemporary or Mediterranean design.
Arrangement
If you want to improve the functionality of your kitchen:
Make sure you have ample working area.

When remodelling your kitchen, avoid placing appliances or fixtures in the center to allow for frequent mobility.

Place the bulkier items to the side to make the kitchen feel more open and large.
Kitchen remodelling may appear to be a daunting task. However, as you progress, the job can become pleasurable and gratifying. More renovation ideas can be found in publications, books, or on the internet. Change the designs and styles to fit your family's demands and the theme of your home.
Considerations Before Planning A Kitchen Renovation
Renovation is vital for homeowners because it allows them to replace things, designs, and features of their home and incorporate better and more effective solutions and goods to improve the value of their property. Renovation is also necessary if you have detected signs of wear and tear in your home, such as peeling paint, a rusty roof, a broken ceiling, or cracked or chipped walls. These difficulties are frequently observed in areas such as the kitchen.
So, if you want to get rid of these unappealing aspects in your home, particularly in your kitchen, you should plan an efficient and elegant kitchen renovation.
However, before you begin your plans to create a better and more practical kitchen, you should consider certain important things that will aid you in your endeavour. Some of the issues you must address are listed below.
Determine your kitchen's requirements.
Like any other item or solution, Homeowners have various demands and desires for their home and kitchen. As a result, before beginning, homeowners must first define their desires. For example, consider the meals usually made and cooked in the kitchen, the appliances necessary for your kitchen, and the person who frequently uses the kitchen. You can ensure that your kitchen will supply you with all of the benefits you and your family require by assessing these variables.
The type of kitchen design that will work best for you.
Aside from kitchen requirements, homeowners must also consider kitchen design. You can use the various types of kitchen designs on the market, as well as a few of your ideas, to create a distinctive and beautiful kitchen.
Materials and equipment that should be used and installed.
Homeowners should also think about the things and materials they should use and install in their kitchen to make meal preparation and cooking easier and faster. Homeowners can obtain these advantages by selecting high-quality materials or appliances.
Consider your budget.
Finally, the most important consideration for homeowners is their money. Of course, homeowners cannot begin their kitchen makeover unless they have a significant budget. So, before embarking on a makeover project, be confident that you have sufficient funds to address additional kitchen objectives such as enlargement. If you have enough money to hire professionals, you can make your kitchen makeover better and more efficient.
Consider these criteria before embarking on your kitchen renovation project to make your life much easier. It may also assist you in locating the best solution to make your kitchen makeover better and more efficient.
Conclusion.
Your kitchen renovation should reflect your personality. Although a professional may design all of the ideas for the kitchen makeover, keep in mind that the kitchen is still yours and should have your personal touch. This will make your kitchen more comfortable, and the design will flow better with the rest of your home. To save money on equipment and utensils for our kitchen makeover, it is best to buy them all at once, as some of them provide discounts when numerous attachments are purchased. Finally, if you're going to acquire appliances, be sure they'll fit our lifestyle.