10 Kitchen Hardware Trends for 2021
Nothing can define the appearance of your kitchen like the appeal of cabinets (drawers and shelves), faucets, and so on. It is the reason why many of the new trends in the kitchen rise in demand. From the different color pops to floor to ceiling storage to the warm tonewood triumphant return, have a glance at these kitchen hardware trends of 2021 –

Brush Nickel
Brushed nickel will never go out of style because it looks so practical and appealing with every cabinet style and color, along with the stainless steel appliances. This brushed nickel faucet has a sleek and soft look. It gives a styling and classy feel to your kitchen.
Modern Knobs
There are different styles of knobs that you can install at your home –
Knobs are the mixed bag which seems elegant in black button or simple silver styles. You can observe the roundups below different types of knobs that are not like the consistent bar pulls.
Ceramic knobs act as a darling and dainty look and feel, which are valuable for their ability to add some old-fashioned charm into the kitchen space. This modern farmhouse kitchen is not at all exceptional. Also, Ceramic knobs reflect the antique and contemporary detailing useful in the overall design. You can try the timeless trend in your farmhouse, bungalow, or cottage kitchen.
Famous from the 20th century through this modern era, glass pulls and knobs look classy. They have finally made a comeback and are growing in demand because of their style and versatility.
Matte Black Kitchen Faucets
Black makes another massive appearance as the trend. Having the matte black faucet in the kitchen of modern style can make a statement. A kitchen faucet made up of black matte would be the striking feature in the contemporary kitchen where there are no compromises in functioning. The spout swivels around 360 degrees for the highest flexibility, and the pull-out spray head has two functions.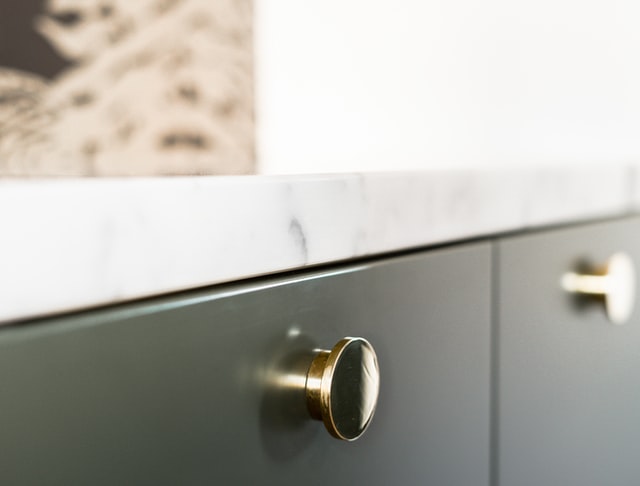 Sleek And Modern Bar Pulls
Minimalism has shaped cabinet kitchen hardware in these recent years. Modern and sleek bar pulls in silver and black are famous across the world. Cylinder bar pulls nowadays known as vital for years, while square bar pulls are also gaining popularity, particularly in matte black.
Silver Hue Hardware
Here is the great deal. Silver kitchen hardware is the standard finish you will notice in bathrooms and the kitchen. For a long time, Brushed and satin nickel has grown in demand day by day. It is a lovely complement to wood cabinets and all hues of bathrooms and kitchens. It indicates that satin/nickel is classic and modern. If you are willing to have a silver finish rather than brushed nickel, polished or chrome-nickel are great alternatives.
Oversize Drawer Pulls
Oversize drawer pulls are famous everywhere. Oversize pulls range from 6 to 21 inches long. The most extended pulls are helpful on the tall cabinets vertically and on the large drawers horizontally. A good instance would be a drawer holding heavy pans and pots. Such pulls are sleek in style with a minimal look and feel. And they are mixed with small pulls of the same style.
Colorful Kitchen Islands With Curves
You can paint your kitchen island with striking colors. Try some stand-out and contrast shades with the other white cabinets. You might have observed trends in furniture design, like an island with a curve offers a beautiful design.
Sculptural Statement/Opulent Unlacquered Brass/ Slope And Chic
Sculptural hardware makes a great statement that is on the rise in the design world. It leads your way in this marble-clad and standard kitchen. The brass pulls art boasts an oversize silhouette and light-catching texture that adds charm together against snowy cabinetry.
Add movement to the flat panel kitchen cabinets with curvy and eye-catchy hardware. Follow the expert interior who will help you add classy and sloppy edge pulls in the kitchen. The pull brass finish and sweeping silhouette shine against the shadowy slabs and bring polishing to the kitchen design.
Unlacquered brass hardware looks enduring and elegant that will never be out of trend. It is not like Lacquered brass or antique brass because unlacquered brass hardware lacks protective coating and is a living finishing. It indicates that the brass will evolve with time, revealing the elegant and one-of-a-kind finish. It reflects the household's life.
Kitchen Larders
Usually, the kitchen in the house is helpful to preserve and store foods (imagine the refrigerator before it was invented), and the kitchen larder has been converted into a stand-alone pantry or cupboard. They can be big enough to have most of your dry items but small for keeping things organized when taking up the minimal valuable space. You can say goodby to walk in and sub in the countertop cabinet/adding doors to create pre-existing shelves.
Wooden Kitchen Hardware

If you love the look of wood, you can try out wooden cabinets, shelves, islands, and so on –
If you install custom cabinets, choose the rough-hewn wood. The best part is that you are heading to eco-friendly and natural materials for their kitchen cabinets. From recycling plastic bottles to natural bamboo, cabinet firms are taking the revival of reuse and reduction seriously.
Open shelving enables you to display your beautiful kitchen wares among antiques and heirlooms. The ability to see through your storage means everything is easy to find out. Do not forget to clean your items since they will open up to the elements floating through the kitchen. It helps you to keep everyday things on the lowest and accessible shelf.
Natural Wood Toning In the Kitchen
While we see the painted and stained woods, we also see it in its natural state. Try to add the natural wood tone to a kitchen island or the topper in a grainy and pretty wood. Brown wooden shelving feels original to the house, which will add a new charm to the kitchen space, especially with the trending bright white ones.
Final Words
However, we saw the growing trend of colorful islands or different hues on upper and lower cabinets. In such cases, introduce contrast color hardware in the kitchen to give a curb appeal to it.