7 Must-Have Hands-Free Gadgets for Your Kitchen
Who does not like touch-free technology and that too in the place where we use almost our entire long day? Here we are talking about the kitchen, and investing in hands-free technology is in high demand nowadays. From touchless appliances to intelligent faucets, everything is evolving and has earned massive popularity in modern kitchens. Though, technology is not new to people as it already exists in bathroom sensing tools. But preventing or minimizing the germs and upgrading the kitchen with touchless sensors and faucets is good to go idea.
But are you also thinking of the same question? What makes these hands-free and motion-sensing technology so exciting? In simple words, touch-free technology offers a safer, convenient, and clean way for cooking and other household chores. Thus, in this article below, we are going to discuss touch-free kitchen gadgets from automatic faucets to innovative refrigerators and many more tools in brief.
Touch Free Kitchen Faucets
You might have heard about it, or you can guess from its name. Automatic Touch-free kitchen faucets only need a tap of your hand or a swipe motion for turning it on, giving you a cleaner and efficient way to wash your hands amid your activities like kneading dough, marinating meat, etc. Not only homemakers, but it is an easy way for all family members also, including children who often do not turn off the taps properly.
Similar to traditional faucets, these touchless faucet models are –
Available in various sizes and styles.

Different features such as water flowing rate, power source, finishing, and way of sense.

The best part of installing an automatic touch-free kitchen faucet is consuming less water and not wasting it.

It does not only provides a hygienic solution to your home, but they also provide a programmable temperature control feature with glossy looks.
Voice-Activated Appliances
Sounds great. With its name, this technology wins the heart of many homeowners. People now can get their assistant in their cooking room with voice-activated appliances. It helps them assemble tasty dishes and navigate complex food recipes to keep the family's needs regarding diet and nutrition through your vocal commands inputs. You do not require to study about technical aspects of your IoT home. You have to speak and give commands in a bit emphatic volume, and the connected appliances will respond to it accordingly. The technology integration in dwellings is now observing a shift to more intuitive usage and working conveniently on behalf of consumers.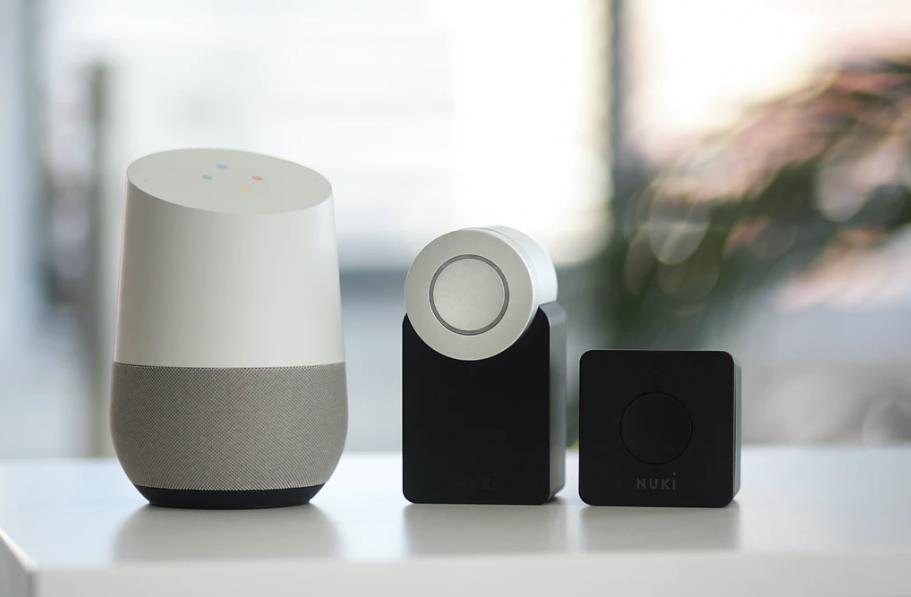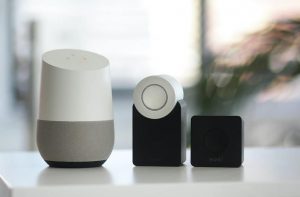 You might be aware of voice command appliances such as Alexa or Google home connectivity. What can be done with voice command appliances is listed below, giving you instances if you are in some or other work –
Preheat your oven

Contaminate your sink

Contaminated your Microwave oven when necessary

Adjusting temperatures (smart refrigerator, oven, and so on)

View the stuff of refrigerator without entering in kitchen.

Command the grinding equipment (if the equipment is upgraded one)
And many more.
Push To Open Doors
Now, this is what will make you surprise. Installing cabinet door push to open will prevent you from spreading germs throughout your kitchen. These openers will enable you to access your drawers or cabinets' contents by gently pushing them with your knees or elbow to open or close them with simple mechanics. This function is actually a push to open drawer slide that supports push to open.Cabinet Push to open doors are –
Handleless

A good and simple tool

Easy and convenient solution for every design you choose

Prevent you and your room from contacting germs

Saving your time from holding handle and opening
And so on. Handless technology is trending and is the world's future, whether in the kitchen or living room.
Automatic Trash Can
The trash can is not the appliance you will like to spend extended time thinking about it. Whenever you go to purchase one, it is essential to check out it will last long. For this, a touchless Automatic trash can is a good idea to prefer, but it might seem costly, especially when you are stuck rotating a few with time. But there are durable and reliable touch-free options available, adding value to your house and last long. The automatic trash can is designed to touch-free that opens the lid automatically whenever sensors are activated.
Touchless automatic trash cans are –
A convenient and straightforward solution for garbage disposal

Keeping your hands away from trash containers

Best for health-conscious people.

Opening and closing lid automatically with triggered sensors

Steel sleek appearance with complimentary back finishing

Hygiene approach
And so on. It is an excellent way to go for it.
Other Smart Technologies
We discussed the main four that we use most, but some other gadgets will make your cooking room a brilliant room. Some other available innovative technologies are –
Automatic Paper Towels Dispenser
Such devices have an in-built motion sensor that automatically dispenses paper towels whenever motion is detected in their range. It is a device that provides paper towels automatically in your house so that you can dry your hands after washing. Some have handles, some works by paper, pulling paper from the dispenser, and others by auto-dispensing responding to motion sensors.
Soap Dispenser
The majority of soap dispensers have soap in their bladders in liquid form, and as the pump is pressed, the liquid soap showers a soal from their small nozzle. It works similarly to auto faucets. Swiping hands or keeping hands below the soap dispenser will dispense it to you. And some works as hands motion detection sensors.
Sensor Lighting
With the motion sensor lighting, you can now have the satisfaction of your midnight craving without crashing into the counter or change the atmosphere in our kitchen anytime you want.
And many more.
So today, the motion sensors technology is making the house automated, reducing your efforts and also increase the functionality of our routine. These innovative technologies now provide hands-free items simplifying your daily lives. Motion detection tools such as paper towel dispensers, garbage cans, soap dispensers, faucets, and so on help you to move in the entire cooking room without any stress of spreading germs, bacteria, and viruses.