Tips For Finding the Best Low Cost Kitchen Cabinets.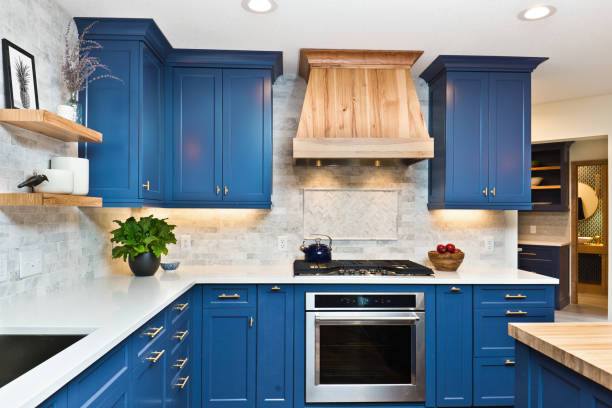 Is there such a thing as a sure-fire approach to get cheap kitchen cabinets? However, there are methods to save money, especially if you don't need brand new cabinetry. You may have an older home and are looking for genuine vintage cabinets to replace your ones, or you may be sprucing up a rental property and don't want to spend a lot of money on the remodel.
Kitchen cabinet refacing is an excellent choice to consider if you want to give your kitchen a completely new look without breaking the bank. Typically, kitchen cabinet refacing entails covering the external surface of your old cabinets with a new laminate. After that, the old doors and drawer fronts are replaced with new custom-made doors and drawer fronts. There are two types of cabinet fronts to choose from: laminate and solid Painting wood cabinets. No matter why you're seeking low-cost kitchen cabinets, you'll want to keep reading to learn some tips.
Go to kitchen cabinet stores.
If you've done any research, you're probably aware that showcase cabinets are expensive. Even stores that represent themselves as inexpensive retailers may charge more than you wish to pay. This is the time to visit a business that has built a reputation for selling high-quality things at low prices. These Lumber Liquidator-style stores make a habit of buying many materials that are either overstocks or discontinued models. Because they get their merchandise and the fact that they don't have a lovely showroom, they can afford to provide their consumers with the most excellent prices available. The only issue is that you'll have to wait for them to receive the cupboards you're looking for, which could take some time.
Purchase a used kitchen cabinet.
A second way to save money on kitchen cabinets is to buy them used. You could try a salvage yard if one is nearby. These organizations either rescue old cabinets from homes that are being demolished or accept donations from people replacing cabinets but do not want to pay to dispose of the old ones. You can sometimes discover incredibly high-end cabinets that look brand new for a very reasonable price. This is also a great approach to find the vintage cabinets you're looking for.
Look it up on the internet.
Never underestimate the importance of classified ads in your local newspaper or on the internet. These are places where people post that they want to get rid of outdated cabinetry that they no longer need. They usually sell for low prices because they want someone to carry the cabinets away for them. In some cases, you may even be able to acquire them for free if you do the lugging. These are fantastic offers that are just waiting for you to take advantage of them.
As you can see, there are ways to save money when purchasing replacement cabinets for your kitchen. The key is to know where to hunt for the most incredible bargains on low-cost kitchen cabinets.
Tips to Help You Buy Low-Cost Kitchen Cabinets.
Do you want to purchase inexpensive kitchen cabinets? If this is the case, it is critical to take the appropriate procedures. Here are some pointers to keep in mind when shopping for cabinets:
1.Investigate the possibility of custom kitchen cabinets.
You should not assume that just because you're paying less for kitchen storage, you won't be able to acquire the cabinets you want and deserve. As a result, while looking for economical cookhouse cabinets, opt for ones that can be modified. In this way, you can be confident that your cabinets' materials, sizes, styles, colours, and finishes are appropriate. Customers are increasingly looking for items that may be tailored to their needs today. It aids in the customization of items to meet their specific requirements.
2.Never compromise on quality for the sake of saving money.
It is possible to get inexpensive kitchen cabinets without sacrificing quality. As a result, when looking for cabinets, look for models that are of high quality. To avoid paying cheaper costs for raggedy cabinets, you should prioritize superior value above lower price points. Instead, look for cookhouse cabinets that are worth your money. While it is true that you "get what you pay for," it is also possible to obtain more than you pay for in some situations. Consider the value of your money instead of simply glancing at the price tag on a kitchen cabinet before making a purchase. Paying lesser prices for your cabinets could be disastrous if you don't do so in advance.
3.Look for cabinets with quality guarantees.
Consider getting a quality guarantee with your cookhouse cabinets (such as custom kitchen storage) when looking for low-cost cookhouse cabinets. Is it possible to be satisfied when purchasing kitchen cabinets at a low cost? Yes, but your level of satisfaction will be lower if you are dissatisfied with the product. Having a quality guarantee in place can help to ensure that this takes place. It will provide you with the assurance that you will be wholly delighted with your purchase.
4.Purchase from a company that operates online.
The convenience of shopping online outweighs the disadvantages of shopping at a traditional store. Just make sure that the online shop has a gallery of the various kitchen cabinet types it sells before making a purchase. Then you'll be able to order your fore dining area cabinets with confidence, knowing exactly what you're going to get in return.
5.Select the appropriate wood and finish.
When choosing kitchen cabinets, it is crucial to consider both of these characteristics. Different types of woods and treatments can significantly impact the overall look and function of a dining area cabinet in both shape and function. Consider providers who offer a diverse selection of Painting wood cabinets and finishes.
6.Make sure your kitchen's décor is in harmony with the rest of the room.
When looking for custom kitchen cabinets, this is a critical stage. It is also essential to consider the rest of the décor in your dining area, even if you pay less for your kitchen storage. This includes aspects such as the colour and design of the décor, among other things. It is recommended that you choose a single theme or colour scheme for your kitchen when choosing the décor.
When purchasing low-cost kitchen cabinets, purchasing high-quality cabinets is just as vital as purchasing low-cost cabinets. By selecting cabinets that are the ideal combination of form, function, and price, you will be able to complete your task more efficiently.