The Pros and Cons of Kitchen Cabinet Refacing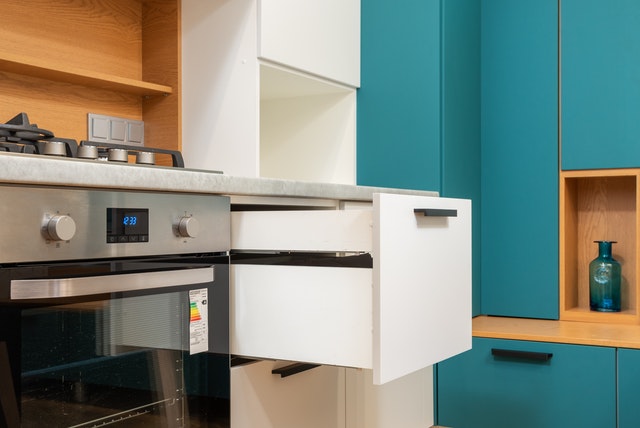 Kitchen cabinet refacing primarily involves replacing the skin panels of your cabinets to make them aesthetically appealing. In most instances, cabinet refacing makes sense when your cabinets are cracked or scratched, and you want to restore the structural integrity of your cabinets.
Refacing involves completely removing all the cabinet doors and drawer fronts and replacing them with new ones. It also entails applying a veneer on the body surface to give your cabinets a dramatic, unique appearance.
Is it Worth it to Reface Kitchen Cabinets?
Most kitchen cabinets are custom-built and engineered according to the specific needs of the homeowner. Replacing the cabinets can be pretty costly, and refacing is the best alternative. A standard kitchen refacing project involves:
Covering the doors, drawer faces, and the sides of the cabinets with a wood veneer, plastic, or rigid thermofoil

Replacing the doors and the cabinet's drawer fronts

Installing new door hinges, drawer pulls, handles, and other essential fixtures
However, before indulging in the kitchen cabinet refacing project, you need to ask yourself, " is it worth to reface kitchen cabinets?" The refacing process only makes sense if your cabinet's structural integrity is not jeopardized. If your cabinets have significant structural deformities refacing is not a good option, and you should consider cabinet replacing.
If you have kitchen cabinets built correctly and their structural integrity is unquestionable, refacing is appropriate to conceal minor cracks. Cabinets engineered with solid wood and have minor deformities are the best candidates for refacing.
What are the Pros of Kitchen Cabinet Refacing?
There are multiple advantages of cabinet refacing however it is best to scrutinize the structural integrity of your cabinets before beginning the project. Below are some of the primary benefits of why you should reface your kitchen cabinets.
Helps Retain the Layout of your Kitchen
If your current kitchen layout is appealing and meets your basic needs, kitchen refacing is the best option. The project only improves the appearance of your cabinets without making any changes to your existing layout. This is a good option for savvy homeowners looking to enhance the kitchen's curb appeal without jeopardizing the layout.
A Variety of Style Options
Another significant advantage of the kitchen cabinet refacing is that there are multiple style options. You can select various veneer options for your cabinets that will give your cabinets a dramatic look. For instance, you can either opt for laminate, natural wood, or plastic, depending on your personal preference.
Cost-Effective Option
Refacing your cabinets is a cost-effective option when compared with replacing your cabinets. This project will provide a new and appealing look for half the cost. Thus if you are working on a tight budget refacing is a good option.
Allows you to Reconfigure your Cabinet
Another primary advantage of kitchen cabinet refacing is that it allows you to reconfigure your cabinet boxes. You can make adjustments to your cabinet boxes to incorporate contemporary features such as the wide and deep drawers. You can also reconfigure to get self-close doors or garbage drawers. Thus you can increase functionality of your cabinets.
What are the Cons of Kitchen Cabinet Refacing?
If you are wondering, " is it worth it to reface kitchen cabinets?" The correct is that in some instances, cabinet refacing is not appropriate. Also, there are some significant limitations when it comes to cabinet refacing, and they include:
Does not allow the change of existing kitchen layout- one major drawback of the cabinet refacing is that it will not allow any change to the current layout. Thus if your existing kitchen layout is non-functioning or inconvenient refacing may not be a good option.

It does not eliminate the storage problems.

The process of veneering your cabinets needs a professional fix which can attract huge costs.

Not the best option to fix damaged or malfunctioning cabinet boxes or drawers
Key Takeaway
Refacing your kitchen cabinets save you more money compared to complete cabinet replacement. However, in some instances refacing is not an appropriate option, and your cabinets will require replacement. Before starting the project, ensure that your cabinets are in solid shape and their structural integrity is unquestionable. Also, it is essential to consult a professional if you want a refined look for your cabinets.