Obtain More Storage and Space with Kitchen Peninsula Cabinets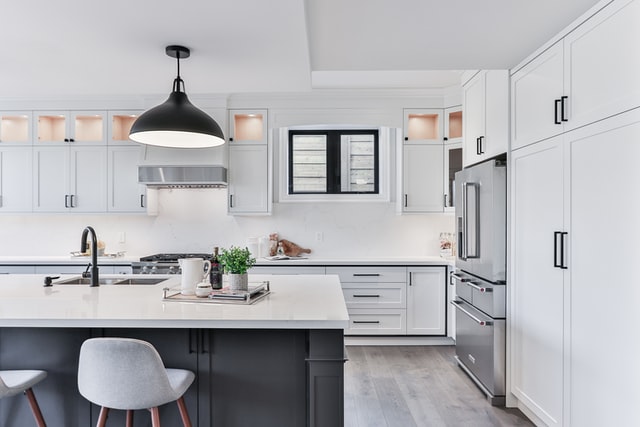 A peninsula is similar to an island, except only the three sides of a peninsula are unattached to the kitchen wall. For this reason, a peninsula forms a fixed piece of kitchen cabinetry. The kitchen peninsula cabinets are immovable, unlike the island that can be moved anywhere anytime or a free-standing piece. You can say that an island is more flexible than a peninsula. However, a peninsula is a great alternative in a kitchen where an island is not applicable.
Since the kitchen peninsula has a fixed location in the kitchen, you can turn it into a pleasing barrier that deters visitors from completely invading your kitchen and interrupt you as you work. A kitchen peninsula with seating is a great way to entertain guests as you whip up delicious dishes. You may even serve your visitors samples of the dishes in advance as they sit comfortably by the kitchen peninsula.
How can you obtain more storage and space with the kitchen peninsula? Read on and find out.
You can Turn the top of Kitchen Peninsula into Extra Working Space
It is vital for any kitchen to have an ample work area, especially during super busy days. However, there are a few things that you need to consider when you want to maximize the use of your kitchen peninsula. Before you install a kitchen peninsula, you should be aware of kitchen peninsula do's and don'ts. That way, you can use the true potential of your kitchen peninsula to the fullest.
Let your extra helpers use the kitchen peninsula.
While preparing your dishes, you can put some of the prepared ingredients or the things that you will use during preparation on top of your peninsula. You can even ask a few people to help you prepare the dishes and give them the kitchen peninsula as their work area. That way, you don't need to squeeze yourself between people while working in your kitchen. This gives you ample space to move around and be able to finish the dishes in no time.
Entertain your guest as you work in the kitchen.
It is sometimes inevitable to have a guest come over when you are still preparing everything in the kitchen. It is troublesome to keep your guest entertained while waiting for you to finish what you are doing. A kitchen peninsula with seating is a great way to let you entertain your guest as she sits while you work in the kitchen. Instead of having her wait in the living room or giving her some magazines to read, you can simply ask her to join you in the kitchen and let her sit by the kitchen peninsula.
If the guest is a close friend, you can simply ask her to help out with simple cutting tasks. You can give her the peninsula as her work area. That way, she won't bother and occupy your working space.
Watch out for your kids while you work in the kitchen.
Do you sometimes find yourself competing with your kids for the working space in your kitchen as they try to help you prepare the meals? You don't need to keep your kids busy working with you in the kitchen in an attempt to keep them busy as you look after them at the same time. You can make them sit by the kitchen peninsula and give them something to do other than helping you prepare the dishes. You may also ask them to sort something for you just to make them feel they are a part of your kitchen crew.
Use the Kitchen Peninsula as Extra Storage Space
You can put kitchen peninsula cabinets in the lower portion and gain extra storage space. You will find Venace's different cabinet hardware and accessories especially helpful in creating well-organized storage spaces for you. That way, you can maximize the storage spaces and keep things in order in your kitchen. When you have organized cabinets, you don't need to rummage through the storage units just to find the things you need for your meal preparation.
A kitchen peninsula allows you to create more storage space.
Don't just let the space in the lower portion of your kitchen peninsula go to waste – install some cabinets. Extra storage spaces are always welcome in every kitchen. You don't know when you will need and get additional kitchen gadgets and appliances that can help you make your kitchen work easier and more comfortable. It is best to have ready storage for these kitchen gadgets and appliances as early as today instead of troubling yourself when that time arrives.
You can use different accessories to help you maximize the storage space.
You can install pull-out baskets and bins, lazy Susan, drawers, and other things in your kitchen peninsula cabinet to keep things organized and orderly. You can maximize the space that way and have everything in plain sight once you opened the cabinets. You don't need to spend so much time looking for things when you can see them all at a glance, which can only be made possible if you have a well-organized cabinet.
You may also use some hooks to hang mugs or other things that you will need in your kitchen. You can also transfer some of the appliances, which you rarely use, to your kitchen peninsula cabinets. That way, you will gain ample storage space near your main work area.
You may still find other ways to use your peninsula to maximize your kitchen storage and space. The kitchen peninsula cabinets are worth your money. The kitchen peninsula with seating can provide a certain aesthetic appeal in your kitchen so make sure to come up with a design that will make it stand out in a nice way. Take good care of your kitchen peninsula the way you maintain your countertop, and it will serve you for a long time.