How to Get More Counter Space in Your Kitchen?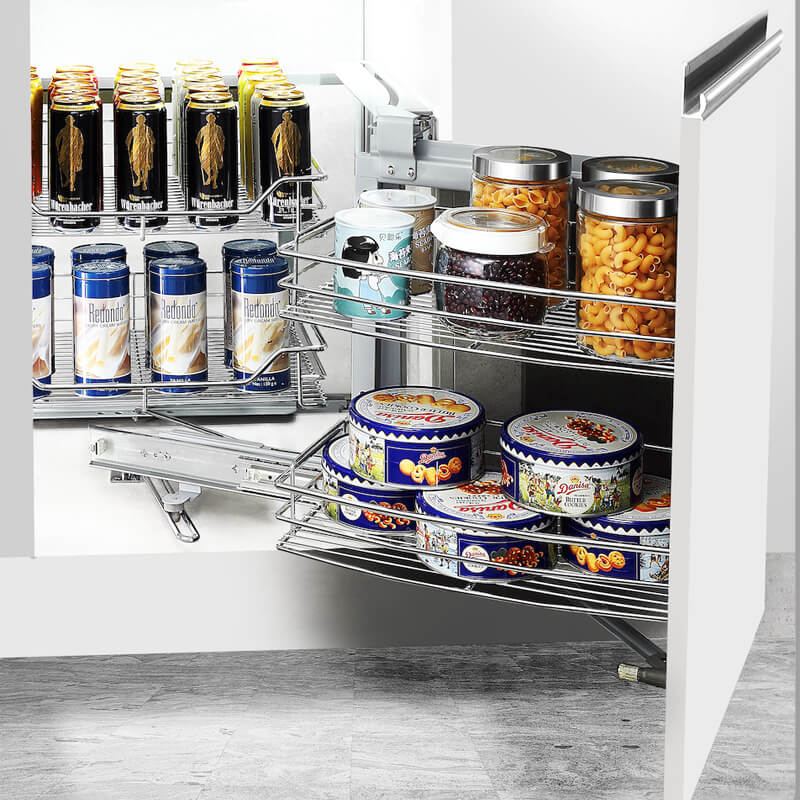 No matter what size your kitchen is, you have heard people complaining that there are too many things on the counter, especially in the compact one. Many homemakers struggle with the lack of kitchen counter space. So yes, there are many smart storage ideas to get more counter space in your kitchen. Below is the list of few ways to increase the space of counters in the kitchen –
Utilize Space Above Cabinets
You can store things that occupy your kitchen counter space on the top of your wall cabinets. If you don't utilize a few things daily, you can put them on the top of your cabinet storage. Also, you can place decor items that were once on your counter to make it look pretty. It will automatically create more counter space. This step may add some height to your kitchen, depending on what you place.
Cover Sink With Chopping Board/Slide Out Chopping Board
One of the most efficient ways to create more kitchen space is to put a large cutting board over the sink. This extra space is good to go for food washing and preparation. The other kitchen island can give you additional counter space. But if you cannot spare more floor space, then a cutting board over the sink will be the immediate solution that allows you to rinse before chopping.
You can also go for a pullout chopping board solution that works well for small kitchens as they allow ample counter space. A pullout/slide-out cutting board will work perfectly for cookbooks, food prep, or extra space. When you want to use it, slide it out from the cabinet and slide it back in the cabinet when not in use.
Make The Use Of Wall Space
Elevate the clutter and add more kitchen space. Building walls and shelves on backsplashes allow you to store all the things you require. Utilize the traditional rack or choose the magnetic boards that can hold up your spices. Magnetic boards can also help hold those knives, which means that you can save the space of a knife block on your kitchen countertop. If you are not willing to do any of these two, you can hang small baskets. They can hold small things that add more space to your kitchen counters.
Add Another Level
If you feel firm about keeping all the frequently used items visible but do not have the counter space, you can add another level of shelves on your backsplash to store these items.
Try To Install The Pot Rack
Take some benefit of vertical space by installing the pot rack that helps store all those pans used on the stove. If you have low ceilings, then install them over the kitchen sink.
Add Dividers For Baking Sheets, Lids, And Pans
If you observe the loud clattering or avalanche of lids when you open the cabinet's doors, it is the correct time to organize those pans and pots. You can install a few pan dividers, covers, and stack pots within the cabinet. Organize the pans and baking sheets by placing the dividers that are perpendicular to the shelf.
Stick Knives On Wall
The magnetic strip helps you hang or stick knives horizontally over the countertop or stove. Ensure to have a solid magnet to hold your heavy knife and take care to keep knives clean.
Create Your Kitchen Island
Kitchen islands can offer the extra counter space that you need. You do not need to create a solid one; you can also use trestle legs and the movable countertop. If you are not willing to build the kitchen island, you can shuffle the portable island extension on wheels to fit at the end of your counters. You can use it as storage when you are not in need.
Add Wall Shelves To Clear Kitchen Counter Space
One of the reasons why people keep things on the counters is to easily reach the items needed. Add open shelves if you are short of space but still want a pantry and plates in view. Move spices, dishes, and small appliances off the counter and on the walls to clear the area.
Drop Down Storage And Collapsing Counters
This drop-down storage tray is perfect for keeping your tablet or cookbook dry and out of damage while cooking your favorite dish. If you want the basket, try out the Wall Mounted Fold Down Ironing Board for great results.
Utilize The Corners Of Kitchen
Try to use the kitchen's Corner space in your home. But when you are trying to make every inch of space count in the kitchen, use all corners to give a purpose. Go for the blind corner space utilizing 180-Revolving Basket.
Go For Hanging Stemwares
You can store your stemware in style by hanging it over the countertop or underneath the cabinet. Hang it underneath a cabinet and display wine glasses and tuck it inside away for hidden storage.
Mount The Dish Rack
Note down what little prep area you want on the kitchen countertop by adding the dish rack above the sink. You can air-dry your utensils if it is a newly designed dish rack that holds them upright.
Utilize Windowsills To Store
You can use window sills to store fresh herbs, recipe books, and canisters which tends to take lots of space on kitchen counter space even if you are not using it. It will also enable sun rays to direct those fresh herbs and keep your recipe books and canisters clean and stain-free.
Add Hidden Storage
The best and effective way to maximize the kitchen counter space nowadays is to store numerous items anywhere else. You can claim the lost counter space by adding a hidden chopping board or knife block on the cabinet door. It will keep your cutting implements handy whenever you require them.
Move Microwave Off
If you observe that your current microwave is utilizing colossal space, get the microwave off the counter. It will act as a space-saving solution that will extend your kitchen countertop and build more space. You can place it above the stove on another level counter or a cart; you will not regret it.
Final Words
Kitchen counter space is crucial, no matter whatever the size of your kitchen is. Try to go for smart ways to create extra counter space utilizing all blind corner space of your kitchen.