Introduction
Our laundry room equipment needs to be simple and well designed. Today when many of us live in an apartment building, our laundry has become one of the most important rooms in our house. To many, a wall-mounted ironing board is a fabulous, space-saving asset, and as laundry has become something that we do on a daily basis, a Canvas laundry basket with wheels means we can move it around the room. Once the ironing board is folded back into the wall, and the laundry basket moved, the room can be cleaned with ease.

Your Laundry Room Equipment
Your laundry design should be as simple as possible starting with a couple of basic requirements.
1.Laundry Hamper. A storage unit for dirty clothes to be piled into the hamper until they are sorted and washed. The Canvas basket has wheels and is easily maneuverable. If you have children, buy a small one, for their bedroom, as they can put dirty clothes straight in and this will save you from picking them up off the floor. In a small space, it is important to be organized,
2.The Portable Laundry Basket for a small space will fit well into the bedroom. The bedroom storage units are made of cotton Canvas or choose a storage basket on wheels with fabric handles on both ends making it easy to pull. For your bedroom choose a smart cotton storage laundry bag to keep your dirty washing in, until laundry time. These baskets are beautifully made and look really good in a bedroom corner, however, take a look at the Jumbo Laundry Hamper as that size might suit you better.
3.Ironing Board. You will want to purchase a good solid ironing board that will sit on the floor in a stable manner when erected, and fold away with ease after use. The ironing board cover should be of good quality cloth or cotton. To meet the USA Fire standards
a Flame retardant design can be chosen, and in some places, this is now part of the WH&S requirements. ( Work Health and Safety).
The board itself is made of carbon steel mesh that is safe, light, and environmentally friendly. In the modern board, the sponge layer has been eliminated. It now has a knitted cotton layer ironing board pad which will last well for a long time as it is 7mm thick.
4.The Wall-Mounted Ironing Board. If you purchase the wall-mounted ironing board it will save you a lot of space, as you can have it installed on the wall at the right height for you, and can be folded back against the wall when not in use. The board is sprayed in a delicate white coating and has solid metal support, so there won't be any rust or corrosion. When you unfold the board it will swivel to 180 degrees enabling you to adjust to any ironing position. ( You might have a TV on the other wall) Many of us like to watch TV while ironing and there will be plenty of room when you have this space-saving ironing board. Your board has a heat-resistant cotton cover meaning the heat will remain fairly stable while you are ironing. After you finish ironing, fold the board away.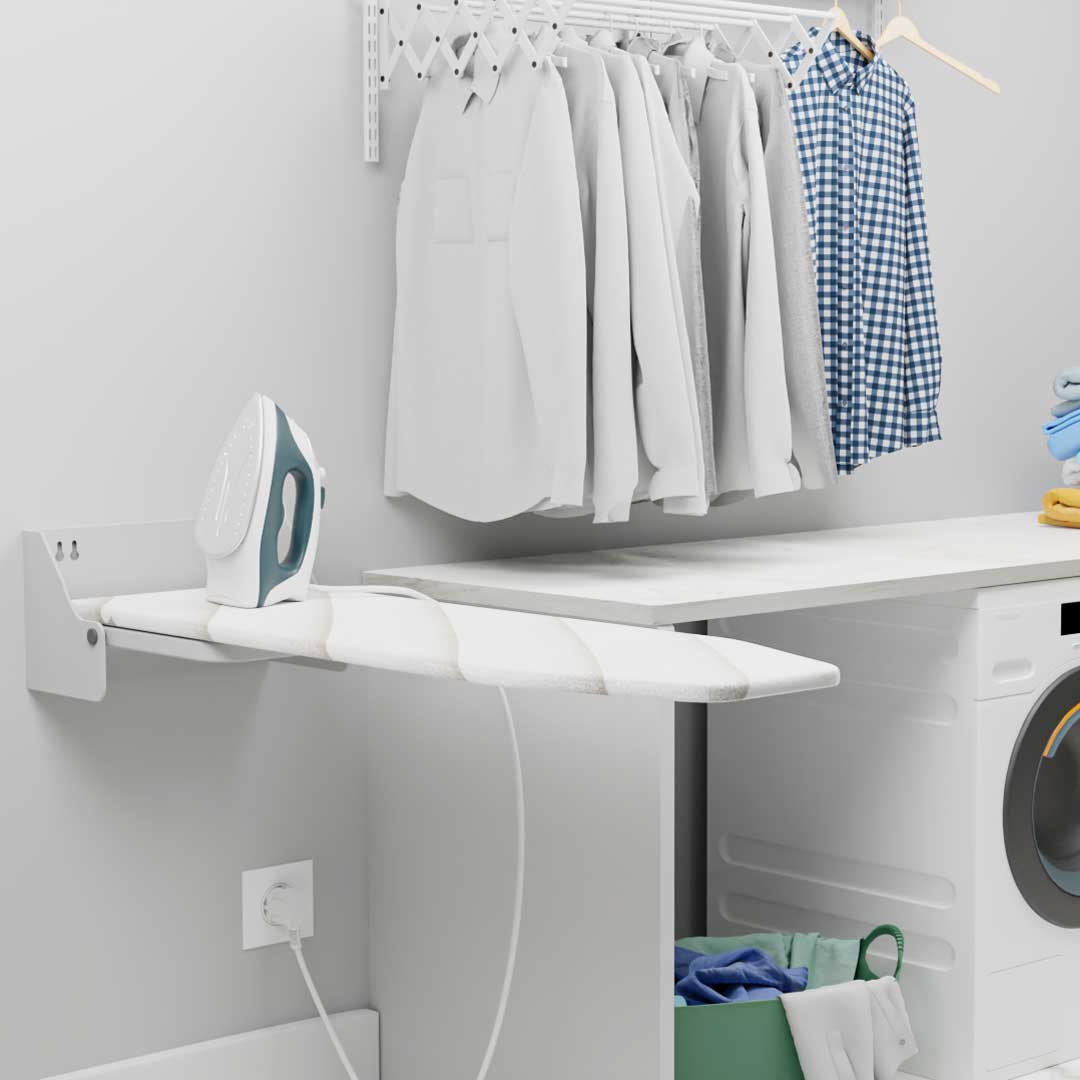 Better Life Better Price Is the mission statement of Venace Intelligent Technology Inc. Providing simple and inexpensive solutions for your household.
Many products are included in their range and they all have a simple style and character. So why not start with your laundry room and renovate it today.
If you want to purchase laundry room equipment in bulk, choose Venace's laundry room storage series.
What you need in the Laundry Room Equipment Checklist
You don't need a lot in the laundry, but it does have to be simply and strategically planned to give you the best wash-day experience.
You will need the following basics.
Laundry tub and taps.

Washing Machine

Dryer mounted above.

Storage cupboard

Wall-mounted ironing board ( to save space)

Laundry Hamper

Open shelves, if enough space.
A well-planned laundry is a necessity, and you can get an app to help you with the process. When you are painting the room, keep it neutral, white on white or cream, as it is a too smaller room for bright colors. Sometimes it will be fully tiled, making the room much easier to clean.
When the room is finished, put all your laundry supplies into the storage cupboard, which could be under the sink, or against a wall depending on needs and choice. Keep it stylish, and select your Laundry Hamper and Ironing Board colors to tone in with the rest of the room.
Renovating your laundry room is an excuse to get the space just how you want it to function, so make sure that the correct lighting is also installed, especially if it is a room without natural light. You will require appropriate LED lighting so that you can easily spot stains on clothing, and creases when ironing. If possible have natural ventilation either a skylight or a window is preferable for a laundry. You want your laundry to be a room that you choose to spend time in.
In a small space, it is preferable if you have a front loader washing machine with a drier stacked above it for ease of use. In a small laundry, install a round laundry tub in a corner to optimize space and allow for more bench space.
Conclusion
With Venace Technology available at the click of your mouse, planning your new laundry will be so much fun. The simple design of the products, accessories, Laundry Baskets, Laundry Hampers, and gorgeous Ironing Boards will make your task so much easier. Spending time in your new laundry will actually be a pleasure, as you will have the kids putting their laundry in their own Laundry Hamper, keeping their rooms tidy until laundry day.
The products are made with strict quality control in place, to be safe for you and your family, and if you have difficulty installing your own wall-mounted Ironing Board, call in a tradesman to put it at the right height for you.