How to maintain your cabinet pull-out baskets?
As kitchen essentials, cabinet pull-out baskets help us efficiently organize kitchen supplies and make our kitchen more neat and clean. Pull-out baskets are usually made of stainless steel, chrome-plated iron, and baked enamel. A high-quality pull out wire basket can last a long time, but regular care and maintenance are essential. Read this article to get tips on how to care for your cabinet pull-out organizers!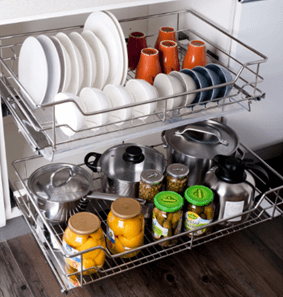 Tips for maintaining cabinet pull-out baskets:
1. Regular maintenance
(1) Regularly maintain the pull-out basket every three months.
(2) You can apply wax oil with strong decontamination ability on a clean cotton cloth and clean the surface of the pull-out basket thoroughly. Do not scratch the surface of it.
(3) Do not use washing liquid containing bleaching ingredients as well as abrasives. Abrasive tools such as steel wire balls should also be avoided. After washing the pull-out basket, rinse the surface with clean water.
2
. Maintain glossiness
(1) In order to keep the appearance of the pull-out basket glossy and bright, daily simple maintenance of the surface of the pull-out basket, for example, the surface with dust and easy to remove dirt material, available soap, weak detergent, or warm water washing.
(2) Do not contact with organic solutions and corrosive chemicals, such as bleach, vinegar, and other liquids, it will have a corrosive surface finish so that the basket loses its luster.
3. Clean off rust
(1) Use white vinegar. Vinegar can chemically react with the rust on the metal and break it down. You can also soak a rag in vinegar and wipe the rusty area of the pull-out basket.
(2) Mix baking soda and water together to get a thick mixture. Apply it on the cabinet pulls and wait for some time to wash it off.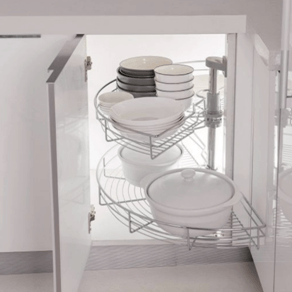 (3) Sprinkle salt on the rusted area until it is thoroughly covered, then pour the lime juice over it. Let it stand for 2 to 3 hours and then scrub the mixture.
(4) Use a chemical rust remover to remove rust without direct skin contact.
(5) Use abrasive tools to scrape off the rust layer.
(6) If the rust spot is produced by the stainless steel pull-out basket, you can use a special stainless steel quality maintenance solution to wipe.
4. Clean oil stains
(1) Use a soft cloth to wipe the surface of the basket after the oil and dirt, with a neutral detergent or ammonia solution or with a special detergent cleaning.
(2) Use alcohol or organic solvents (ether, benzene) to wipe the trademark or film on the exterior of the kitchen pull-out basket. Use warm water and a weak scrubbing agent when cleaning.
5. Open windows for ventilation
The kitchen is a more humid space, usually pay more attention to open the door and windows to keep the air flowing. Normally, you can commonly use soft and cotton woven cloth and water wipe to protect the product's bright luster.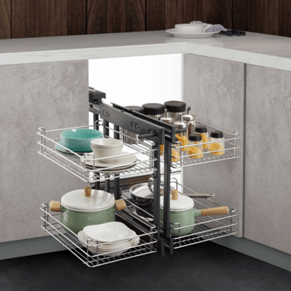 Other things you should know
1. Use soap, weak detergent, or warm water to wash the basket table seconds of dust and easy to remove the dirt material.
2. When cleaning the cabinet sliding basket, take care not to scratch the surface.
3. Use bleach and various acids to clean the basket, to immediately rinse the basket with water, and then ammonia solution or neutral carbonic acid soda solution dip wash, with a neutral scrubbing agent or warm water rinse.
4. Do not put items with high moisture and oil content in the cabinet baskets.
5. Avoid letting the basket contact acid and alkali and other corrosive items
6. Keep the pulleys and slides off the pulleys and slideways clean and lubricated, switch the cabinet doors do not force too hard, the surface prohibits external impact and friction, etc.
7. Oil the drawer slides, hinges, and other cabinet hardware on a regular basis to prevent moisture rust.