6 Budget Kitchen Renovation Ideas that Won't Sacrifice Style
Over the years, the kitchen has acquired a bit of an update in the way people see its use. While in the early 2000s and prior, the kitchen was simply a place that was used to make food before bringing it into the dining or living room, today's kitchens have very much become the heart of the house. Now, you can expect to watch tv from the kitchen, do homework and business assignments in the kitchen, and even outright have meals on the islands in a kitchen. What was once a place that solely used to prep food, the kitchen has grown and become a location that everyone constantly visits and circulates throughout the day.
So, if kitchens have indeed gone through this "mental redesign" for all of us in our day-to-day lives, it only makes sense that they start seeing actual updates and developments in their real physical appearance.
There's just one challenge. Price.
HomeAdvisor noted that renovating an average home's kitchen would cost between $13,000 and $38,000. That's quite a bit of money just to make a room feel a bit less dated.
Thankfully, you don't need to spend thousands upon thousands of dollars to get a high-quality kitchen look. With merely a fraction of that and some smart remodeling methods, you can make a kitchen that will impress every person you meet.
Below, we've found 6 great ways you can remodel your kitchen on a budget. Follow this kitchen renovation checklist and see where you can get started.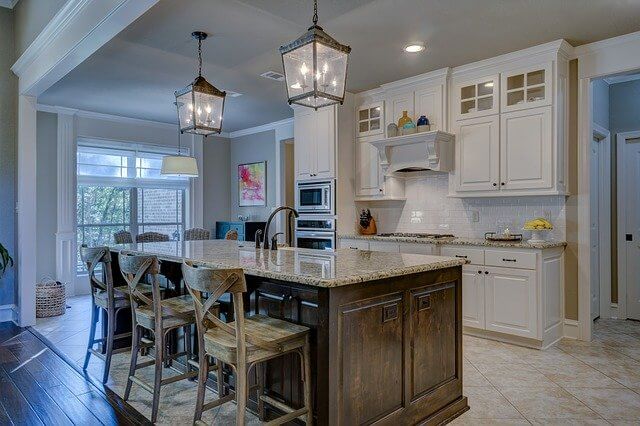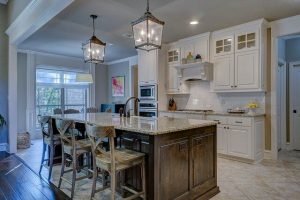 #1. Do a Paint Job
Super fun and affordable option for those looking to change up their kitchen, bringing out the paint cans will not only completely transform the space without spending a single cent on physical modifications, but it's something you will have complete control and ownership over. Go to your local hardware store or paint shop and get a color that you'll love. From there, you can paint it any color, pattern, or design you want. And the best part is that, if you don't like it, you can change it up completely with another coat of paint. Depending on how often renovate kitchen, you could have a fun, fresh, and new kitchen style every month!
#2. Replace Your Lighting
Right after giving your kitchen a paint job is changing up your light setting. Especially if you've purchased a house that was pre-built, many of the lighting setups follow that same old antiquated look. A super-effective way of completely remodeling your kitchen without breaking the bank is simply to bring in some LEDs to replace the old fluorescent bulbs.
If you want to take that next step, just outright replace the entire fixture and give your kitchen a super modern look.
#3. Add Tile Stencils
Probably one of the fastest and easiest ways to really make your kitchen look brand new, tile stencils give you all the visual benefits of adding tiling your walls without any of the effort, energy, headache, or financial cost associated with it.
There are a ton of different styles you can choose from. And as they are considerably cheaper than using actual tile, you can try out several different patterns and colors to see which one is perfect for you. While I am personally partial to the eggshell white color, someone like my mother loves a more ocean blue in her house.
#4. Add-in a Freestanding Island
While many kitchens today are already coming with their own islands, older homes may not be so lucky or fortunate. The reality is that islands are a great option for really updating the look of your kitchen and bringing it into the modern age. They are great for a ton of different kitchen-related things, from extra counter space while cooking, to a small area to get something to eat, to even a place where you can do work-related things while simultaneously cooking. Islands are a stellar addition to any kitchen.
If you don't have one in your home, don't worry. Getting a freestanding kitchen island gives all of the benefits of a built-in island with the added bonus that they are much more affordable and can, in many cases, be given wheels and made mobile!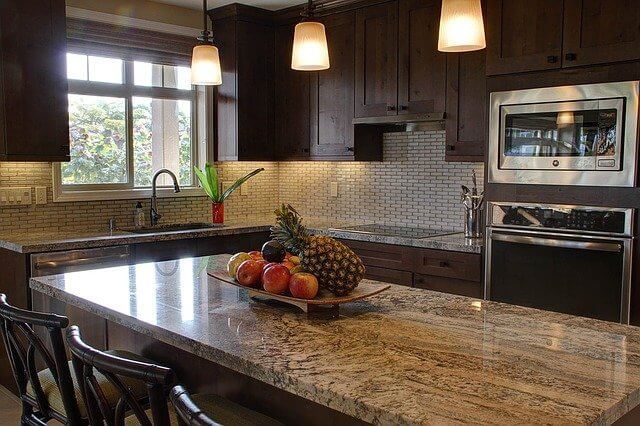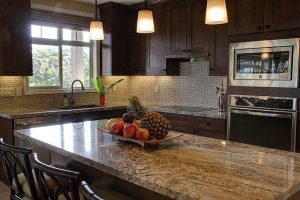 #5. Remodel Your Cabinets
While you can certainly go for replacing and installing brand new cabinets in your kitchen, the point of this is to do things on a budget. Cabinets can be quite expensive to replace, and there are much better options available, the most accessible option being simply to remodel them.
Remodeling your cabinets gives you nearly all of the benefits that you'd want when replacing them without the hefty price tag. We actually have an article that goes over how you can remodel your cabinets affordably. Some of these options include adding light fixtures, replacing the doors, or adding a cabinet mold.
#6. Send in The Plants
Finally, a bit of a curveball option that you probably weren't expecting, adding some plants into your kitchen is a great trend that is actually returning from the 60s and 70s. Not only do they make your kitchen "pop" and come alive more, but, by bringing in actual food-producing plants, you can turn their aesthetic inclusion into the potential for a delicious and healthy meal.
Add plants to areas like the top of your cabinets or the center of your island counters. You can also add them to shelves and windowsills. Depending on your light fixtures, you can even hang them from there as hanging planters.
Some great options include tomatoes, fresh herbs, Aloe Vera, White jasmine, or African spear.
Conclusion
If you are someone looking to change up their kitchen's look and appearance, it's important that you know that you don't have to spend an arm and a leg to do so. With only a portion of that money, a bit of spare time, and a ready vision for how it will look, you can create a truly stunning and breathtaking kitchen that many would expect to see on the cover of a magazine.
Follow these tips, and I'm confident your kitchen will look truly amazing.