Kitchen styles – How to choose the right kitchen theme to suit your home
The kitchen is the most essential and used room in our homes. An ideal way of describing this room is that it is the heart of our physical and mental health. We spend most of our time in the kitchen, either making food or enjoying quality time with our loved ones during meals.
Being the costliest room to renovate or remodel as it costs between $5,000-$35,000, you cannot afford to choose a kitchen design that does not suit your home. That is why we have compiled a list of the most popular yet functional kitchens in this article. In addition, we walk you through a few tips on how to choose a suitable kitchen theme to suit your home.

How to choose the right kitchen style for your home
It's paramount that even before researching the types of kitchen styles at your disposal, you understand factors that you should consider while choosing a kitchen theme. Below is a list of some of the factors you should consider;
Your home's architecture
choose a kitchen style that complements your home's architectural design. For example, if your home is modern, then a modern kitchen theme will suit your home. It's recommended that you adopt a Shaker's kitchen style for a much slightly older home or a property house.
Functionality
This factor is of paramount importance as it will determine how well you will perform kitchen activities in your home. Ensure that you choose a kitchen style that can allow you to complete your activities in the kitchen with ease and efficiency.
For example, if you have a large family, choose a kitchen style that can accommodate many individuals, preferably a farmhouse kitchen. Also, incorporate colours and furniture that are easy to clean and maintain.
Personal preference
Remember, it's your kitchen, and you alone decide how it is that you want it to be. So choose a kitchen style that meets your needs and standard.
Your home's layout
Your home's layout influences which kitchen style you are to have. For a more open-plan house layout, a modern kitchen style should be incorporated for a more classic look in your home.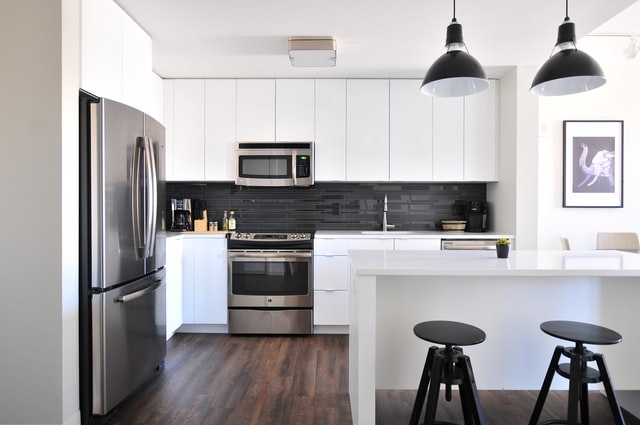 The most popular kitchens
Farmhouse Kitchen Design
Also known as country kitchens, this kitchen will suit your home if you have a large family or have many guests visiting your home. This design blends in both comfort and style in a heavenly combo that is sure to accentuate your home décor, particularly your kitchen.
Features that make this kitchen theme popular include; Deep, vast basins made of stainless steel or classic porcelains that come in handy in large families. Natural stones are used to make kitchen back slabs, floors, or a kitchen island for a more earthy vibe. Long and chunky planks of hardwoods such as maple and oak are usually used in making tables or wooden countertops.
Cabinetries are usually made from reclaimed wood for a more countryside setup. Exposed bricks and concrete walls are typically used for a more attention-grabbing kitchen design.
Industrial Style Kitchen
For a more edgy and classy feel in your home, industrial kitchens are the best suit for you, especially if your home has an open space layout. Also known as a restaurant kitchen, this type of kitchen is most popular among homeowners due to its functionality and appearance.
Features that make these kitchen designs favored among homeowners include incorporating neutral colors like grey, brown, black, and white that give this kitchen style a vibrant and dashy look-a classic merge of leather, stainless steel, and wood in the making of kitchen furniture. The addition of a café window shutter not only gives you a sense of being in a restaurant while still in your house, but it also provides more privacy.
Countertops are also made of marble and concrete, which may be customized to suit your preference. Brick-walled kitchen islands and barstools with statement pendants are fused to add character to this kitchen theme.
Scandinavian Kitchen
If you are a nature enthusiast, then this kitchen theme is the best suit for your home. Otherwise known as Nordic or scandinavian style, this kitchen style is famous for its white, grey, and beige hues, although most notably white shades reign supreme. It incorporates natural materials such as natural stone for kitchen countertops and treated hardwood for flooring and cabinetry for a more exceptional kitchen layout.
Hanging plants and signature lighting fixtures such as lamps and pedants may be incorporated in this kitchen theme to make a contrasting yet impeccable kitchen style.

Modern Kitchen
It's safe to assume that this kitchen theme is tailored for a more crisp and precise look. So if you are the type who loves orderliness and clear surfaces, this kitchen style is the best fit for you. It fuses both bold and bright colors (white and light cream hues) in a striking way to create an edgy kitchen advent. Horizontal solid lines on both floors and cabinetry are used to make a signatory statement.
For a more elaborate kitchen theme, granite and marble stones can be used as countertop materials. Frameless cabinets with lots of drawers for storage are integrated for a more lustrous kitchen appearance. You can install frosted glass doors may in cabinets to give your kitchen a clear-cut and sleek debut.
Shaker Kitchen
You can never go wrong with this kitchen layout as it suits almost all types of home architecture, and uniquely, it's always up to date. Also referred to as colonial kitchen, it's the best fit for a period property ( a property built between the years of 1714-1910). It combines both traditional and modern kitchen styles in an exclusive and functional manner.
Highlights that make this kitchen theme popular include; Gray, white and cream hues that display sophistication effortlessly. The use of simple wooden knobs on cabinets and the meticulously crafted square frames accentuate this kitchen's movables.
Enhance your life
Ensure that you choose a kitchen theme that complements your house layout and architectural design. Always consult an expert if you are not sure which kitchen style will suit your home.