Guide to Choosing Cabinet Door Styles
In your kitchen's overall design and remodeling, the cabinets have a major role in enriching overall interiors. The cabinet type you select speaks volumes about the kitchen design, and it is appropriate to select the accessories and kitchen furniture for complementing the cabinets. However, the main question you might be asking yourself is, "why are cabinets a significant part of the kitchen?" This is because they're the first thing anyone, notices in your kitchen.
Without having cabinets, the kitchen wouldn't be complete functionally as it lets you store food such as contained food, spices, and other kitchen utensils like plate sets, bowls, and different types of forks, knives, spoons, etc. Thus, it makes sense to invest in a stylish and convenient kitchen with equally nice doors. Thus, you should keep in mind that the kitchen cabinet exterior door is the first thing others notice and therefore, you should get the kitchen cabinets with an aesthetic appearance.
In this regard, we've compiled the best types of kitchen cabinet doors through which you can uplift the overall appearance of the kitchen. Firstly, let's sort out the cabinet door styles according to your preferences. If your style is:
Minimalist/Modern/Industrial/Contemporary
You can search for: Thermo foil, metal, glass, or flat. Shaker also goes well.
Cottage/Rustic/Flea Market/Antique/Shabby Chic
Begin with: Distressed, mesh, inset cabinet, shaker cabinet, and you can also try glass, louvered, or mullion to have as accent doors. Arch, flat, and raised styles also work well.
∙Ornamental/Baroque/Ornamental
Start with: Raised, shaker, arch, inset, mullion, glass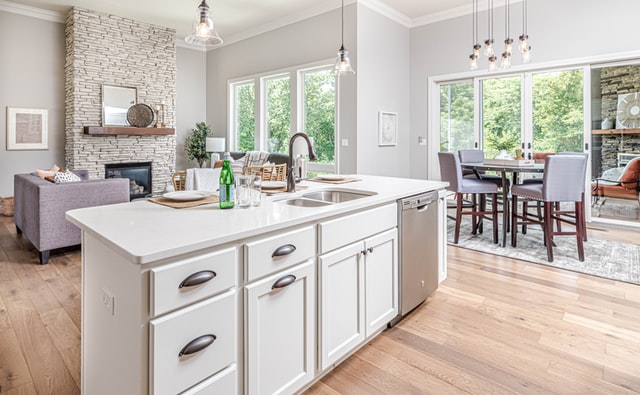 Let's know these and decide the ones that you prefer:
Shaker Cabinets
The Shaker-styled doors are the most sought-after modern cabinet doors. There are various reasons for their popularity; number one is that they're quite versatile as they're available in different sizes, designs, colors. Because of their varying designs and sizes, they easily fit well into different cabinets and they also complement the design of your kitchen.
Also, note that the shaker cabinets also consist of five flat-panel pieces. Additionally to the sleek paneled doors, they are admired widely for their sturdy and small rail frames. Such frames are typically made through excellent wood types providing them a robust nature.
Kitchen Cabinet Slab Doors
The slab doors have been designed in different ways, and the certain design also dictates the pricing of cabinets. However, all the slab doors are available with a common feature: they're available with frames. Because of their minimalist style, these cabinet types are gaining popularity among modern house owners.
For a high-quality appearance, it's best to try slab kitchen doors in solid hardwood as they're durable and solid. However, if you're looking for more affordable options, it's best suggested to have MDF (particle board) along with a construct of white thermo foil.
Replacement Doors for Cabinets
Additionally to the style of the door, the Cabinet Door types are vital structural mechanisms for considering when selecting new doors for the cabinet. The door type also refers to construction along with the cabinet door fit in respect to the cabinet frame. Three main replacement door types for cabinets are:
∙ Full Overlay: The full overlay cabinets are generally paired with cabinet slab door types. The goal of such a large door design is minimizing all exposed frameworks between different cabinet units, creating a seamless profile good for minimalist/temporary styles.
∙ Inset Cabinet Doors: For conventional cabinets, the inset cabinet doors are the best available options. Rather than resting in the cabinet frame front, similar to overlay designs, the inset doors also sit flush to the frame and expose the cabinet face. The type of door has been used for many centuries and it is ideal for traditionally styled shaker cabinets.
∙ Partial Overlay: The cabinet design is considered an industry-standard meant for types of cabinet doors. As it is suggested by the name, the door has been partially engineered for covering the cabinet's frame face – which forms a border among each unit of the cabinet.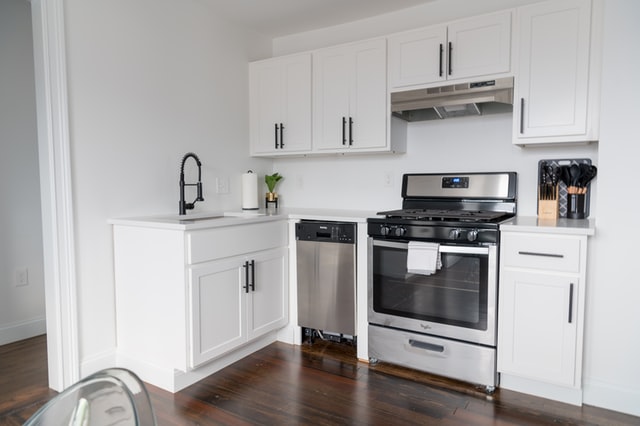 Distressed Cabinet Doors
The kitchen distressed modern cabinet doors are having an antique or cottage charm. Such types of cabinets appear in different styles of doors with rubbed patches providing an old vibe. Here the good news is that you can provide a distressed appearance to the cabinet doors at your house.
Glass Cabinet Doors
These cabinet doors aren't as expensive as they seem, but they're a great choice if you wish to get an embellished and bright appearance for the kitchen. There are many glass choices available for the cabinet door, being – colored, opaque and clear. Additionally, you might also have the choice of selecting the ideal frame. For instance, you can get a timber frame, glazed frame, or a plain frame in whatever design you wish to have. A lot of homeowners also get spotlights installed within glass shelves while doing so to provide the kitchen a perfect appearance.
Mullion Kitchen Cabinets
The mullion cabinet door variation has been constructed with two materials, wood, and glass, or materials like wood. Featuring a center glass panel, the cabinet door type lets you select the stemware and fine china behind the protective barrier. Varying transparency levels through this design also make more cabinetry depth illusions, working for amplifying space presence. A lot of mullion cabinets can also get adjusted with glass grids, in either composite or natural wood materials, to get additional design flair.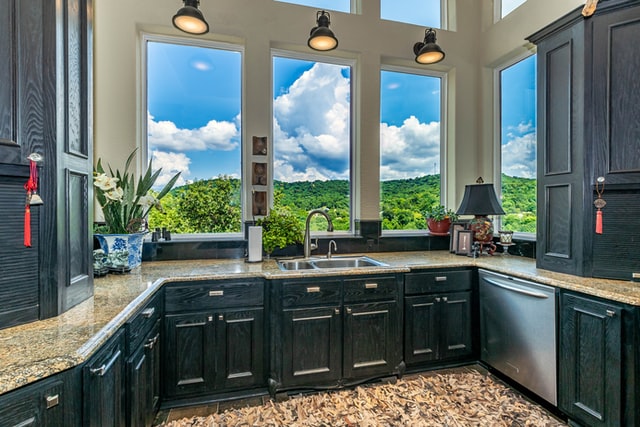 Recess Panel Cabinet Doors
The Recess panel cabinet doors are mirror images of the raised panel cabinet designs. These featuring a recessed center panel and a raised-edge profile, these doors also display frames and squared angles that can enhance the cabinetry aesthetic charm. The clean silhouette works fine in different kitchens as it seamlessly integrates virtually in many designs.
Raised Panel Cabinets
The raised panel type modern cabinet doors have raised center cabinet panels along with a grooved framework. The resulting multi-dimensional design also brings depths to the cabinet doors and accentuates shadows with the textured profile. These are typically available in rustic kitchens, these are ideal for both contemporary and conventional designs. The raised panel-type kitchen cabinets are timeless pieces and versatile options that go well with almost all types of homes.
So Which Would be the Best Cabinet for your Kitchen?
It's quite natural to get out of the element when it is about designing and finding a great cabinet door style. To explore the unique preferences for the design and find cabinet door styles working well with the functional and aesthetic requirements, you can also try sampling with different styles. With the sampling process, you can easily mix and match door styles along with the materials and narrow down your selection and ultimately select the most suitable one.