How Much Does An Outdoor Kitchen Cost?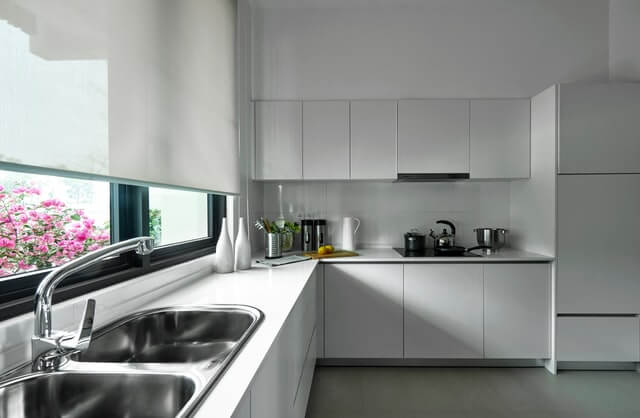 Kitchen is one of the most important parts of our house and there is no doubt in that. We are very well accustomed with the concept of traditional indoor kitchens. But have you ever thought of having outdoor kitchen? Of late, the concept of outdoor kitchen is gaining a lot of popularity. It is a place outside the house which you can use for preparing the meal, cooking and cleaning. You need to setup a lot of things such as stoves, cooking storage etc. So, what is the cost of building an outdoor kitchen? Whether it is the cost or some kitchen storage ideas, you will get to know everything here. Read on to know more.
How much does it cost to build an outdoor kitchen?
When you are making any investment on your home, the current budget situation plays a vital role to determine the total cost. You have to first determine your wants and requirements for the outdoor kitchen. Once you establish that, it will be easier for you to figure out the estimation.
According to one of the studies, it has been found that the average cost of building an outdoor kitchen is about $13,000. But if you want to spend on some high-end products and luxurious plan, then the cost can go as high as $30,000.
Another study has revealed a cost range of about $300 to $750 for each linear square foot of outdoor kitchen. In that case, the cost will range from $4,000 to $20,000. If you see the national average, then it is about $12,000 where the range of a typical outdoor kitchen is between $4000 and $20,000 approximately. But if you see the high-end outdoor kitchen cost, it can be anywhere around $20,000 to $38,000.
Actually, there are a lot of different factors that play a major role in deciding the right cost or estimation for building the outdoor kitchen. These factors are:
Location of the kitchen

Freestanding or inbuilt kitchen

Appliances to be used

Storage options

Designing and decoration
Based on all the factors, you can build a budget for building your outdoor kitchen. To get more information about the kitchen storage ideas and more, read on.
Planning an outdoor kitchen
While planning the outdoor kitchen, there are different things you have to look into. Here are some of the most important aspects that you must look for:
Location of the outdoor kitchen: Yes, the first and foremost thing is the location. You have to find a perfect spot which you can dedicate for the kitchen installation. You must prep the space first and make sure that you have a clean and even surface to build a kitchen. If you have a flat surface, then it is great. But if you don't have then you have to make sure that you are clearing the space properly to build one. Remove the stumps of the trees, flatten the ground and then clear the space. This may cost a bit if you are hiring labors. You can also do it yourself.
Deciding the size of the outdoor kitchen: This is another important decision that you have to make. The size of the outdoor kitchen also plays a role in the total cost of building the kitchen. More space means more decorations, more storage units etc. So, you have to decide the ideal or good size for your kitchen based on your budget. You don't have to go big for the outdoor kitchen as you will use it occasionally. Moreover the outdoor kitchens are made with open kitchen concept. So, even if the functional space is limited, it will appear spacious and airy. But if you have huge lawn or backyard with too much of space and you have high budget, then you can go big.
Things to add in the outdoor kitchen
The outdoor kitchen can be of two types – basic and fully equipped. The basic ones mainly have two things i.e. a grill or a barbecue and a working surface. If you want a fully-equipped and complete kitchen, then you have to add a lot of things in that kitchen. There are certain things that you must add in the kitchen and these are:
Oven: The first and foremost essential object that you have to get is an oven. Without that, it is not possible to cook or prepare foods. You can choose various types of oven such as charcoal over, gas over, wood pellet oven or even electric oven. You can also include a fireplace here for some fun with friends toasting the marshmallows.
Refrigerator: This is an optional thing which you may or may not add to the outdoor kitchen. If you think that your indoor refrigerator is enough, then you don't have to buy another one. But adding a refrigerator to your outdoor kitchen can make things much more convenient when there is a party at your outdoor space.
Storage space: You need to make sure that you are buying the best in class storage units for your outdoor kitchen. You can include some of the best kitchen storage ideas like dish rack, pull out basket, sliding organizer, revolving basket and pull down shelves. These are some of the most important storage units that you can include in the outdoor kitchen to make it more efficient and functional.
Sink: The last item but definitely one of the most important one is sink. It has endless functions and you will need a sink for preparing the food, cooking it as well as for cleaning the utensils. So, you have to add a sink to your kitchen.
Conclusion
So, the total cost of building an outdoor kitchen depends on different factors as you can see. You have to contact the best contractors to decide on the estimate. But make sure you are not compromising on two things – materials to build the kitchen and storage space. More kitchen storage space means better facilities. You can have some great kitchen storage ideas and units for decorating your kitchen. The size and other decorations depend completely on your choice and how much you want and what you don't want. All these factors can add up to provide you with the best estimate.