Best Primer for Cabinets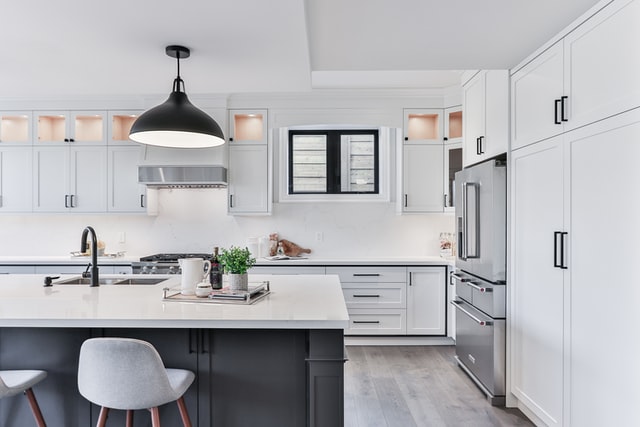 Cabinets
Painting cabinets are not an easy task. You have to remove the doors from the hinges so that you can paint them nice and evenly. You have to degrease and apply coats of primer before applying paint to your cabinets, and think that it is a waste of time and money, but if your cabinets could talk, they will be thanking you for taking care of them.
Applying a primer allows your paint to adhere to cabinet surfaces without flaking and peeling after several years. And it also makes for a high-quality paint job. Additionally, if your cabinets are primed, the paint will not peel off when you're rubbing or wiping the surface.
Choosing the right primer
There are many primers in the market, but there are four main types to choose from to use on your cabinets. There is the water-based primer, either acrylic or latex, which is the most popular among DIYers. It is easy to apply, and it dries fast too. They do not stink up as much as the other types too. Professionals use oil-based or solvent-based primers for top-quality paint jobs. Using this kind of primer requires good ventilation and protection for the painter. It dries longer and emits a foul odor. There are shellac-based or alcohol-based primers that are better sprayed than brushed. Lastly, there are hybrid acrylic urethane primers. As the name suggests, hybrid primers aim to offer the best of both worlds since it has both oil and water in the solution.
You also have to consider odor and stain-blocking properties when choosing a primer, especially when you are painting kitchen cabinets. Some primers can block strong smells, and stains can easily be wiped away without retaining their color on cabinet surfaces.
The best brands in the market
There are many primers in the market that serve various needs, all claiming to be the best primer for cabinets, and here are some of the top picks by professionals and individuals around the world.
1.KILZ
This brand is considered the best in the market. They offer several products such as Adhesion High-Bonding Interior/Exterior Latex, a white water-based primer that glides on easily on surfaces. It goes on most surfaces without the need for prior sanding and dries in half an hour or less. However, despite being considered best overall, its odor and stain-blocking properties are subpar.
They also offer Restoration Maximum Stain and Odor Blocking, a water-based primer that dries in an hour. It's heavy-duty, which means that it is specifically made to block stains and strong odors. There is also the Original Multi-Surface Oil-Based Primer, which can be used on all kinds of surfaces such as walls and ceilings, not only on cabinets. The downside to using this primer is since it is oil-based, it leaves a smell that permeates and stays. To avoid this, apply this primer on surfaces in well-ventilated areas.
TRIBUTE Interior Satin Paint and Primer in One is an innovative product because it is a paint and primer in one. It comes in different colors and has a pearl-like finish, saving time and money since there is no need to prime before painting.
2.Rust-Oleum
Rust-Oleum offers a variety of primers for different needs and is considered the cheapest in the market. One such product is the 86258 Primer. It is a water-based latex primer that is quick-drying and bonds well with either water-based or oil-based topcoats. There is also Rust-Oleum 271009 Advanced Synthetic Shellac Primer, a synthetic shellac product best for stain-blocking. Even its odor-blocking properties are competitive. It is applied best via spraying rather than brushing. Zinsser, a Rust-Oleum product, offers the Cover Stain Oil-Based Primer, which is perhaps the cheapest out of all Rust-Oleum products. However, it smells horrible, similar to a lot of oil-based primers.
3.INSL-X
INSL-X specializes in coating just about any surface, and size is not an issue. They coat pools and wide floors and are one of the most competitive in the priming business. Stix Acrylic Waterborne Bonding, a hybrid acrylic urethane primer, is an excellent blend of oil-based and water-based products. Drying time is much longer at four hours, but it adheres well to almost all surfaces, even plasticized ones. Another product is the Prime Lock Plus Alkyd Primer, which allows adhesion to high-gloss surfaces. It also seals in water stains and smoke damages, allowing the paint to cover up any blemish or stain the surface might previously have.
4.Pro-Block
This product is sold at Sherwin Williams stores exclusively. It is oil-based and adheres pretty well to wood, and paint will stick without flaking and peeling off. Pro-Block is so good at concealing stains that are hard to remove, and its viscosity allows it to cover up patches on drywall. It may be the stinkiest product on this list, but it sure gets the job done.
Conclusion
There is no way of telling which product out of everything listed here is the best because everything has a specific use. Whether you're priming walls or cabinets, there's a product for you. Even professionals use different primers for different surfaces, and DIYers tend to purchase several primers and see which one works the best on various surfaces. The best primer for cabinets depend on the surface, previous condition, and texture of the cabinet too, which is a fact to keep in mind.
Some primers need a pre-sanded surface before application, but most of the primers on here are application-ready.
There are several factors to choosing a primer that fits your needs, and you have to keep them all in mind. You have your surface, adherence to paint, drying time, ventilation, and of course, your budget. Some products emit strong odors more than others but dry quicker. Some primers block only odors but not stains and vice versa, and you have to find a product that does both. Others work best when sprayed instead of brushed, but if you do not have a sprayer, it might be difficult and expensive for you. The product which does all of these might be a little over your budget and might seem impractical. Thus, all you need is to have an understanding of your priming priorities, and you will find the best primer for cabinets.