Answering Common Questions When Remodeling Your Kitchen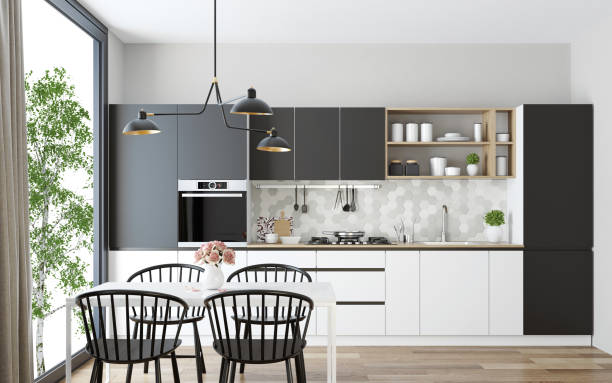 Where should I start?
Many would agree that our kitchen could be the heart of every home. It is where every family meets during their eating time any time of the day. It is where the meaningful conversation happens over breakfast, lunch, and dinner. Given its importance, remodeling is not an easy task. It can be complicated work ranging from one month to a year, depending on whether it is a minor or major renovation. In terms of spending, an allocated budget before the project starts is necessary. It is not something that you would stop if you run out of resources.
Even though you already knew the a-to-z of kitchenware, you are in big trouble if you will not look into the details with consideration of the bigger picture. Same with the detailed budget, a specific timeline is a plus whenever you do home renovations. Let us answer the common questions in remodeling kitchens, from start to finish.
Do you have a vision for your kitchen?
In every renovation, there must be an end goal. Do you have a dream kitchen? Do not be swayed by what you are seeing online. In addition, your ideal one should start in your mind way before you completed the budget needed. Will you replace cabinets, walls, flooring, and appliances? From this point, it is important to itemize the things that you needed versus the wants.
Do you need to create a detailed budget for remodeling kitchens?
Yes, it is necessary. It is not a question of whether minor or major renovation. Either way, you have to create a budget that would suffice your need. Always remember that though dreaming big is for free, the reality could be costly. In addition, create a list of all the appliances that need to be replaced, and need to be maintained. You can sell old cabinetries and use the inflow generated for your new acquisitions.
Is hiring a contractor a must in this kind of project?
Hiring a third-party builder will depend on your needs and budget. There are various firms in the market that are experts in remodeling certain parts of your home. They charged based on commission, or for some, they charged based on project estimate. However, studying and doing your research before hiring is a good strategy. It is better if you can find alternatives. Ask for recommendations from your colleagues and friends. Through this, there is additional assurance that the work will be done efficiently.
If you are a fan of renovating things, you can opt to do it yourself. This will not only good for your budget but will also give you additional leeway in design and timeline. Considerations for this are your experience in doing this kind of renovation, and the availability of tools and materials.
When will you start to develop your renovation plan?
Planning is crucial in every activity. If you failed to plan what you want, you will fail eventually. Adjustments can be done, but to save time, budget, and energy, planning ahead of time is a hack. Start by measuring your space. It should be detailed as possible. If you will hire a contractor to do the job, the company will help you with the necessary measurements. In addition, there are designers that can help you out in deciding what to include in your plan. At the end of your planning stage, the start and end dates must be specific.
Is advance order of appliances okay?
In practice, once all the design and planning are finished, they are ordering their desired appliances. For some, they even wait to complete delivery of all the orders before starting demolition job, if any. You have to consider the size and weight of each appliance as it affects your furniture and fixture around it. Based on your final design, your cabinets should fit well. Building contractors normally have one reliable supplier for the fixtures. This is to guarantee quality and short lead-time in terms of delivery. Order complementary furniture can be done also at this stage.
What are the kitchen items that should be prioritized in remodeling your home?
Lightings are one the commonly replaced items as everyone is remodeling their home. Consider the natural light that is going into the room. Once done, evaluate what area needs lighting improvement. Adjustable lights can be a valuable addition. You can create different feels whenever you adjust the height or placement of your lighting.
Kitchen storage can be renewed, if not, replace. Due to wear and tear, your cabinet hinges may not be functioning well. Instead of replacing the whole cabinet, you can check if you can add or replace it with soft close concealed hinges. It will add productivity and aesthetic value. Consider pull out sliding organizers, instead of installing partitions within your cabinet. This will help you move faster while cooking, and not just organizing your utensils and ingredients well.
Do you need to establish a temporary dining area?
For a major household, they are creating a temporary kitchen to still cater to their need while renovating. Depending on the timeline you set, this is a wise thing to do. As a side comment, consider additional expenses as your frequency of eating out and ordering food may be higher than usual. In addition, start decluttering before starting the messy job. This will help you save time and effort while you are in the process.
What is the hardest part of remodeling your space?
After purchasing and completing necessary labor and materials, let the dice rolling based on your timeline. Prepare yourself with timeline adjustments along the way. This is inevitable.
Initialize the demolition job based on the sequence you have set. Do not forget to take care of those items that have a salvage value. Electrical and plumbing works are two of the hardest to accomplish in kitchen renovation. If you are doing it yourself, make sure you have experience or you seek the advice of an expert. It will cost you a lot of money if you mess up your wiring, and plumbing setup.
Are there standard spaces to be considered?
Safety should be the number one priority. You can achieve this by utilizing and correcting all the spaces in your kitchen. This should include the zones where your pantry is located, your countertops, or even your walkways. For counters, 36 inches would suffice for food preparation, but it is better if you can fit more space. Your appliances should have adequate space in each front. Take note of where will you be facing each door. Enough room for in and out people is highly recommended. People could easily walk through the kitchen aisle without too much bump from each side.
In the end, sticking to your plan as much as possible is the best thing to do. There will series of scenarios that you will encounter, but every time you have to decide on changing things, always go back first to your drawing board. Consider the repercussion to other renovation activities, additional cost, time to be consumed, and energy needed to execute that change.