A Complete Guide of Lazy Susan Cabinet
It is vital to get the perfect storage fitting at home, which will make your work easy and organize the space effectively. This is the reason why you must add lazy susan cabinets to your house. If you have a new home or want to redo your storage areas, then lazy susans are an excellent option to go.
The lazy susan concept consists of shelves or racks on the rotating base. The spinning shelves are kept on the countertop, inside a cabinet, or on the table. The rotation mechanism uses bearings that rotate the shelf at 360 degrees, similar to the turntable.
What Is Lazy Susan?
The lazy susan is an efficient way for storing items that rotate around the axis, eliminating the necessity to reach the back of the cabinet to search for the item. You can spin it and search it. It is an efficient carousel that is easy to replace.
However, many people have a question 'why is it named lazy susan cabinet?' Thus, there is the history behind the term 'Lazy Susan', which was coined by Thomas Jefferson. His daughter Susan always complained that there was never enough food because all the best dishes were finished before serving her. Hence, lazy susan use to place meals in the middle of the dining turntable to rotate and serve themselves instead of waiting to be served.
Different Types Of Lazy Susan For Your Kitchen
Below are a few types and shapes of lazy susan for your kitchen and dining room –
A kidney shape is round, triangular, and smooth as designed for the 90-degree angle available in different kitchen cupboards. This sort of Susan is the common one. The cupboard doors stay connected with the particular hinge that allows them to slide open and access the equipment.
Full circle shape Susan has circular revolving racks that complement the standard 360-degree size cabinets having a diagonal edge instead of 90 degrees. There are miniature versions also available for top corner cupboards, such as a 270-degree revolving basket.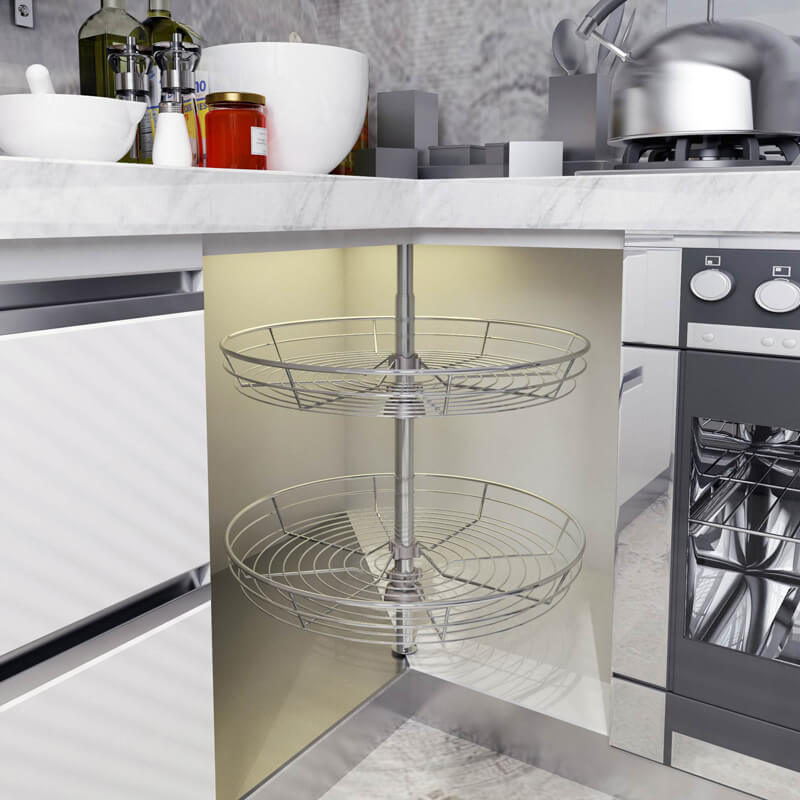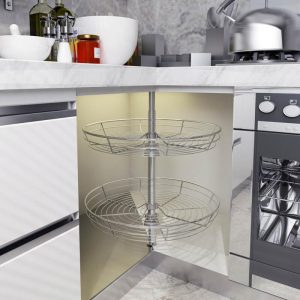 Susan also features a pie cut shape that is usually in contrast with the kidney design. The basic structure is almost similar, but these pie-cut shelves have the square at the corner, which you can join to cabinets quickly without alteration creating the 90-degree angle.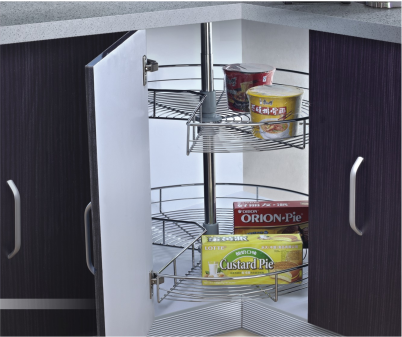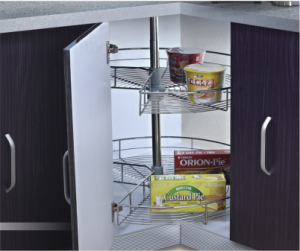 D-shaped Susans have a flat side at one side, or you can say there is semi-circle storage at one end, such as a 180-degree revolving basket. Everyone asks the question 'what to do with the corner lazy susan cabinet?' So, this D shape basket works perfectly in both corners as well as regular cupboards. This flat side will allow the cupboard door to close entirely over Susan.
This sort of lazy susan has a half-moon shape, which is considered the perfect option for blind corner cabinets because the pull-outs and shelf pivots enable easy access to things. You can mound half-moon ones on the door, which will allow you to move or rotate to reach the shelf.
Different Sorts Of Materials In Lazy Susan
Additionally, there are different styles available in lazy susans where you will see three materials used. You can choose from wire, wood, and polymer.
Wooden Susans are more in demand due to their textural and rich appearance. Most of the wood Susans are made up of is maple or birch plywood and built from solid wood pieces combined to reduce warping chances. It is also known for keeping items from falling when rotating the shelf.
Polymer or plastic is the standard sort of lazy susan material designed with ribbing for texture surface and strength, providing a non-skid effect. Such shelves are durable, washable, and economically available in both almond and white hues.
Wire Susans have their roots in European design that is made up of heavy gauge and welding metal. Once you assemble it, the wire has the metal plating or cover with epoxy coated paint for a contemporary and clean appearance.
Final Words
Thus, if you have any of the two questions like 'what to do with a corner lazy susan cabinet' or 'why is it called a lazy susan cabinet,' then the above article is the complete guide and the answer to all your questions.