YOUR ULTIMATE GUIDE TO 2021 KITCHEN TRENDS
Do you remember that time in quarantine when all the baking and cooking materials were sold out? Because yeah, us too! Groceries and shops had nothing left because our kitchens became our best friend and comfort zone. With no one allowed to go outside, most of our time was spent making dalgona coffee, cooking Gigi Hadid's pasta, and baking different kinds of bread in our kitchens. In that time, many new kitchen trends came about, and we are here to make sure that you are up to date.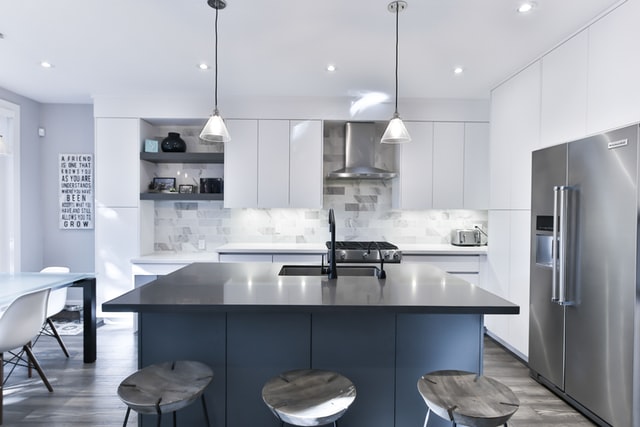 #1 STORAGE IS A MUST
Because of the pandemic, people have been upgrading their storage spaces to hold up to months of supplies. Whether it is a new kitchen cabinet or a supply rack, we all know it is needed in order to keep our kitchens clutter-free. It must be efficient, space-saving, affordable, and high-quality. To find the innovative storage solutions for your kitchen, you may head over to Venance's website. Venice Intelligent Technology Inc. manufactures various household products that are neat, unique, and affordable but makes sure to get the job done.
#2 OPEN AND CLEAN AESTHETIC
Crowded kitchens have a big "X" mark on our kitchen trends 2021 list. Although Industry statistics show that there has been a drop in open kitchen plans, it is still a must that kitchens have ample space to move in. Modern designers also go for having a "clean" aesthetic to the kitchens by ensuring that kitchen counters and studies are mess-free. This also includes having multipurpose appliances in your kitchens that can act as storage. Neutral and light colours are also often used in achieving the "clean" aesthetic.
#3 BRIGHT COLOR PALETTE
Included in our list is the rise of bold and daring kitchen colour palettes. These colours range from subtle greens to bright reds. In addition, some kitchens even have contrasting colours to show off more vibrant energy. An example of this is a blue and red kitchen. This is definitely an atypical trend but is refreshing to the eye. On the other hand, there is a high chance that this trend will eventually die down. Bold and daring colours can be hard to maintain and have the ability to make your kitchen look messy.
#4 KITCHEN ISLAND COLOR SCHEMES
Another trend on the rise is highlighting your kitchen island with a contrasting colour from the other cabinets in your kitchen. Based on our previous example, this may be having a red kitchen island while the other cabinets are painted blue. Kitchen islands, also referred to as kitchen studies, are the most significant part of every kitchen. This is where you may lounge around, prepare quick snacks, or have a drink. The most common colours used by homeowners to put a spotlight on this are blue and grey.
#5 CERAMIC AND PORCELAIN FLOORING
Hardwood floors are the go-to's for the kitchens aiming for a classy and chic look, but ceramic and porcelain floors are slowly taking over. Along with the rise of bright and bold colours, detailed printed designs on ceramic and porcelain tiles are also emerging. People usually love these designs because it gives a livelier overall vibe to the kitchens. This is most popular with young adults, but there is no need to worry because hardwood floors are considered a classic staple, so it never goes out of style.
#6 STATEMENT LIGHTS
If you are into big and bright lights, then you will definitely love this 2021 kitchen trend. Homeowners are putting long dangling kitchen lights on top of the kitchen counters. These usually come in a row of threes – all of them bearing the exact same design and length, and are placed on the highlighted kitchen study. This style creates a cosier feel to the kitchen and gives it a more relaxed aesthetic. These statement lights are often the first thing that you will notice as soon as you enter the kitchen.
#7 HUGE PANTRIES
Like we stated earlier, storage is everything in 2021, and if you want to stay ahead of the trend, you go for the enormous pantries -and we mean human-size and walk-in kind of huge pantries. Because you want to stock up on ingredients and supplies while keeping your kitchen clear of any mess, you would need to turn to large pantries. In these large pantries are more racks and shelves to help keep you organized. Amongst those organizers are the luxurious revolving baskets, and you can get one for an affordable price at Venance. Huge pantries may be costly, but it is worth it because it saves a lot of space. Moreover, properly organizing your stocks makes them easier to access.
#8 MARBLE, METALLIC, AND GOLD ARE THE IT COLORS
White and black are no longer just staple colours. Marble, metallic, and gold colour schemes are also becoming more and more popular. This is because these colours carry a clean, posh, and even a "lucky" vibe to kitchens. The most common combination of the three is metallic appliances, marbled counters, and gold handles. Furthermore, these colours can also be easily blended with any aesthetic and colour palette.
#9 NO MORE HANDLES
Adding to the "clean" look of kitchens is the handle-less type of kitchen. Technological innovations have paved the way for push-open drawers and tap-open cabinets. Although these types of appliances are costly, a number of homeowners still choose this for a simple and modern look to their kitchens.
The kitchen trends for 2021 is undoubtedly radical and exploratory. With the daring colours and technological advantages, this will surely pave the way for a new era of kitchen designs. In addition, these trends are proving to be maximizing kitchen utility while bearing different kinds of aesthetics, but if these are not your style, then there is no need to worry. Do not feel pressured to keep up because kitchen classics will always be a staple no matter what various trends emerge. Times are continuously changing, so just make sure that you love your kitchen no matter what!