9 Factors To Consider When Buying a Hinge
Introduction
Hinges are one of the first things considered when building a home since they will be the key to opening and closing doorways, windows, and cabinets. Homeowners can choose from several kinds of hinges, but cabinet hinges are becoming more popular since the rise of sliding doors and windows.
Cabinet hinges will make or break the total aesthetic of your cabinets. Some are invisible, installed inside the cabinets, but many people are still opting for cabinet hinges with a rotating axis. These hinges are also made from different materials, which determines their strength and capability to open and close cabinet doors quietly and efficiently.
Here are a few things to consider when choosing cabinet hinges for your home.
Cabinet Hinges' Properties
Brands should not play a part in picking perfect cabinet hinges. Instead, your needs as a homeowner or a professional builder will help you determine which cabinet hinges you will need for your project.
1.The first thing to consider is what type of frame your cabinets have and the door type as well. There are two kinds of cabinet frames: frameless and face-frame. However, there are four types of cabinet doors.
– overlay
– full inset
– partial inset
– offset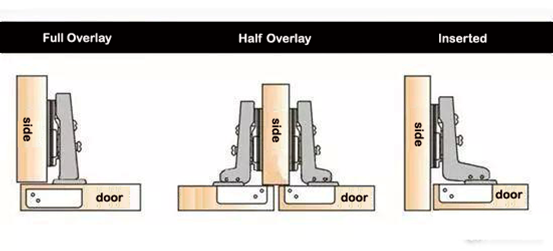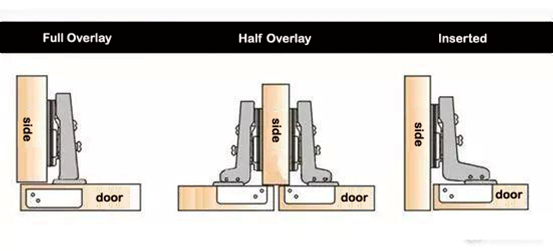 2.Next is to consider is the cabinet hinge type, which depends on your cabinet frame layout.
Cabinet hinges:
– H & HL cabinet hinges
– full wrap and partial wrap cabinet hinges
– face frame cabinet hinges
– surface mount cabinet hinges
– soft close cabinet hinges
– self-closing cabinet hinges
– demountable cabinet hinges (single and double)
– non-mortise cabinet hinges
Once you've determined your cabinet frame layout, your cabinet doors, and cabinet hinge types, here are other things to keep in mind.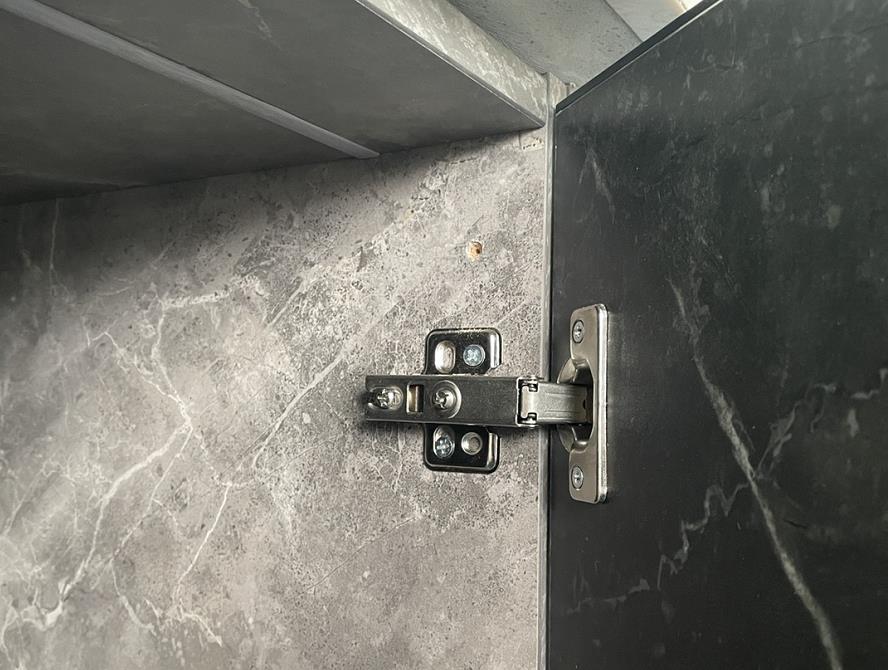 3.Environment
If the cabinets are placed outdoors, it is best to choose rust-resistant hinges, such as stainless steel. Such cabinet hinges are made to withstand humid conditions, thus best for outdoor cabinets.
4.Hinge size
The width and height, and knuckle length are things to consider when choosing a cabinet hinge. These properties should be appropriate to your cabinet door and size.
5.Types of hinge (traditional or living)
Traditional hinges are created using more rigid materials, like stainless steel. Living hinges are made from flexible and softer materials, allowing it to absorb the shock produced by the two things it connects.
6.Strength
Depending on the material of your cabinets, you need to choose a hinge that can carry the cabinet doors well. Heavy-duty hinges are designed for such undertakings and will work well with steel or industrial cabinets.
7.Fastener holes
The more holes a hinge has, the better it will carry the weight of the cabinet door. The stronger the bond is too, between the cabinet frame and its door. You can even add a screw to ensure that the hinges are secured in place. For example, a butt hinge has four holes, two for the door and two for the cabinet frame, which is perfectly acceptable, but there are several other types of hinges with several more holes for more secure installation.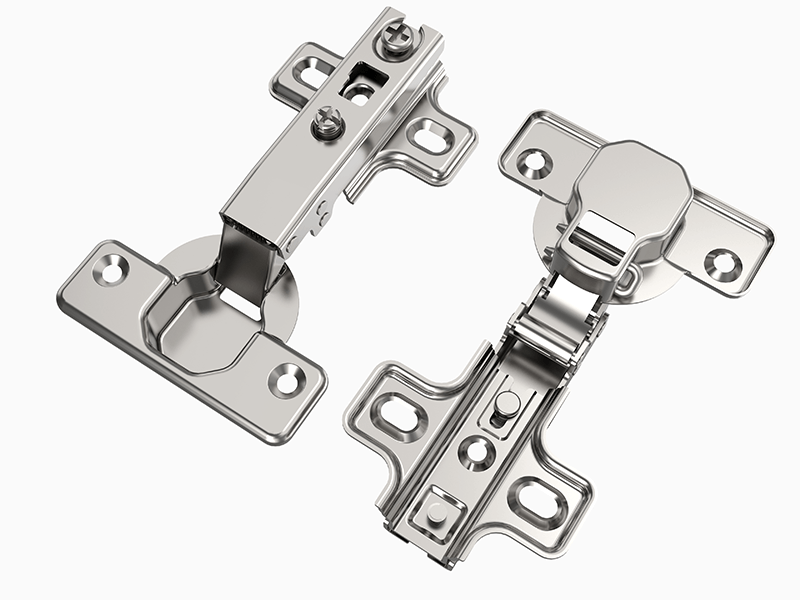 8.Hinge finish
Choosing a hinge finish is purely for aesthetic purposes. The hinge finish must match the knob, lock, catch, or lever of your cabinet door so that the design would look seamless and well-thought-out.
9.Function
Some hinges allow cabinet doors to move left or right. Others can move up and down. Some hinges can enable doors to move 180 degrees. There are also soft close hinges, which allow your cabinets to close softly even if you apply external force while shutting them. Self-closing hinges just need a little push and they will close by themselves, enforcing a soft-closing motion to lessen the shock of the cabinet door bumping against the frame. You can choose any hinge function depending on how you will be moving around these cabinets.
Conclusion
Several hardware stores offer a variety of cabinet hinges, but before you choose one that just looks good, you have to consider its functionality, purpose, and strength. In the end, the design won't help your cabinet doors stay connected to the cabinet frame. On the other hand, a good cabinet hinge is pretty and sturdy and will secure your cabinet doors. Canvassing for prices and functionality is a good idea before finally picking a cabinet hinge that is aesthetically pleasing and functions well.