What is a Lazy Susan Cabinet?
Modular domestic interiors have become the need of the hour. They keep our stuff sorted and organized. But an ordinary cabinet isn't all that it takes to keep your place hassle-free and organized. You need to have the right cabinet organizers to ensure a messy arrangement at all times.
Finding the proper cabinet baskets and organizers for the regular cabinets and drawers is pretty easy. But finding the right stuff for those hard-to-access corner cabinets is just as tough. And that's the reason why you must include a Lazy Susan organizer in your kitchen. Now you might wonder what to do with the corner Lazy Susan Cabinet organizer. At the end of this piece, you shall find how a corner Lazy Susan is at your aid and why it is called a Lazy Susan Cabinet organizer.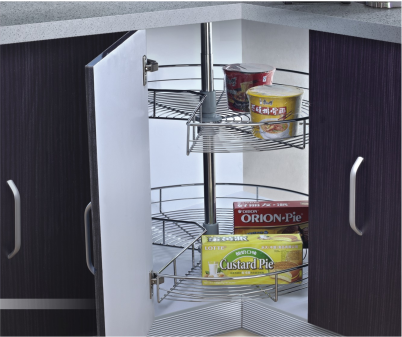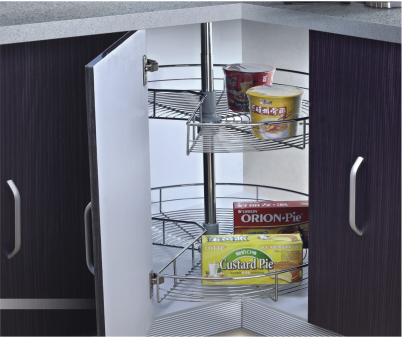 What is a Lazy Susan?
In the simplest terms, a Lazy Susan can be thought of as a tray/rack platform that swivels on a rotating base. The spinning system facilitates you to access all the items kept on the tray/rack without stress. The spinning mechanism of Lazy Susan entails bearings on a rod that make the rack swivel at a certain angle. The several varieties of rotatable cabinet organizers, also called Lazy Susan Cabinet Organizers include:
D-Shaped Lazy Susan (180-degree)

Kidney-Shaped Lazy Susan (270-degree)

Round-Shaped Lazy Susan (360-degree)
If you wonder about the reason behind its name, read through to find why is it called a Lazy Susan cabinet organizer.
Why is it Called a Lazy Susan Cabinet Organizer?
Invented in the 18th century by Thomas Jefferson, Lazy Susan was initially designed as a turntable. It allowed everyone at the dining table to access food without having to wait for their turn. The word of mouth says that Jefferson invented the dumbwaiter turntable for his daughter who always complained about being served at last. There's, however, no reason specified behind a Lazy Susan being called a Lazy Susan.
Folks from America say that Lazy Susan rose to prominence when there was a lack of domestic help (servants/maids) in American households. In the absence of help, people found it inconvenient to disturb others requesting the passing of condiments, wine, etc. at the dinner table. So, a turntable was used to facilitate the comfort of accessing food.
What to do with corner Lazy Susan Cabinet Organizer?
It might come as a surprise but, there's no specific answer of what to do with the corner Lazy Susan cabinet organizer. There's a lot that can be done using a Lazy Susan. You can place it in a blind corner and optimize its functionality or organize your upper cabinets to declutter the hassled arrangement. Placing it inside the refrigerator, dining table or the kitchen countertop shall be equally helpful. You wouldn't have to run around finding the right thing at the right time. Just rotate the tray and access what you need.
Following are the benefits of using a corner Lazy Susan cabinet.
Improve access and functionality of the blind corner cabinets

Organize things

Maximize Space

Arrange frequently used stuff nearby