Kitchen Cabinetry: Custom vs. Semi-Custom Cabinets vs. Stock Cabinets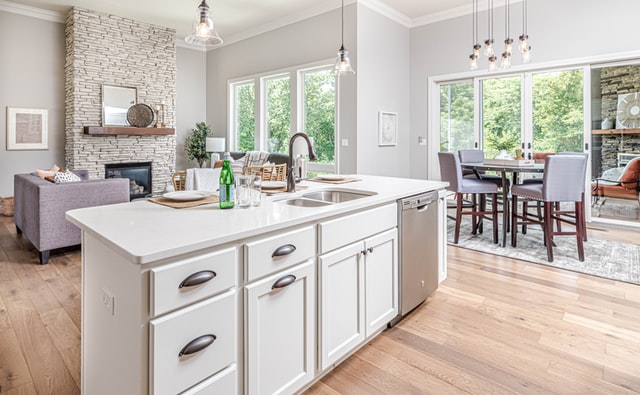 Are you planning to make some renovations for your home kitchen area or changing the mood in your house and applying the things you want and set a bright ambiance for your kids and loved ones? Remodeling homes can be both tiring and fun even for professionals. It takes many details to consider, such as furniture, proper lighting, floor designs, and the best color scheme. You might want to start the renovation but take a step back, and let it first sink in, to make kitchen cabinetry your helper to build your dream kitchen area!
Your kitchen area is the most essential room in the house since it is the center of your family's daily interaction. With a cup of coffee for breakfast or a well-done steak in the evening, it is where the family makes memories with good food. You deserve to have a kitchen area that is enticing and cozy at the same time. This is also a place where foods are prepared and their value is irreplaceable. It is where socialization, conversations, and sometimes important decisions in life take place. It's the kitchen that binds the ties of family homes.
Great benefits in health can be experienced out of a great kitchen area. This is according to a study in Cambridge wherein it shows the more frequent you cook, the longer your life will be. Healthy children are raised when they receive nutritious food. Even people's mental health is benefited from an amazingly designed kitchen area. The kitchen is important. It connects families and keeps each other healthy.
Types of kitchen cabinetry
To begin this kitchen renovation, there are three notable types of kitchen cabinetry that you can choose from. These are stock, semi-custom, and custom cabinets. They vary in the production method used in the making of these cabinets. Some have decent levels of quality that are available in the market right now.
What are stock cabinets?
Stock cabinets are basic, modular, and mass-produced or ready-made cabinets. These are types of cabinets that have standard dimensions and no custom modifications altered and you can find them in home improvement stores in cardboard boxes ready to take home and install. You can also find them on an online retailing store that ships the cabinet to your door. What makes these types stand out is that you have them right away, fast, and ready to be installed in your kitchen area. If you have a specific budget for furniture stock cabinets are perfect than other types of cabinets because it comes at a cheaper price. But, because they are already in stores, you cannot choose more options in colors and designs other than what are available and displayed. The same with some personalized bells or whistles you cannot see in stocks cabinet.
Choosing the right style
The stock cabinet comes in a standard size of 9 inches wide up to 48 inches wide with inch increments. Choosing the right cabinet can enhance the kitchen's style and design. If your renovating toward a deadline or remodeling in a short period stock cabinet gives you this advantage. This type of cabinet has quicker availability and mass produces. Stock cabinetry has limited choices when it comes to style, finishes, and dimensions.
Since stock cabinet is mass-produced, it is hard to attain a perfectly uniform look throughout the kitchen because they are standardly manufactured. Most of the time this stock cabinet will not fit the entire span of your kitchen. Stock cabinetry has a few options to modify that will surely match your chosen style and design. You may like the design but with limited color schemes. The designs are simple and sometimes lack too many accents that you may want.
What are semi custom cabinets?
When designing a kitchen or other area of your home, cabinets ideas are one of the best parts of planning a home renovation. Since there are three quality levels of cabinetry, they are stock cabinets, semi-custom cabinets, and custom cabinets. It may be hard to choose what type of cabinetry will you use in renovating your home. Semi-custom cabinets connect the gap between stock cabinets and custom cabinets. Whereas the custom cabinets can be made to any specification and stock cabinets are comes in limited designs and dimensions. Semi-custom cabinets are the perfect balance between stock and custom cabinets. The difference is the door style, customization option, and cabinet quality. While stock cabinets come at lower prices which means easier to bring your dreamed kitchen into reality. The main question for homeowners is, what are semi custom cabinets offers aside from decent price. Semi-custom cabinetry not only bridges the gap between stock and custom cabinetry when it comes to price, but it also has a wide variety of attractive door and door styles that are most popular in the market right now. Semi-custom cabinets come in different colors available which homeowners can easily find to fit their styles and designs. Aside from a variety of colors, what are semi custom cabinets offer interims of designs? In terms of designs, there are more than 50 door panel designs that are available in the market right now and most of them are available of multiple wood species like walnut, oak tree, rustic alder, and maple. There are also over 50 standard painted and stained finish options to choose from. It also comes in modern finishes like MDF, Melamine, and acrylic.
Picking the right cabinet
Semi-custom cabinet manufacturers provide wide customization options which include enlarging the height and width or dropping off the dimensions of the cabinet boxes. These allow custom designers to create more personalized and customized designs for your kitchen or home exterior. Semi-custom cabinets are the best options so that you can achieve the kitchen design that you are dreaming of while staying within your budget range.
Having a wonderful kitchen is investing for family's both physical and mental health. The kitchen must be both functional and artistic. That is why looking for suitable cabinets for your dream kitchen is a must. Create a kitchen area where inspiration and comforts are there. Where your family and guests share not just good food but also lives.