How to Add to Your Under-Sink Storage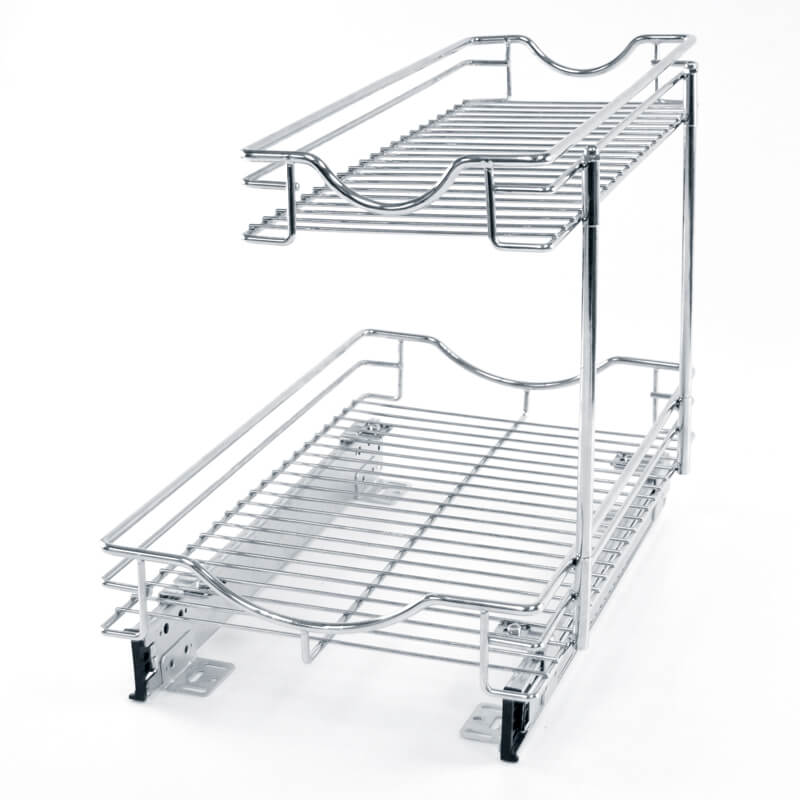 Using your kitchen storage in the right manner is quite important. If you do not have enough room in the kitchen you won't be able to renovate. You should think about updating your storage with modern hardware. Designers have come up with amazing solutions that save space as well as time so that you get all the necessary daily items with ease.
Storage under sink
If you dread opening up the sink cabinet because everything will fall out, we have got some innovative ideas for you. You can do it yourself or buy things that are available in the market such as shower rods. You can store your cleaning supplies there. After doing that you will not have to fear things falling down. Let us look at things you can add under your sink to save space and make things easier for you.
Add cabinets
Under-sink Baskets and drawers offer better organizing than open cabinets. These storage units allow you to separate things under your sink. On one side of the bathroom vanity, you can put all the bathroom supplies such as toilet paper, shaving products and extra soap. On the other side, you may add mesh baskets containing cleaning supplies and on the other side the first-aid box. This is a great under sink organizer.
Pull out Organizers
You get pull-out organizers available in the market. All you have to do is install them and sort your things into different compartments and your work is done. They come in very handy as they already have built-in compartments and you don't have to alter anything on your own. They also come in the form of under-sink baskets.
Use Hooks
You can use the door of the sink cabinet as well. The blank space when you open the door of the cabinet is free to use. You can add hooks to the door so that you can hang things such as towels or anything else. This gives you extra space and the items are organized. Install hooks that can be removed, like the ones that use adhesive so that no damage is done to the cabinet doors.
Add Shelf system
You can add a system of shelves as an under-sink organizer for keeping the supplies that you use daily such as cleaning sprays, detergent etc. This is how everything is sorted and you do not have to look for them here and there. They are available just at a hand's length.
Functional Baskets
Ordinarily, we keep our cleaning items and other family items in your under-sink zone. Here, under-sink baskets and containers are your best companion. Since they are open they can fit things of different sizes. We know that cleaning supplies come in all shapes in sizes so it becomes easy to store them all together. You get these baskets and containers at low rates hence they are your best bet.
Labelling
You should start labelling the items. Use a marker or maybe a slip to label them. Or you can use just one alphabet to mark the containers or a specific compartment. By doing this you can create separate sections of different supplies. This will eradicate all the confusion as to where things are. You will know exactly where an item is kept.
Thrash Bags on a Roll
Since a lot of individuals keep their kitchen trash can beneath the sink, it's a very convenient spot to keep trash bags so that it is easy for you to change the bag. But rolls of waste bags can be very bulky, taking up important space in the cabinet. To form space for other items in the under-sink cabinet, introduce rods on the insides of the cabinet. At that point, hang your trash bags on them and disentangle them (like a paper roll) at whatever point you would like to alter your waste bag.
Pull-out trash cans
Putting your waste can on a lightweight flyer so you'll be able to pull it out every time you wish could be an incredible way of keeping your under-sink region clean and organized. Not as it were will it look awesome, but the pull-out bin moreover anticipates messes in the under-sink region. When you're tossing something sticky or bizarre, there won't be a risk that it would fall somewhere in the cabinet or in the cracks while you are throwing it. If the can comes out then that won't be the case. If the thrash falls on the kitchen ground you will be able to pick it easily and throw it back in the can.
Risers
You can use risers that have built-in tiers. In this way, you will be able to see each product clearly. You will be able to read all the labels clearly and won't get confused between the products. You may put paper or vinyl covering so that the area stays clean. This is a very good under-sink organizer.
Floating Cabinets
The cabinets are fixed behind the cabinet doors. They store more items in a small space. The free space is utilized and also your items are organized. That is like hitting two aims with an arrow. Also, they come in various colours and designs. They look like cute pockets attached to the cabinet door. So it is a beautiful storage idea as well.
Display and Sort
Select under-sink storage arrangements that are suitably measured for little things. Desktop organizers, which are outlined to keep paper clips and other stationery frequently work well within the lavatory, for instance. Group similar things together such as manicure and pedicure sets.
Conclusion
A storage framework could be a lifesaver for staying organized. In any case, the one place we regularly see the greatest need for space is within the kitchen. The above-mentioned ways of increasing storage under the sink are quite effective. You may try out any of these and keep the one that is more suited for you. You will always want extra space in your kitchen no matter what. Let's get creative in doing so.