How Long Does it Take to Install Kitchen Cabinets?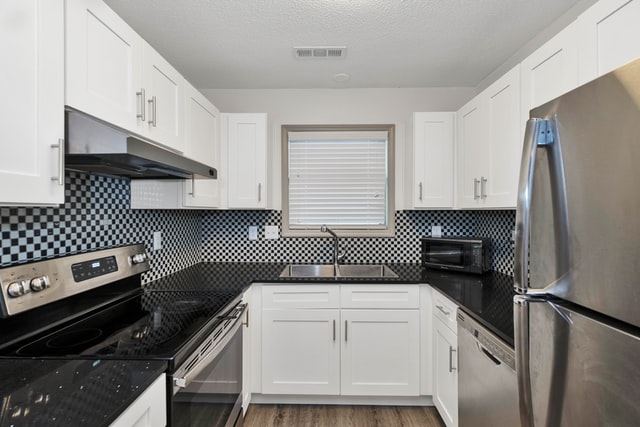 Whether the kitchen is under renovation or a new one is in order, we often wonder how long it will take to install kitchen cabinets. That is actually a good question and the answer would be 4 to 8 weeks. That would already include the planning of the activity and the choosing of all the things that will be put there. Surely, you would want to dedicate time in planning so that everything will surely go according to plan. Moreover, the exact date would depend on a variety of factors and here are some of them:
Size
It is quite obvious the bigger the cabinets are then the more time you will need to wait for them to be involved. Also, the more kitchen cabinets you order, the more time it will take for the installers to install it. Thus, better give them the dimensions as early as the time when you call them and they could possibly give it a try. When you bought plenty of kitchen cabinets then that means you would want a total overhaul for your kitchen. There is actually nothing stopping you from doing that because it is such a good idea that will make you feel great about spending more time at the kitchen.
Experience of Installers
Those who have been installing kitchen cabinets for quite a long time would end up being able to do it quite fast and easy. For them, it is such a piece of cake since they would already know what to do. Add that to the fact that they most likely possess all the needed equipment to make this task such a breeze. As a result, it would be best to hire installers who got a lot of positive reviews from people they served in the past. It means they are pretty good at what they do and they have a good background with installing kitchen cabinets. It may look hard but for them it is just a walk in the park and that is good news for all the people who would hire them in the future.
Change Requests
It is indeed possible that you will come up with a better idea regarding how the kitchen should be remodeled with all these new cabinets. As a result, that will cause a delay in the entire process. The good news is that you would be more than pleased with the final outcome. This is why it is not really advisable to make plenty of last minute requests especially when they are almost done with it. They are already on the momentum of doing what they are used to. Just when they thought they were finished, they would have to order new material. You will think it would be worth it though because you will get something you want and it is quite possible you are not really in a hurry to get things done.
Scope of Work
Due to the huge scope of work in the place, the number of days or even weeks can be extended. There can even be some holdovers if some outside factors affect it and the installers were not really prepared for what is about to happen. The contractors will eventually determine how long this would take the moment they find out what the scoop of work is.
Specialty Items
It is quite possible that you are in love with some specialty items such as rare tiles and exclusive countertops. However, it would take a long time to find these things as it is possible the resources would come from other countries. Hence, if it is not really worth it to include these specialty items then avoid them as much as possible in order to save time. After all, you can always ask the contractors for some replacements that would certainly make you happy from here on out.
When you need your kitchen cabinets installed, you can come to us. At Venace, we always prioritize giving ultimate customer satisfaction. We have been installing kitchen cabinets for a while and we have gotten plenty of positive feedback with what we have done so far. We look forward to every single task that we do every single day because we are passionate with what we do.