Best Ways to Maximise Underused Space in the Kitchen
When it comes time to renovate a home, the most popular upgraded spaces tend to be kitchens. Everyone who has lived in a home for any time will develop a desire for newer and more updated appliances, which is both wise for the time you live there. And for the period you decide to sell the house. Kitchens and luxurious bath areas are the most sought-after facilities in the minds of homebuyers. Choosing the perfect kitchen design plan for your home will take some preparation and thinking, but the time you put in will be well worth it.
Consider your present kitchen to be a space with nothing inside it. There is software that can graphically show you that on a screen, and the empty area can be a more easily envisioned blank canvas on which to plan your new room. A compact kitchen with little storage space might benefit significantly from meticulous planning ahead of time. Choosing the most excellent kitchen design plan will necessitate rethinking the space you have and making new use of spaces that are now Underused.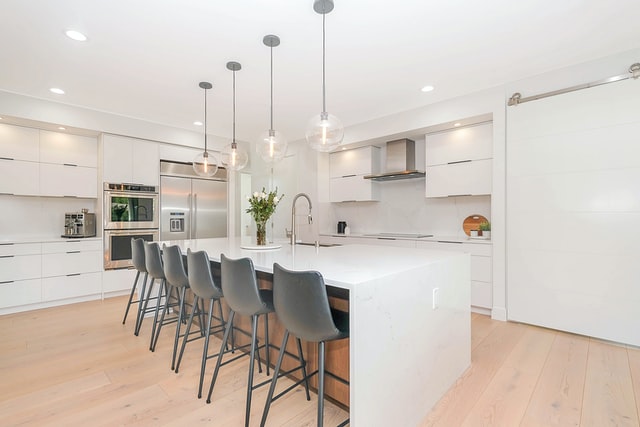 Making the Most of Your Space in a Small Kitchen
When you look at your small kitchen, you might believe there's no way you can fit all of your cooking gear, plates, and pots and pans in there. However, with some innovation and rearranging of your belongings, you can utilize your tiny kitchen space while making the room aesthetically pleasing.
When maximizing your limited kitchen space, the most crucial goal is to make your necessities more accessible, thereby saving time and energy. You'll need both of these when you're cooking.
Clear Up Space
Sort through your pots, pans, lids, and cooking dishes to determine which ones you use the most and which ones you rarely use. Set aside the objects that are infrequently used to make room for the items that are frequently used. You can either get rid of the goods that aren't being used or keep them somewhere else in the kitchen.
Make use of cabinets and drawers
Pantry space, drawers, pull down shelf, and cupboards beneath the sink are all fantastic storage alternatives, as with most things. In the cabinets, install racks and organize the pots and pans according to size, with more important things on the bottom shelves and smaller items on the top shelves of the cabinets. To get to the larger pots and pans, usually at the bottom of the stack, you won't have to untie stacks of smaller ones. To make it easier to store pots and pans, turn the lids upside down so that the handles are within the pots and pans. Dishware organizers help keep silverware and culinary equipment in drawers that are too small to fit everything else.
Rack Them Up
If your kitchen has a high enough ceiling, you can use an overhead pot rack to hang your pots and pans. If your ceiling is too low, keep your pots and pans on wall shelves and hang them with hooks. You can also make use of floor to ceiling storage.
Make a Case for Baskets
You can use the space on top of your refrigerator to store items that you may not think about again after putting them away. Place baskets on top of this and fill them with rarely used goods.
Relocate Your Spices
Remember that having easy access to your kitchen is just as important as having plenty of storage space. Remove spices from the cabinet and place them on an elegant spice rack near the kitchen stove. While cooking, your spices will be easily accessible.
Store Pantry Food in Containers
A crowded pantry with half-opened items can be a genuine eyesore. Use a collection of reusable, stackable containers in various sizes for this case. Label each container with the contents, such as "cereal" or "spaghetti." You can even cut out the recipes from old packages and transfer them to new containers.
Add Your Flair
It's your kitchen at the end of the day. As a result, you should personalize it to your liking. Put a vibrant centerpiece on your countertop, such as an eye-catching vase full of flowers, or hang some artwork on the wall if you have the space. Open baker racks are fine to use, but if you need more cabinet space, consider investing in a fashionable cabinet.