Great Guide to Understanding Drawer Slides Better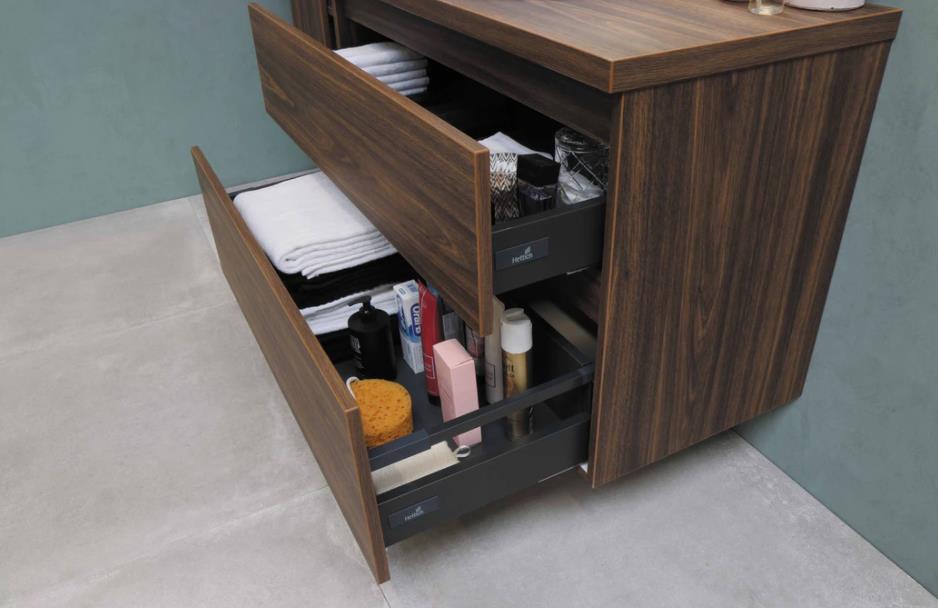 When it comes to selecting a drawer slide, there are several factors to consider. Aside from the ease of sliding and the base material, how the slides are mounted is essential. This classification determines how much weight the drawer can hold, how easy it is to install, and how long the extension is. Here's a rundown of five of the most common types, along with a description of each.
Bottom mount slides have 2 rails attached to the drawer's bottom (one on every side). The falls are hidden from view, leaving the drawer sides clear of clutter. They are commonly found in kitchens, bathrooms, and other areas where storage is a top priority. They are ideal for heavier loads because they can hold more weight. They are generally full extension drawers (or very close to full extension), allowing you to take the drawer out for cleaning or moving quickly. Because this type of slide is so simple to install, it is a popular choice among many homeowners. Bottom-mount overtravel drawer slides from Blum are popular.
Center-mount- These are installed under the drawer's center and extend from the front to the back. They are undetectable from this top and support light to the medium weight. This type of mount usually does not allow you to remove the door altogether. Typically, old furniture was made with a center-mount drawer slide, which you may notice on some vintage pieces. The best thing about center-mount drawer slides is how simple they are to install.
Side-mount drawer slides are a popular type of drawer slide that is commonly used in kitchens and bathrooms. Two rails are installed on both sides of the drawer in this type of slide. They are widely available in various lengths, materials, and weights, making it simple to find the correct slides for your home. When the drawers are open, these slides are very visible and slightly reduce the drawer width. They can support more weight than other types of slides, making them useful for heavier loads
European drawer slides are commonly used with frameless or face-frame cabinets due to their ease of installation. They have an L-shaped frame that easily mounts to the bottom of the drawer. The hinge on this slide is wholly concealed from the outside, giving it a more professional and modern appearance. Because they are generally inexpensive, they are a popular choice for those who are remodeling their homes. For European epoxy options, Hettich drawer slides are popular.
Ball-bearing drawer slides are frequently used in place of the popular center-mount slides. The ball bearings allow for simple operation with little disruption or noise. Some models even allow you to press on the sides of the slides to remove the drawer from the base entirely, allowing easy transport when moving or simply cleaning the drawer. Other models have self-closing mechanisms.
Suggestions for Choosing the Best Cabinet Drawer Slides
Overtravel drawer slides are an essential part of any furniture design. They are one of the most stressful elements of any strategy, and they are one of the first to fail if they are chosen incorrectly. Choosing the best option for a specific project will result in a longer lifespan for the piece in question and better performance in the short term.
Drawer Slides that Close Softly
The first cabinet option is soft close. When closed, these basic sliders use a mechanism to prevent them from slamming shut. Instead, they come to a gentle end, which can extend the mechanism's lifespan. These are an excellent choice for any standard project. They don't require much upkeep and are simple to install. They are especially well-suited for residential projects and furniture, where their soft close can be observed and appreciated by those who use them daily.
Drawer Slides that Close on Their Own
The self-closing option can be found in both residential and commercial cabinetry. If a self-closing model is left open for an extended period, it will automatically close. This is useful in a busy residential setting, such as a kitchen, but it also has applications in a factory or other industrial environment. This type of slider can also be used to keep children safe. Children cannot reach what is not open, and self-closing sliders eliminate the need for parents to worry about cabinets being accidentally left open constantly.
Sliders for Heavy-Duty Drawers
It is uncommon for a residential application to necessitate the toughness of an industrial-strength slider. These heavy-duty units are built to withstand a lot of weight and nearly constant opening and closing. While they are not usually required in a residential setting, they are frequently requested by people who design high-performance kitchens. Furthermore, they can be instrumental in a garage or other purpose-built storage space.
Making the Best Decision
The first thing to think about is how you will use the overtravel drawer slides. If they are used in a residential setting, soft close or self-closing models are probably a good place to start. Heavy-duty may be required if the intended use is industrial. Next, consider whether physical appearance is essential. In most cases, the answer is yes in a residential setting. It's a trickier question in an industrial environment. Some factories may also serve as display areas or showrooms. While overtravel drawer slides do not have to be stylish in this type of situation, they need to be visually appealing.
Selecting the appropriate overtravel drawer slides becomes easier once the project's visibility and stress requirements are precise. It is as simple as comparing features and making a decision to select the best one.
Investigating the Process of Making Custom Drawer Slides
Customovertravel drawer slides have a wide range of applications in a variety of industries and jobs. When a designer is brought in at the beginning of development on a new product that will include sliders, the result is a unique design that is specialized precisely to the needs of that specific item. But how does this occur? What does the procedure entail?
Step 1: Determine What Is Required
The engineer or project manager will gain a basic understanding of the intended product during this stage. What exactly is it? How will it be put to use? What is the intended market? But they will also go into greater detail. What are the technical specifications that must be met? What are the temperatures at which the unit should be expected to function? All of these factors will have an impact on the final design. Industrial slides made of suitable materials can withstand almost any environment, but details about that environment must be known ahead of time for optimal design efficiency.
Drafting and sketching are the second and third steps in the design process.
This is the design phase itself. By the end of this, exact technical specifications for the custom drawer slides will have been created. The material will be chosen. The measurements have been finalized. The product includes all of the functionality. When this is completed, the design will be ready for initial production. Exact technical specifications are almost certainly sent to the company producing the final product for approval. This will certainly involve a lot of discussion between the company making the sliders and the client, which is a good thing because more communication leads to better results and an even higher level of specialization.
Step 3: Create a prototype.
A physical representation of what will be produced. This is installed in prototypes of the final product so that it can be tested. Typically, this prototype will be subjected to extensive testing to determine whether the design requires further revision or whether it appears to be capable of exceeding the specifications and meeting what is needed.
Step four is revision.
Any necessary changes are now implemented. These changes could be minor tweaks or a complete overhaul of specifications or dimensions. Close communication between the manufacturer and the client is also required during this stage of the process. As the project progresses, the prototype must evolve so that it can best suit the current state of the product.
Step 5: Manufacturing
Once the client is satisfied with the product and the custom drawer slides have been thoroughly designed and tested, it is time to begin manufacturing the industrial slides. The majority of companies that design customized sliders will also manufacture them in-house. They are mass-produced and then delivered to the client for inclusion in their final product. This relationship will last as long as the client wishes to continue producing the specific item.
When new developments are undertaken, the entire process can be repeated as many times as necessary. Furthermore, it can be rehashed multiple times if a single product has various components requiring sliders or is later redesigned.
Heavy Duty Drawer Slides Are Used In Homes As Well As Industrial Companies
You'll need substantial required drawer slides if you have drawers in your home or business. In actuality, any drawer that does not have slides is usually nothing more than a box of some sort. Exactly what they sound like, drawer slides are the metal pieces you attach to a drawer that fit together with the opposite component on the cabinet, allowing the drawer to slide in and out quickly. A drawer may not always be in a position to glide smoothly if these types of components are not present; as a result of this, comfort may be thrown out the window.
A solid heavy-strength drawer slide, on the other hand, is not always required for standard drawers. Currently, as implied by the name, these are typically used for large, heavy drawers that can weigh up to five hundred pounds in total weight. You do not have to be afraid about overloading or overflowing with this particular sort of drawer slide because it is designed specifically for this purpose.
In other words, what kind of people need this? That is dependent on the situation. These types of slides are ideal for those who work in professional warehouses and need to store large quantities of heavy materials in their drawers. Toolkits, devices, heavy things, athletic goods, gallons of water, and numerous other topics are frequently discussed. It's also beneficial for firms who need to store a considerable quantity of products before shipping them out.
They are excellent for domestic use as an add-on to businesses, particularly for people who purchase in bulk or have home businesses such as contracting or even technical support personnel. Additionally, it can be used indoors for people who do not wish to be concerned with the possibility of overloading regular drawers with excess weight.
As a result, where could you go to get these heavy-duty ones? Everywhere with a cell phone signal. Extensive selections of heavy-duty drawer equipment are available at nearly all big-box stores and home improvement centers. Slides are available for purchase online, one of the greatest sites to look for great deals on these items. You can quickly locate all of them by simply entering the relevant product into your chosen search engine, where you can compare products and prices simultaneously.
Consider what you want to keep in each drawer before purchasing drawer slides. This is an important consideration to make when purchasing drawer slides. Individuals looking for filing drawer slides for a filing cabinet will typically go for 175 lb filing overtravel drawer slides if they have a large amount of weight to lift. Whenever you're looking for something a little bit more heavy-duty and professional-looking, take a look at the actual 500-pound slides, which are excellent for dealing with parts of electronic gadgets.
One specific advantage of heavy-duty drawer slides is that they can usually be installed either by yourself or with the assistance of a professional when something needs to be held in place. A screwdriver (a good electric-powered one can make things move a lot faster), a leveler, a measuring tape, and possibly some fine sand paper are all you need for the initial setup process.
As soon as your drawer is installed, begin by slowly applying weight to the drawer to determine how well theovertravel drawer slides are working. You should remove the drawer and check it for appropriate installation if you have any concerns about the reliability of the drawer (pay special attention to creaking or even additional metallic sounds). In this manner, the drawer itself, as well as its slides, will perform its functions.