How to Organize Small Kitchen Counter Space
You're probably finding yourself in the kitchen, trying to pack away all your used or dirty dishes, to make room for your next meal planning, and just can't seem to find efficient ways to organize your counter. There's plenty of issues with this, not least of which arise when you have a kitchen on the smaller side. Thankfully though, we're here to help you figure out how to organize small kitchen worktops!
We've got a wide range of kitchen organization ideas that are going to help you free up that much-needed counter space before your next meal time and are going to make your kitchen feel all in all more homely and pleasant to navigate. There are plenty of ideas out there for you to choose from and we've tried to bring in some of our favorites here to really show you what can be done!
Once you've done just a few of these, you'll notice that your kitchen feels like an entirely different room, and cooking and cleaning will never be as easy!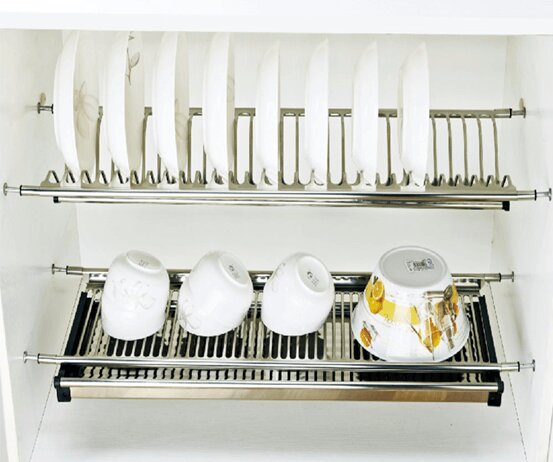 So the first product we want to mention is a fairly well-known one when you consider it in its more traditional sense. A dish rack is commonly found in a dishwasher and you pull them out to load and unload your dishes before and after a wash. However, this isn't their only use. We bet you didn't know this, but you can get a dish rack installed into a kitchen cupboard to help save on space too.
There's nothing worse than having to stack up your plates and your glasses inside your cupboard, worrying that you might chip or drop them if they're not stacked properly, or that there isn't enough room between the shelves to comfortably stack them on top of each other. The dish rack is designed to prevent all of these issues! You can just pull out the tray and load or unload your dishes without them even touching!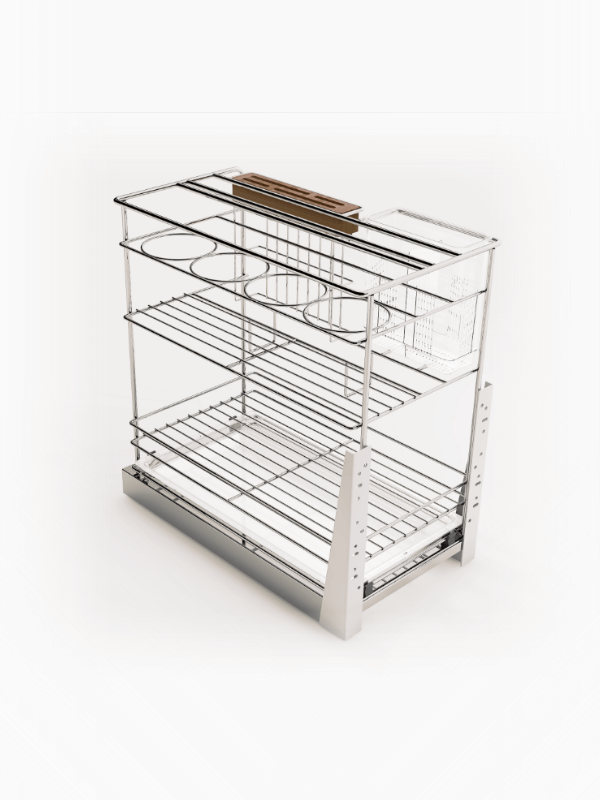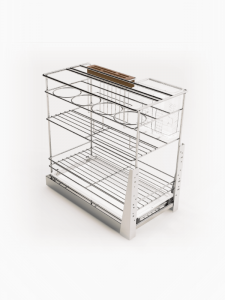 Another great way to help with organizing your kitchen is by getting a pull-out basket installed inside one of your drawers. It works in a similar vein to the dish rack, except that the hole drawer becomes the basket and it's a great place to load up your tools and utensils that are more commonly found clogging up valuable workspace – like a knife block or a cup to hold your frying gear.
You'll notice as soon as you get one of these installed and filled up just how different your kitchen can look. You'll be overwhelmed with the free space there is on offer now! We can't stress enough how useful they have been for us.
Another unique take on the dish rack comes in as a lazy susan basket. It's another great way to load up and stack your bowls, plates, and glasses on a tray that revolves when the cupboard door is open. To save you having to bend in uncomfortable positions or to reach all the way to the back of a cupboard to get your favorite bowl, the lazy susan basket will swing out when opened to present all your kitchen needs to you.
You'll be surprised by just how much space you can save with one of these baskets compared to just regularly stacking up plates and dishes on a shelf. But don't just take our word for it, order one for yourself and get it installed to see! They're so roomy and can fit so much on, you'll be a fool not to give it a try!
4. Pantry System
A pantry system is another foolproof way to organize your small kitchen to help group things together that need to be kept away from the workspace until they're needed. Most people often get pantries installed inside long cupboards or above their kitchen counters and they are truly a great way to store your essentials.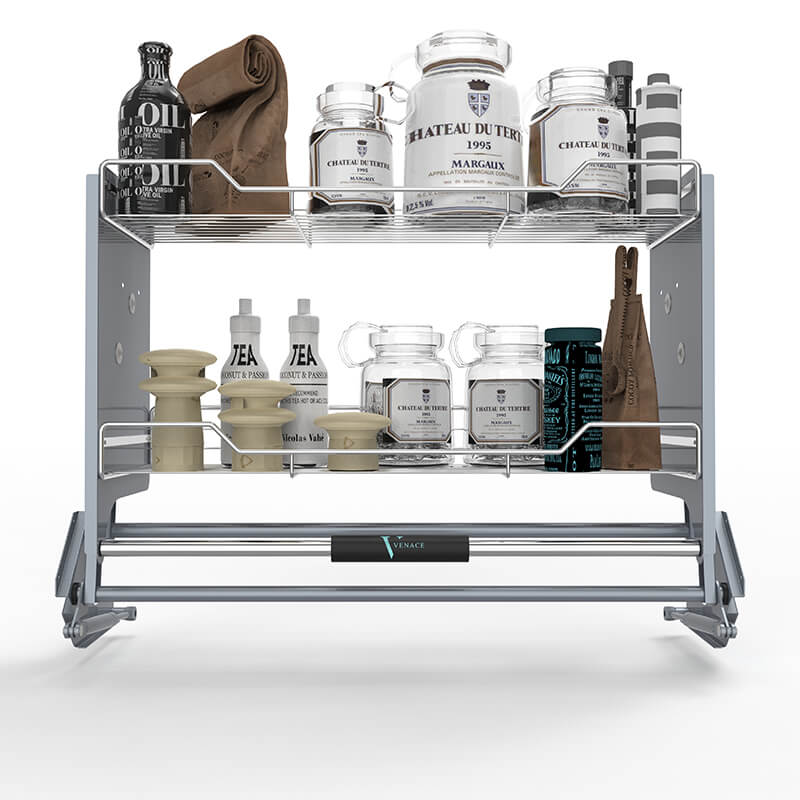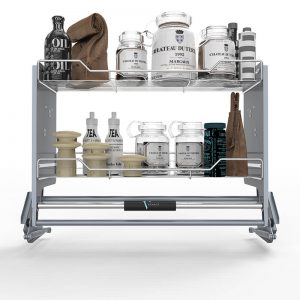 The storage and organization that can be offered to you once you've got a pantry system going are second to none. You'll never find anything quite like it. You can put all sorts of stuff in there that needs to be looked after. You can consider it as a fridge, except for things that don't need to be kept cool – like spices, some sauces, and wines!
A pantry might not seem like an obvious choice as kitchen counter organization ideas go, but once you've got one, you'll understand just how important one can be for you!
Now this one can be seen as a fancy little thing, but it's just as useful as everything else we've included on this list and shouldn't be shirked at! Often you'll find yourself clambering around on tiptoes or having to pull out a step ladder to safely and securely pull out a plate or a glass from a top-shelf above your workspace.
With a kitchen elevator lift system, you'll be able to drag out the whole of the shelf's contents from the bottom to make them easily accessible and completely remove the fear of accidentally spilling or dropping anything out of the shelf that shouldn't be dropped. You'll save yourself a lifetime of stress and effort by getting one of these installed.
Conclusion
So, as you can see we have plenty of options available to help you to clear up and organize your worktop. We value a clean and safe kitchen environment and we're certain that you do too, so make sure you look into these and try some of them out! You'll really be surprised by just how much more pleasant your whole kitchen experience will be once you've done even just one thing from this list.
Of course, we've barely scratched the surface with some of the things that are available to you, there are plenty more organizational things out there! We just picked some of our best and most trusted ones to show you just how easy it can be to get organized and we hope you'll look into it for yourself!