We're all getting used to the 'new normal'. For many of us, that means working from home, either for the time being or permanently. Working from home brings a range of benefits, but also its share of requirements.
Suddenly, your home is your office. A vital part of your office is your desk. Ensuring that you fit your home office with a high-quality desk that offers comfort, practicality and style are of paramount importance.
The Electric Height Adjustable Desk from Venace is a market-leading desk suitable for wherever you work.
Working Made Easy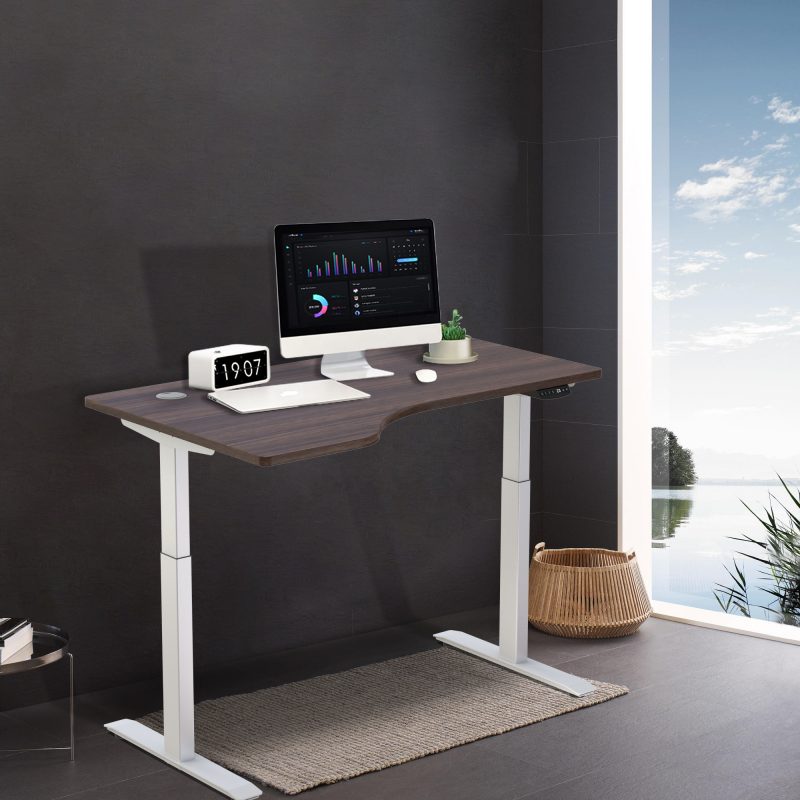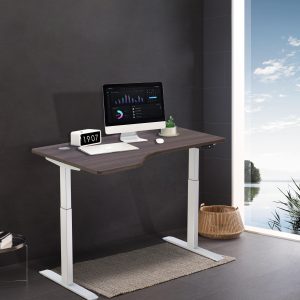 The Electric Height Adjustable Desk features a dual motor lift mechanism that allows for smooth and easy height adjustments. Depending on your needs, the desk can be adjusted between 27″ and 46″, making it perfect for those who wish to easily switch between sitting and standing.
The programmable digital memory, with three height settings, makes it a breeze to change heights with the tap of a button. The desk features a sturdy base with 2-stage legs in a rectangular shape, without side holes. The LED backlight control panel constantly displays the heights of the desktop.
Take control today with our Electric Height Adjustable Desk.
| | | | |
| --- | --- | --- | --- |
| | | | |
| | | | |
| Frame height range(inch/mm) | | Permitted Push Force(lbs/kg) | |
| | Steel (Material Code:RAL) | | |
| | | | |
| | | | |
| | | | |
| | | | |
| Size of Exterior Column(inch/mm) | | | |
| | | | |
W(43-1/3"-70-4/5) * D26-3/4"

W(53-1/6"-70-4/5") * D31-1/2"

Column height range(inch/mm)

Permitted Push Force(lb/kg)

264lb / Frame
120KG / Frame


Size of Exterior Column(inch/mm)
Benefits of Using a Standing Desk
The value of standing desks has long been noted. Writers including Ernest Hemingway, Charles Dickens, and Virginia Woolf, and politician Winston Churchill understood the benefits of standing desks when writing or legislating.
The benefits of using a standing desk include helping to reduce back pain. Some 80% of us will experience back pain in our lives, and one of the root causes of this is sitting down for a large portion of the day. Research has found that even an hour less sitting per day can reduce back pain by 54% and lead to improved mood states.
Standing for more hours of your workday has a positive impact on your health. One study found that those who stood all day had half the risk of heart disease-related deaths than colleagues who were seated. A similar study found that a sedentary lifestyle has been linked to a 90% increase in the risk of cardiovascular mortality.
A boost in productivity is an added benefit to using a standing desk. A recent study in the United Kingdom found that participants who moved from relatively sedentary work lives to standing more often reported better engagement with their work and increased work performance.
In addition, studies have found that standing rather than sitting at work can significantly lower blood sugar levels and reduce the risk of Type 2 Diabetes.
Discover the Benefits of Standing Today
The Electric Height Adjustable Desk from Venace offers you the best of both worlds. Reap the benefits of standing while also utilizing the convenience and practicality of sitting. Switch easily between the two for maximum effect and productivity during your workday.
Buy the Electric Height Adjustable Desk today.