Welcome to the ultimate guide on finding the perfect space-saving ironing board for your home. Ironing boards have evolved, and these days, the space-saving options are stealing the spotlight for their practicality. Let's dive into the world of ironing with an eye on saving space and keeping things efficient.
Understanding Space-Saving Ironing Boards
So, what exactly are space-saving ironing boards? Well, they're designed to do just that – save space! Unlike the traditional standalone models, these boards are all about maximizing your room while not compromising on ironing efficiency. If you're short on space or aiming for a more organized setup, a space-saving ironing board could be your ideal choice.
Factors to Consider when Choosing an Ironing Board
Start by measuring your available space. Knowing the dimensions of the area where you plan to set up the ironing board ensures a perfect fit.
Opt for boards made from sturdy materials. A solid build ensures durability, allowing your board to withstand regular use.
Check out the folding mechanism. You want something smooth and easy to use – it makes the ironing process that much more enjoyable.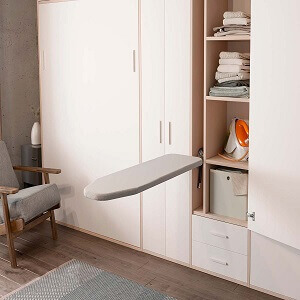 Installation Requirements:
Take note of installation requirements. Some boards might need specific mounting, so make sure you have the necessary tools and space.
Some boards come with extra perks like built-in storage or adjustable heights. Consider these based on your personal preferences.
Popular Brands and Models
Brands like Venace are making waves with their space-saving ironing boards. Check out what users are saying in online reviews and ratings to get the lowdown on the best models out there.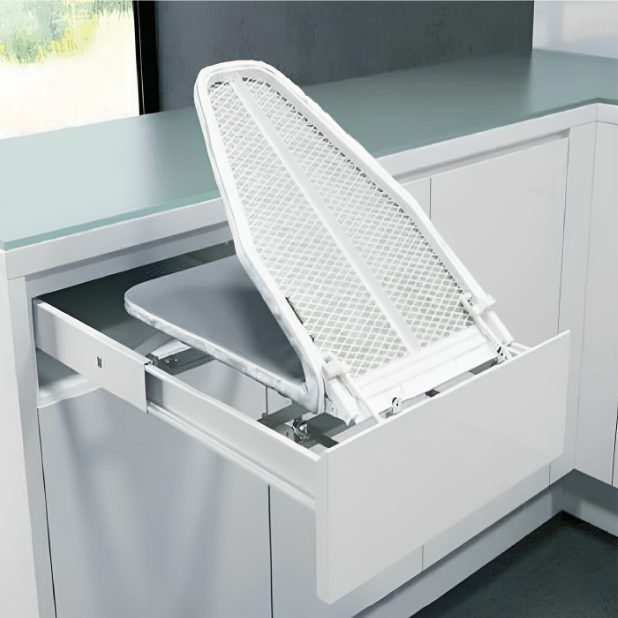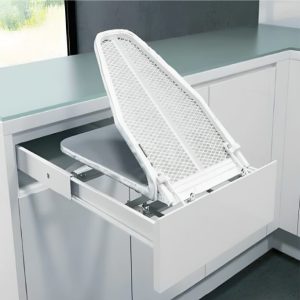 User Reviews and Testimonials
Before you make a decision, take a moment to read what other users are saying. Real-life experiences can be a goldmine of insights into the pros and cons of a particular ironing board model.
Here are some reviews written for Venace ironing board from different platforms.
Comprehensive Solutions for B2B Ironing Board Needs
"Venace has been our go-to supplier for ironing boards in our wholesale business. The variety of space-saving ironing boards and their innovative designs have been a hit with our customers. Their commitment to quality makes them a reliable partner in our B2B operations." – Sarah Thompson
Efficient Supply Chain for Bulk Ironing Board Orders
"As a B2B buyer focused on ironing boards, Venace has been instrumental in streamlining our supply chain. Their efficient order processing and logistics support ensure that our bulk orders are handled seamlessly. The durability of their ironing boards is unmatched in the market." – John Reynolds, an ironing warehouse distributors.
Innovative Ironing Board Designs for Clients
"Venace stands out for its innovative ironing board designs. As a B2B buyer, this gives us a competitive edge. Their commitment to staying ahead in the market aligns with our business goals, making them a preferred supplier for ironing boards." – Emily Green, the retailer from a smart home company.
Tailored Ironing Board Solutions for Partners
"What sets Venace apart is their ability to provide tailored ironing board solutions for our B2B needs. Whether it's specific dimensions or unique features, they understand our requirements and deliver products that meet our clients' expectations." – Michael Foster, a B2B furnishings company buyer.
Durable and High-Quality Ironing Boards for Wholesale
"Our wholesale business relies on durable and high-quality ironing boards, and Venace consistently delivers on both fronts. The durability of their products has translated to customer satisfaction, making them a trusted supplier in our B2B network." – Jessica Turner, supply chain specialist from home decoration industry.
Seamless Transactions for Ironing Board Orders
"Working with Venace for our B2B ironing board orders has been a breeze. Their professionalism in handling transactions, combined with the reliability of their products, makes them a valuable partner in our wholesale endeavors." – Kevin Brown, Home Solutions Group.
Professional Support for Ironing Board Solutions
"Venace goes beyond being a supplier; they provide professional support for our B2B ironing board needs. From understanding market trends to suggesting the right products, their partnership has been crucial to our success in the wholesale market." – Rachel Harris.
Installation and Maintenance Tips
Setting up a space-saving ironing board is usually a breeze. Here's a quick rundown:
Securely mount the board to the wall.

Check that it folds and unfolds smoothly.

Keep an eye out for any loose screws or hinges during regular checks.
Note:
Different kinds of space-saving ironing board have different installation methods. Click here to know more.
Budget-Friendly Options
Don't worry about breaking the bank for a space-saving solution. There are plenty of affordable options that deliver quality without draining your wallet. Keep an eye out for promotions or discounts to get even more value.
Conclusion
In a nutshell, finding the right space-saving ironing board is about considering your space, preferences, and budget. This guide is your ticket to a smoother ironing experience, so go ahead, explore your options, and find the perfect fit for your needs.
Ready to transform your ironing routine? Check out our recommended space-saving ironing boards for a convenient and organized ironing experience. Got questions or thoughts to share? Drop them in the comments below, and happy ironing!