I am a software programmer. Due to the global COVID-19, I've been working from home since March 2020, and it's been almost 9 months now. When I first started not having to go to the office, it was refreshing to not have to spend nearly two hours a day shuttling between home and the office, and how nice it was to be able to sneak around unseen by my boss. However, as the novelty wore off, health problems became more and more prominent.
Long hours of concentrated work lead to cervical spondylosis
My project team is working on an important project, and because of the COVID-19, the schedual is seriously delayed, and I have to work almost 10 hours a day in front of the computer. In the past, when we were in the office, we had tea breaks in between, or group discussions, and we could still move around at lunchtime. But now I work at home and sit for half a day, which causes my left cervical spine to be sore, and the soreness pulls on my heart muscle, and even the three fingers of my left hand often feel numb, dizzy, and tinnitus. Phone consultation with the doctor said: my problem is caused by prolonged sedentary office, people in full concentration of work, the muscle is in a state of tension, if long time tension and tense, will lose toughness, long-term this to lead to muscle calcification, more pressure on the nerve, and will lead to insufficient blood supply. God! I am only 30 years old, cervical spondylosis is going to be with me for life?
Try Sit to Stand Desk and changing the working way.
One day we had a video conference and saw a colleague standing in front of the desk and our video conversation, and a while later he sat down to work, and the height of the desk looks very appropriate. With a curious attitude, after the meeting we exchanged a while, He said that he also had cervical spondylosis. He bought an sit to stand desk two months ago when he saw others using it and worked alternately standing and sitting at home every day.
Listen to his words, I did not hesitate, immediately go online to check the sit to stand desk, online there are various specifications, a variety of prices ,which one is suitable for me? Until I opened the website of an sit to stand desk manufacturer, read the classification of their standing desk, according to my basic needs: work at home, to solve the alternate standing and sitting office, in addition to the installation should be simple and good quality. I decisively chose their Sit to Stand Desk AIO, this product (legs and tabletop are All In One).
With the mood of anticipation, the product finally arrived a few days later. Open the package, the table frame and panel integrated package, the tabletop with pre-punched holes, according to the instructions, it only takes 10 minutes to install, powered on a test, lift/down is very smooth, 48 "X24″ tabletop just placed in my study, raised to 46" (up to 47 "), just right for my height.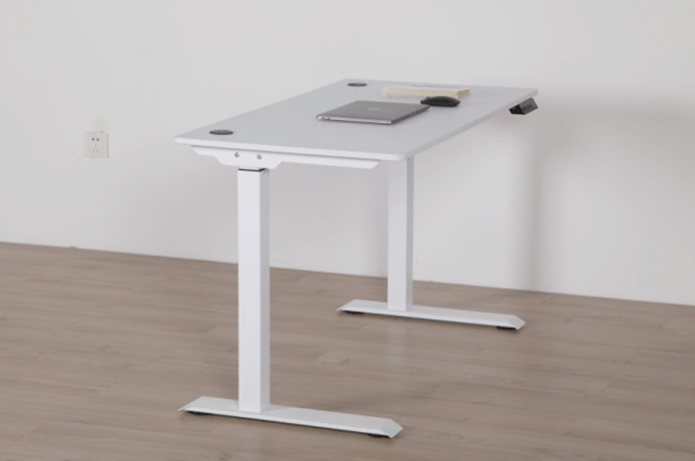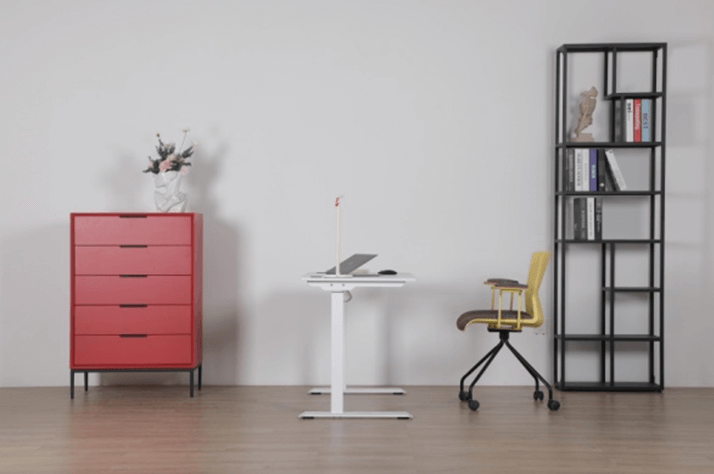 Follow your body's emotional cycle throughout the day to alternate between standing and sitting.
Pure white table frame and tabletop gives a clean, fresh feeling, the control panel has up and down adjustment buttons can also save four positions. A new work environment, of course, a new way of working, I changes to own planning to stand and sit at work time according to the human body's emotional cycle in a day, , when the mood is better, using alternate ways to stand and sit at work, in times of low mood, mainly in a sitting position, as shown in the figure.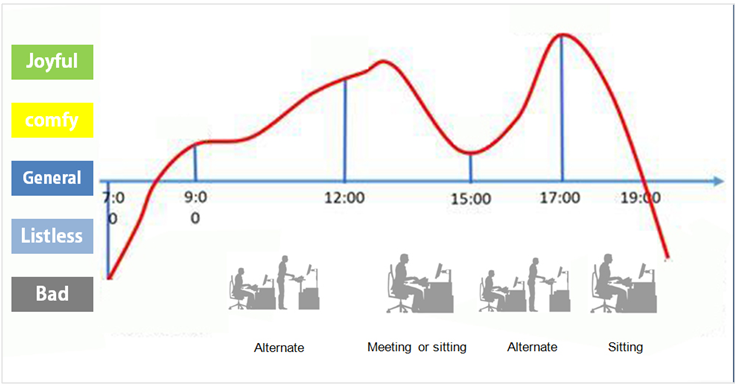 I have been working in this way for three months and have experienced significant relief from cervical spondylosis, in a way, it seems like cervical spondylosis naturopathy treatment. And my work efficiency has improved, giving me the formal feeling of working in an office. I recommend Sit to Stand desk AIO with my practical experience, for more information, please search venace's Sit to Stand desk AIO.