The Benefit of Buying A Wall Mounted Ironing Board
Ironing boards were invented in the United States in the 1800s, but their history reportedly goes way back to the time of the Vikings, who used heated stones for pressing out their clothing. The ironing board has become a household staple since then, and no home is without one. Ironing boards are usually stored inside closets, in the garage, or behind doors. It has since then evolved from a clunky and chunky piece of metal to a sleek and foldable appliance.
So what are the benefits of choosing a wall mounted ironing board over a standard one? The answers are pretty simple. If you're trying to keep up with modern times, you have to revolutionize your appliances as well. Getting a wall mounted board is not only economical, but it's also practical. It's not just about staying on-trend; it's about getting an appliance that will benefit not only you but your family as well. There is no more bumping into it with a wall-mounted ironing board where it is stored haphazardly. It won't accidentally fall on your feet or snag your toes and cause severe pain.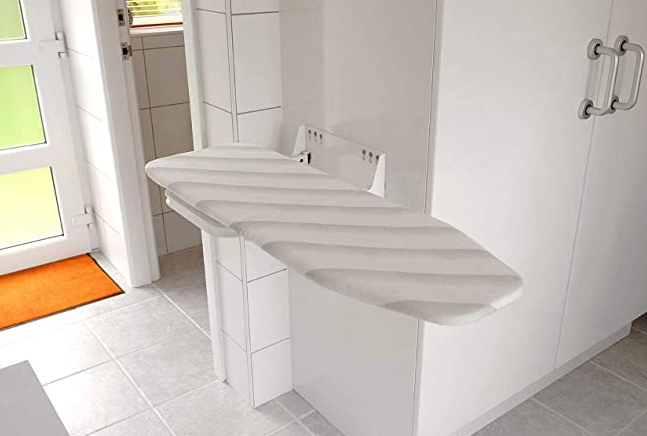 Additionally, modern wall mounted ironing boards have covers that are easy to remove, so you can peel it off, put it in the laundry, then put it back as fast. Not only do you save your clothes from burning or sticking, but you also save your ironing equipment from dirt. The shapes and sizes of modern ironing boards can be customized to fit your home, your ironing needs, and your space. It's also much more stable because, unlike the old ironing boards, which have legs, wall mounted ironing boards have rails and hinges, which allows you to focus on ironing instead of chasing your board or keeping it upright.
Modern wall mounted ironing boards are built with the most advanced technology, keeping household needs in mind. Modern panels can be rotated 180 degrees, either left or right, which allows ease of movement. Reaching over the board for your un-ironed clothes will be a thing of the past, and having to walk around the board is not a thing anymore. Its hinges allow you to move the board whichever way you want or even fold it up to get to the other side. Moreso, since they are attached to hinges and rails, you don't need to wrestle with your equipment when you need to put it in storage. All you need to do is fold it up or slide it in, and you're done.
There are a few benefits to considering a wall mounted ironing board over one that isn't mounted.
It may not be cheap, but it's affordable, and with care, it can last you and your family a long time. Modern boards are created with firm yet flexible materials, and most, if not all, are rust-proof already.

These boards are created with the most advanced technologies, with ease of movement and accessibility in mind. They are mounted on sturdy brackets and sliding rails which allow them to be hidden well and taken out quickly when the need arises. They are also designed to be moved without hassle, and the additional safety features ensure that you will not be injured while using them. If mounted correctly, there's no fear of bodily harm or damage to the surface it is mounted on.

It comes with a protective, textured cover that prevents your clothes from sticking onto the board and getting burned with the iron. The cover is easily removable, so you can wash it and put it back just as quickly.

Its rotating feature lets you move around and iron your clothes the way you want, whichever side you want. You can move it to reach for clothes, not move around it. In a way, this particular feature saves you time moving around the room, reaching for things you need.

It can be fixed on walls, inside cabinets, and rooms. Wherever you think it's best placed will work, as long as it does not obstruct passage.
More reasons are existing in addition to the ones listed above. Still, whatever your reason is for buying a wall mounted ironing board, we're sure that you kept your family, your available space, and your budget in mind. It's a wise investment and an excellent addition to your home.