9 Ways to Get Easy-to-Maintain Kitchen Cabinets
The kitchen cabinet is the heart of any home. But it is very hard to clean this area. Every corner and surface in your kitchen is filled with dirt, stains and splatters. This is also applicable to the cabinets. But you can maintain your cabinet in some easy ways. For that, you need to start from the beginning. You will have to choose the right style and perfect colour for the kitchen cabinet. You will have to select fewer decorative details for easy maintenance. You need to choose kitchen cabinets easy to clean. You do not need to spend a lot of time cleaning your kitchen area and cabinets. Maintenance free kitchen cabinets will save your time and effort as well. So, you will have to choose the low maintenance cabinet for your regular and easy usage.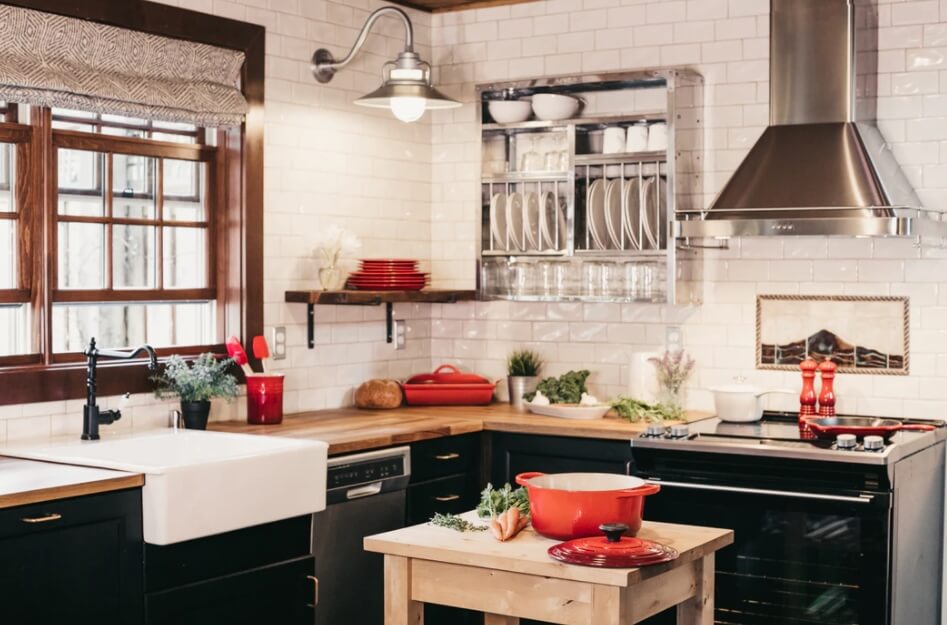 1. Select a door or drawers with fewer details and styles
The more and complicated details will attract more dirt and stains easily. You need to avoid excessive details, decorations, dimensions and fancy and attractive finishes. You will have to choose the slab or shaker doors and drawers. These types of doors and drawers are smooth. The solid surfaces can easily wipe down with the help of a sponge and a piece of cloth. But in the case of raised panels, curved trim is much more difficult. Glass panels and shutter style look are attractive but it is a huge headache to maintain all these. You can also add a spice rack pull down shelf to keep your items perfectly in place.
2. Flush cabinet ends for easy cleaning
You will have to choose the flash cabinet ends for your cabinet finishing. There are two types of cabinet ends- flush ends and matching neds. Flush ends are made with plywoods that are matched with the same colour as the cabinet. These are smooth and sleek. So, you can easily clean this part without any effort.
3. Avoid trimming
You need to understand that all such decorative details such moulding, crowns, corbel, light rail mouldings are prone to dirt, stains. The ornate items easily attract dirt and it will be very hard to clean those areas. But if you want to replicate those styles and designs then, you can choose the best type of colour for your cabinet. Apart from this, you will have to choose the best lighting and much more to replicate those styles and finishes
4. Select the stain and not the paint
You should know that stains and paints have pros and cons. The paint will show the food stains, fingerprints and splatters. Stain is very is to maintain than a painted surface. It is very hard to find the perfect matching hue of your cabinet paint. So, it is better to stain the cabinet.
5. Choose the dark stain
You need to choose a dark stain. Dark stains like wood or hickory are easy to maintain. You will not see scratches and prints on the surface.
6. Choose the hardware material
You do not need to touch the cabinet doors and drawers all the time. For this, you need to install knobs and pulls for your cabinets. By installing these things, you can ensure the lifetime of the cabinet doors and drawers.
7. Ignore glass door fronts
You need to ignore glass door fronts. Glass door fronts are very hard to clean and maintain. Glass door fronts are looking beautiful, attractive and fancy. But you should avoid it. You can choose the golden brown cabinet stain as an alternative to the glass door fronts.
8. Avoid open shelves
You should avoid open shelves. Open shelves are easy to attract dirt, stain and dust. You need to clean those regularly. To prevent permanent dirt accumulation, you need to clean it regularly. You can make your kitchen place attractive by decorating the dining area and kitchen surface. You can set up good lighting, use perfect and stylish chairs and tables. You can also add cushions to enhance the beauty of your dining area and add some flower vas to the kitchen surface.
9. Prevent moisture in the sink cabinet
You need to protect your sink cabinet from moisture. You can order the kitchen cabinet with plywood construction. This will help you to prevent moisture. But you may be confused about how to use the portion under the sink area. You can install the under sink pull out sliding organizer to secure more space. Apart from this, to save your cabinet from moisture, you can buy a cabinet mat and place it under the sink area. It will look like a tray and save your cabinet from moisture damage. It will work like a moisture barrier and catch water leakage and spills as well.
So, as you can see, you need to choose a cabinet with fewer details and designs. Only then, you can save your time over cleaning and maintenance. But you will have to do deep cleaning periodically. You need to start from scratch on the cleaning day. You should not miss any corners and spaces of your kitchen cabinet. You need to do a little during on regular basis. You can ensure the best and long-term result after that. Your kitchen should be clean and clear all time. You can make healthy foods in a clean and hygienic kitchen area. If you find any kind of sticky and tough stain then, you should use a vinegar solution. The vinegar solution will help you to get rid of stains and spots.
You can wipe out the doors of the cabinet with a dry cloth. You can wipe out the excess moisture over there. You should start your cleaning method from top to low. You will have to do the interior walls and parts at the first and after that, you need to do the exterior portion of the cabinet doors and drawers. Above all, you need to clean the contents before placing them in the cabinet and shelf. By following these tips, you can maintain your kitchen cabinet and save time and effort.