10 Great Ideas to Organize the Laundry Room of Small Houses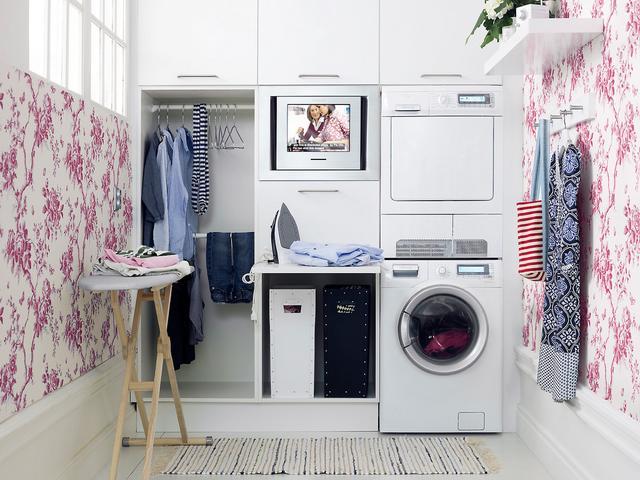 So you have a small house. That shouldn't mean giving up something because it's not big enough to fit the item; good ideas still work well in small spaces. Here are 10 ideas for organizing the laundry room that might help you out when trying to organize your laundry room folding station.
#1.Laundry Door Shelves
Hang baskets or cloth bins on the back of the door to hold items you frequently need while doing laundries, such as detergent and fabric softener. This will free up an extra cupboard for storage elsewhere in your home while also making these things easy to get at.
#2. Cabinet Organization
Instead of leaving hanging space open and unused above cabinets, add a shelf more just below them so you can take advantage of the area above them as well. The shelf will help organize cleaning supplies or toilet paper while freeing up extra space somewhere else.
#3. Organize with plastic drawers:
If you are looking for something more durable, purchase clear plastic storage drawers instead and keep them inside a cabinet or drawer made from wood specifically designed for clothes here in your small laundry room. This works well when you have lots of clothes to put away, including baby bibs, socks, and underwear, because these items usually come in various shapes and sizes, which can take up a lot of space. Just make sure that each drawer has enough ventilation provided by small holes at the bottom so that it won't be too stuffy inside when you open and close it. You can also add dividers between drawers to keep them from sliding around while moving this cabinet if necessary.
#4.Organize with baskets:
There are many ways in which you can organize your dirty clothes inside your laundry room. One popular method is by using baskets to contain each type of clothes such as towels, beddings, etc. You can purchase these baskets in different sizes, and sometimes they can even be stacked on top of each other. This will not only organize your dirty laundry but will also prevent it from spilling all over the place when someone moves them about carelessly.
#5.The Wall Mounted Ironing Station
This is probably one of the most clever folding ironing board ideas. It simply mounts right to the wall, saving tons of room and looking very neat and tidy at the same time. Plus it folds away into virtually nowhere when not in use.
#6.Organize with hangers:
Hanging your laundry also helps save space inside the laundry room, allowing you to contain larger items such as beddings or pants using only a single hanger. You must choose sturdy hangers, though, especially if you plan to place bulky clothes on them. Using cheap wire hangers will only cause trouble in the long run because it becomes too flimsy for heavy items, making them end up on the floor instead of hanging neatly in the closet. If possible, use plastic non-wire hangers instead. They are not slippery, meaning that heavy clothes can be held more securely without fear of slipping off the hanger.
#7.Lay Flat Containers
Keep things that don't need to be folded lying flat in containers that can fit under shelves or in low cabinets, so they take up less vertical space without worrying about them being unsightly while still being easy access if needed. This works particularly well for sheets and tablecloths, among other things.
#8.Cord Organization
Cord organization isn't just for kitchens; it's also very useful in laundry rooms where many appliances get plugged in. You can get a triple or quad function cord storage to store things like vacuum cleaner cords and other items that will free up the plug nearest the machine while keeping everything tidy and out of the way.
#9.Laundry Room Hack
If you have a really small space that just won't fit everything, you could always install a folding laundry drying rack that takes up minimal room when not being used instead of using your hanging bar all the time. This is especially useful for people who live in small apartments to take advantage of unused vertical wall space without adding shelves or racks elsewhere to help organize their laundry.
#10.Organize with a wardrobe rack:
This type is similar to the clothes rack. Still, it is better suited for organizing shirts and sweaters because it has small cubicles where clothes can be placed above another without creating clutter or an untidy look. The good thing about this type of hanger is that it allows air circulation inside each compartment, preventing clothes from developing unpleasant odor later on due to being trapped inside closed spaces. It also helps if you plan to store your clothes here for several days because this reduces wrinkling compared with folding clothes which can be a bit difficult to do when you have a small laundry room.
Conclusion
One of the most important things to remember is that every place in a small house needs to be used. This means you need to find a way to store your clothes and other items in one room, not spread them out all over the home. If this sounds overwhelming, don't worry. The listed above are some great ideas for organizing your laundry room so it doesn't feel like an impossible task anymore.