Designed with you in mind, crafted with care, and upholding the standard of quality that has made Venace a global leader in standing desks, this sit to stand desk is perfect for the home. Whether you are fitting out a new home office or looking for a versatile feature for your living room, this height-adjustable desk combines durability, convenience, and style.
Join the standing desk revolution with our practical sit to stand desk today.
Put Yourself in Control
The sit to stand desk is powered by a single motor with a driven screw lift mechanism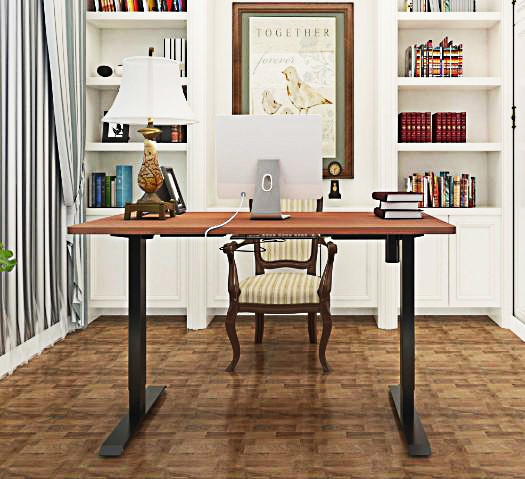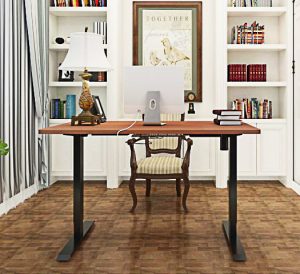 that provides smoother height adjustments. The height of the desk can be adjusted between 26″ and 45″ and is easily operated.
The programmable digital memory stores three height settings, managed by a button on the controller. The LED backlight control panel constantly displays the heights of the desktop.
The metal frame of the desk is made with high-quality, cold-rolled metal, ensuring long-lasting durability. This item comes with a five-year warranty.
| | | | |
| --- | --- | --- | --- |
| | | | |
| | | | |
| Frame height range(inch/mm) | | Permitted Push Force(lbs/kg) | |
| | Steel (Material Code:RAL) | | |
| | | | |
| | | | |
| | | | |
| | | | |
| Size of Exterior Column(inch/mm) | | | |
| | | | |
Reap the Benefits of Standing Desks
2020 has seen a significant rise in the number of people working from home. Ensuring that your home office is both practical and comfortable is key to maintaining the same levels of productivity and positivity experienced at your work office. The benefits of using a standing desk are many, from health to productivity. Here we take a look at some of the primary benefits of a standing desk.
Reduce Chronic Back Pain
Studies show that workers who used sit to stand desk over regular desks are more likely to report a pain-free day. Participants who were provided with a sit to stand desk reported a significant reduction in lower back pain over a three-month period.
In addition, the specific benefits of a sit to stand work routine have been noted in studies. It has been found that transitioning from a seated to a standing position every 30 minutes can significantly reduce fatigue levels and lower back discomfort, especially in overweight individuals.
Boost Your Mood and Energy Levels
Individuals who use standing desks have reported experienced less stress and fatigue than those who don't. In terms of productivity, studies show that individuals who use standing desks are approximately 45% more productive each day, compared to those who sit.
Lower Your Risk of Heart Disease
Standing rather than sitting provides a host of health benefits which together can reduce your risk of heart disease. Studies show that standing increases 'good' cholesterol and decreases 'bad' cholesterol. Research has also shown that standing rather than sitting significantly decreases the probability of obesity in both men and women.
See For Yourself – Choose Our Sit to Stand Desk
Reap the benefits of our sit to stand desk today. Discover a new standard of comfort, practicality, and productivity. Maximize your workspace or leisure space while maintaining style and elegance.