How to Clean Kitchen Cabinets
You undoubtedly wipe down and cleanse your kitchen counters and wash your kitchen floor every day, or at least regularly, but I'm curious if you also wipe down and know how to clean kitchen cabinets? I'm sure you don't, but you should clean your kitchen cabinets regularly as well because they are prone to dirt, dust, splatters, grease, and other cooking residues. If you don't cleanse them regularly, these mixtures will stick to their surface like glue over time, making them extremely difficult to remove.
Unclean kitchen cabinets can be an eyesore when you're cooking or when someone enters your kitchen. Still, they can also pose a health danger to you and your family: Salmonella bacteria can easily infect its handles and knobs. Grime and old food particles have no business accumulating inside the storage area for the things we need to prepare our meals. You need to know how to clean kitchen cabinets and it always needs simple, regular maintenance. So frequent and straightforward maintenance is also required for your kitchen cabinets.
1: GET AN APPROPRIATE CLEANER
There are many cleaners to pick from at the nearby market, so knowing your alternatives is crucial. Dish soap, baking soda, soap powder, and vinegar can all be combined to make a natural cleanser that is gentle on your kitchen cabinets and won't harm them. If you have a sticky mess or a unique sort of wood, there are various commercial cleaners available at your local store that will be more effective. You may make your cleaners with everyday household items daily, but keep in mind that your chosen product is based on your cabinetry.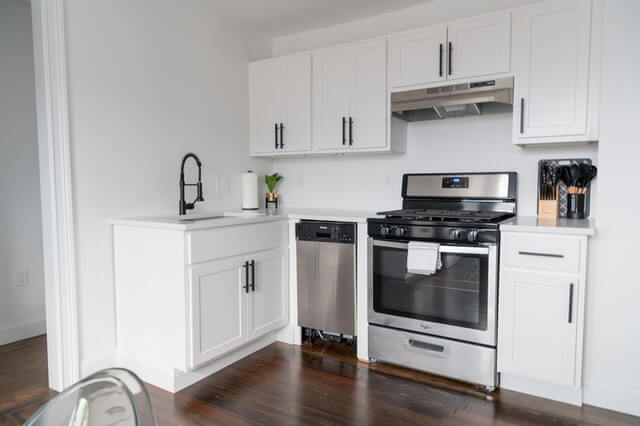 2: USE THE CORRECT SUPPLIES
Make sure that all of your supplies are clean and ready to use before beginning your task. There are numerous cleaning supplies accessible in your home, but sometimes the fundamentals work best when cleaning it. All you'll need at the end of the day is your preferred cleanser, a sponge, an old toothbrush, and some cleaning cloths or rags, which can already be okay. You are welcome to use your favorite scrubber as well, but be cautious because it may damage or harm the surface. If you have sensitive hands, please wear gloves when cleaning to avoid rashes or skin dryness.
3: CLEAN OUT ALL THE THINGS ON CABINETS
Make sure to start with a clean slate before cleaning. Remove everything from your cabinets and arrange it on a nearby counter or table. Check each item one by one, and if you find anything that is expired or practically empty, trash it right away. If you have any used bags or cartons with holes, pour the contents into clean jars or bottles and label them. This procedure will keep you from making any more messes and will allow you to work more efficiently.
4: WORK FROM THE TOP TO BOTTOM
First, fill a spray bottle halfway with water and an efficient oil remover such as laundry detergent or dish soap. Ensure the mixture has a consistency of one part detergent to two parts water; this will help you get better results. You can now start at the top and work your way down after preparing your detergents. You can spray directly onto the rugged surface, but you can also use a cloth to ensure that it is thoroughly shiny. Don't forget to wipe the cabinet's edges and sides as well.
5: CLEAN THE GREASY SPOTS
Sticky issues in the kitchen are unavoidable, primarily if they are caused by coffee or other sticky substances. You can cleanse them with regular detergent, but those should be cleaned of any residue after the initial washing with a harsher cleanser, such as baking soda. However, be cautious when scrubbing the tough spots because you don't want to leave any scratches that will make your cabinet look even more unkempt.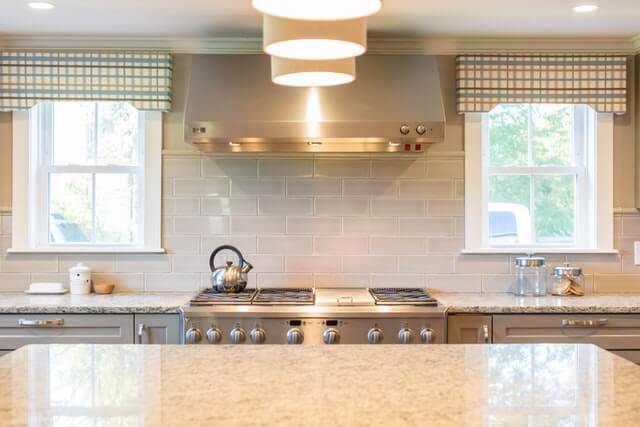 6: CLEAN GLASS OR MIRROR FEATURES
When cleaning the glass or mirror, make sure to use a commercial glass cleaner on a lint-free cloth or paper towel before washing it down. Because the cleaner can seep into the woodwork or other cabinet elements and produce discoloration, you don't want to spray it directly on the glass.
7: WIPE THE HANDLES, KNOBS AND PULLS
We know that you open and close your cabinets frequently throughout the day to access your stored foods. As a result, the area around the handles is likely to be the dirtiest and most prone to grime. Use a more robust cleaner and a toothbrush dipped in a 50/50 solution of vinegar and warm water to scrub the hardware and surrounding wood, as well as the handles and knobs, to effectively cleanse this problematic region. Remove the hardware from the cabinets and drawers if feasible to ensure that it is thoroughly cleaned.
8: RINSE WITH A DAMP CLOTH
When you're finished working and the cabinet is spotless, you can now proceed with cleaning the interior and outside with a moist cloth one last time. After cleaning your cabinet with chemicals, wipe it down with a clean damp towel to ensure that no chemicals are left behind. The cloth will pick up any leftover cleaning as well as any last traces of dirt or dust, ensuring that your cabinet is spotless and gleaming and ensuring that no standing water is left to damage the cabinet surfaces.
9: ALLOW TIME FOR DRYING
It's vital to wait an extra 20-30 minutes after cleaning it with another moist towel before organizing your belongings and letting it dry to avoid mold or rust spreading in damp locations. You can leave the doors of your cabinet open to allow for more ventilation and speedier drying.
10:CLEAN AND ORGANIZE THE CONTENTS OF THE CABINET
Because all of your cooking supplies are on your countertops or table, now is the ideal opportunity to organize and decorate it before putting everything back where it belongs. Please make sure that any jars, dusty cans and containers, or dishes are cleaned with warm water and dish soap with a moistened cloth while you're doing this. This is to ensure that no residue or filth on them will contaminate your cabinet. Before putting things back in the cupboards, make sure they're completely dry.