Custom Kitchen Features – the Distinction Is in the Details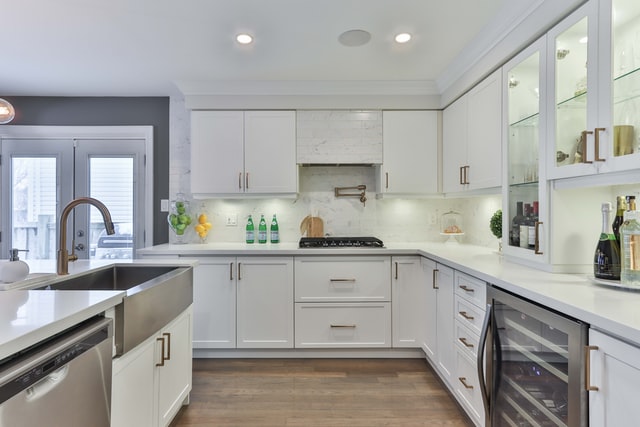 There will come a point when you would feel like renovating your kitchen for the better. After all, there are just too many reasons to do so like increasing your place's value and being able to move around freely a bit more. Now is the time to add custom kitchen cabinet features. You can't blame yourself if you feel a bit excited because this is the time to bring out the creativity in you. The sky is the limit when it comes to the options that you have right now. We surely have a lot in mind when it comes to redesigning your kitchen and here are some of them:
Customize Kitchen Cabinets
There are plenty of options of how you would want your kitchen storage presented. One is open shelving so that you won't forget the things that you have in stock. This way, you won't accidentally forget some ingredients and leave them there until they expire. Additionally, you can use the space to put up art decor and cookbooks. Just remember that it should look the way it should which would definitely increase the overall curb appeal of the entire place. Add minimalist lights to your kitchen and experience a huge change with one switch.
Customize Kitchen Island
Large drawers will increase the number of kitchen accessories that you can put on your kitchen island. After all, it is one of those things that will make you pretty happy. You can even have a built-in wine cabinet where you can put lots of wines so you can drink whenever you feel like it. That does not mean you have to all the time though. There are just many moments that call for a celebration and you would want to be in the middle of it all. There is even the option to dedicate a portion of your kitchen island for coffee making. Hence, that is where you will put your coffee maker and other ingredients so it won't take you too long to make a cup of coffee.
Customize Storage Options
There are plenty of ways to increase the things you can put in your kitchen cabinets. One way would be to put a lazy Susan in there so that you can alternate the stuff that you can use for the dishes that you can cook. Also, there is soft-close waste bins so you have a place to throw away stuff that you won't need anymore. You can't afford to let trash just lying around in your kitchen because small pests will smell those things and you would not want that to happen. You can also use a pull-out pantry so that you have a place to store your utensils or even ingredients that you can actually use in the future.
Add Wine Cabinet
Wine storage has never been too popular these days with the recent spike in wine sales. After all, who would not want to spend some time drinking wine in your kitchen when you have such a nice wine collection? You will surely love what you bring to the table when you come to think of it. Surely, the different flavours will bring many stories with you and your friends. There will come a time when you would want to pop the bottle and do it yourself and there won't be a thing that will stop you from doing so.
When we are talking about renovating the kitchen, that is like music to our ears because that is something we are passionate about. We would love to help you every step of the way. Venace is a company that has been in the industry for a long time and you know that we have seen all the custom kitchen cabinet features there is to see. Thus, we know which ones to recommend especially since we are aware of what is trending all over the world. Of course, we would need to check out what your kitchen looks like in order to give a recommendation. You can also give us your budget and we will still make it worthwhile. You would be amazed at how awesome our suggestions are and you can buy all the stuff from us.