Kitchen Planning: How to Pick the Best Metals for Your Taps and Handles
When planning a new kitchen design, it can be hard to know where to even start, let alone which metals are the best for you! Many renovators put taps, handles, and other kitchen accessories to the bottom of their list, thinking these are finishing touches, however knowing which metals are best for you could help to lower overall costs and make kitchen maintenance a lot quicker.
Given the role most taps and handles have to play, Modern taps are made of materials that do not corrode, which will ensure the metals do not seep into the clean water provided. This means the only aspects left to consider are price, style, and overall value. But where do you even start?
By looking at the different types of metals available for your kitchen tap handles, you can see which ones are within your budget, which metals suit your lifestyle, and which style works best for you.

Brass
One of the top choices for taps and handles, brass is an incredibly robust metal and one of the easiest to clean, making it a favorite for a lot of people. Most Brass fixings come in two types: polished or brushed; the former provides a shiny look similar to chrome, while the latter provides an elegant muted look.
Brass Kitchen Handles have taken off in popularity in recent years due to the rise of warm metals such as gold and copper making a comeback.
Brass taps are usually coated with a material like titanium to prevent scratches or any discoloration, thus making them much easier to clean and maintain than other metals.
With high quality for your kitchen, brass is also one of the most expensive metals to use, which can be a deal-breaker if you are renovating on a budget. However, brass is known to stand the test of time, and will require very minimal maintenance.

Brushed Nickel
Another incredibly robust metal, Brushed Nickel is just as strong and easy to clean as brass, but at a much lower price point. The metal is known to have one of the most durable finishes and doesn't show watermarks or fingerprints, making it a great option for families or those who find they use their kitchen a lot.
Despite Brushed Nickel being so similar to brass in its ease of cleanness and sturdiness, the cheaper price of the material makes it a great option for those on a budget that still want the best quality they can afford, and brushed nickel can certainly provide that. brushed nickel is also much cheaper in the long term, given its reduced price to Brass, as it will require very little maintenance given its high quality.
Stainless Steel
A Timeless Classic for all Kitchens, Stainless Steel is one of the most common choices for taps and handles. Made of an iron-based alloy, it is corrosion and rust-resistant, making Stainless Steel Kitchen Handles a great choice for anyone.
Another scratch-resistant substance, this metal is just as easy to clean as brass and nickel, however, they do not stain resistant, therefore maintenance and regular cleaning are essential in keeping the tap looking the best as it can.
Stainless steel has been a favorite for years given its ability to match everything, and its durability, however, given that the metal needs to be maintained and can stain, it's not always a good choice for growing families or those who often make a mess.
Pewter
Another metal alloy made of tin, copper, and antimony, pewter is a much cheaper alternative to other metal taps. Pewter is also a robust metal, that does not tarnish or stain, however, pewter is a soft metal, meaning it can dent and bend easily and could break often, meaning the cheaper first cost could become the more expensive option down the line.
Because of this, pewter is not often recommended, however, due to its lack of tarnishing, and overall cheaper cost, this could be a good option for those who are more gentle in their usage and on a budget.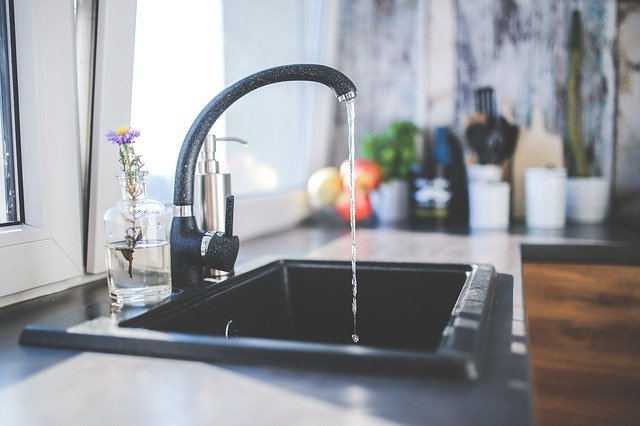 Chrome
A great option for those on a budget, chrome won't tarnish or corrode over time making it very durable. A versatile metal, Chrome has been as much of a staple piece as Stainless Steel over the last few years, mostly due to its affordability.
As the cheapest metal on the list, chrome does have some setbacks, with it being one of the hardest metals to keep visibly clean, thanks to its polished finish catching watermarks and fingerprints, however, the durability of this metal means that you will rarely find any damage to the metal, and can last for a very long time. Due to the metal being harder to keep clean than others, this may not be the best choice for growing families.
Which metal is best for me?
Depending on your budget, the best metals are those that will stand the test of time and require very little work or maintenance. While brass and nickel are some of the most expensive metals to use, when considering the costs of maintenance and potential repairs, they are much lower than those of metals like chrome or pewter.
Families with growing children should try to use metals like nickel and brass to avoid stains or damage to the tap or handles, as these metals are known to prevent these, and avoid metals like steel or pewter, as these can be easily damaged or stained.
Chrome is the cheapest Metal for those on a tight budget and does provide a look very similar to stainless steel, however, the maintenance process is much more time-consuming, so be aware of this before committing.
Knowing which material you want can really help in the redecoration process, and with so many styles it can be overwhelming to decide which one is right for you. Knowing which metal is best for your home will help in this process, and make the renovation a lot smoother.