The Best Kitchen Cabinet Hardware in 2021
Kitchen cabinets may appear as nothing more than ordinary storage boxes, but they can provide valuable help in keeping your kitchen organized and orderly. There are must-have cabinet parts and fixings that can help expand the efficiency and capacity of your storage and kitchen space. Some of these parts and fixings can also help you do your work efficiently and effectively.
Understand that not all manufacturers or suppliers of kitchen components and accessories can provide the quality that you need. Fortunately, Venace can provide quality products at reasonable prices. The items are aesthetically pleasing to look at, and they can deliver what they promise to do or provide.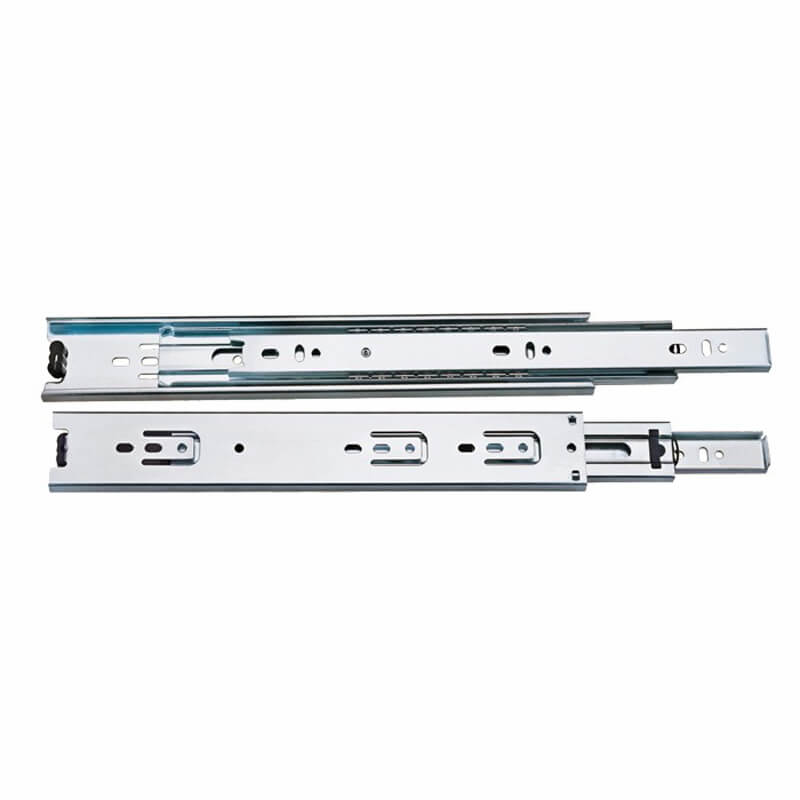 The following are the 10 must-have cabinet parts and fixings that can help create a more spacious kitchen without discarding any utensils, appliances, and other essentials in your kitchen.
The drawer slides of Venace make it easy to open and close the drawers of your kitchen cabinet to create ease and comfort when working in the kitchen. The slides can make opening and closing the drawers smooth and easy, and they are quiet. The dysfunctional drawer slides make it difficult to open or close the drawers and may create an unpleasant working experience. Instead of making you work fast, you may not be able to serve your prepared dishes on time.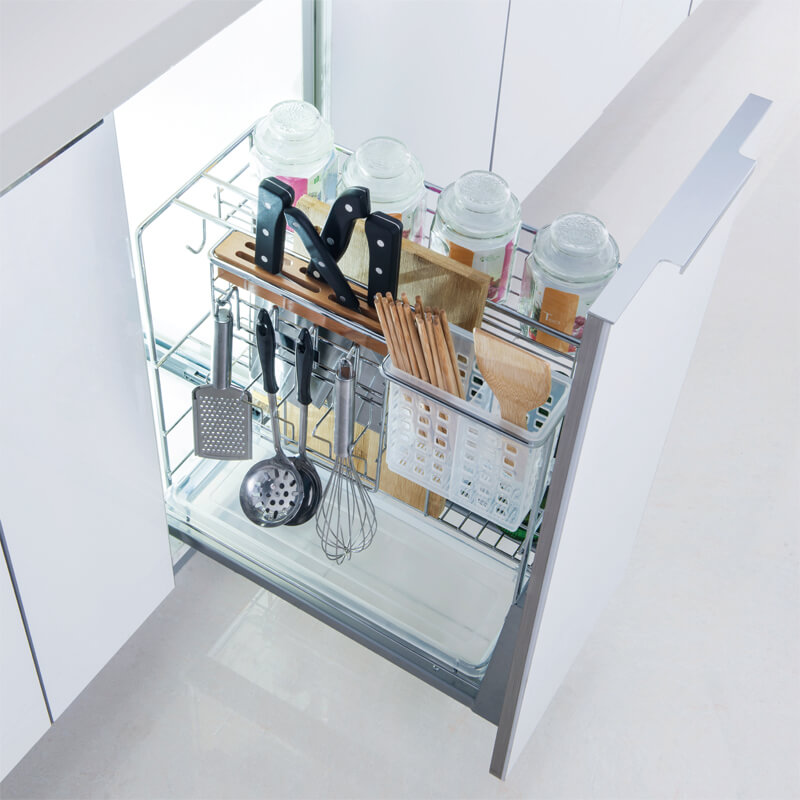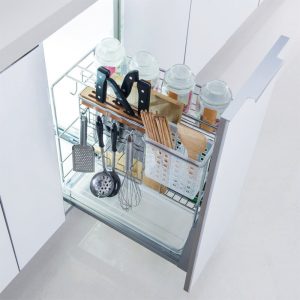 When you want to save time and space when preparing your dishes and keeping your usual tools and other essentials in one place, the Base Cabinet Pull-Out Basket is the one you need. This organizer allows you to store everything that you need to use in one place when you prepare your dish.
You don't need to disturb every cabinet to get your things and spices or seasonings when you are preparing the dish that you will cook. Also, you will be wasting a lot of time when you keep going to and fro just to get the utensils and ingredients that you need. You can put everything you need in the Base Cabinet Pull-Out Basket a night before or hours before you start preparing your dish. That way, you have everything ready in a single storage.
The blind corner kitchen cabinet can help maximize the space intended for storage. However, it is quite hard to access the content of a blind corner cabinet. Luckily, a lazy Susan blind corner organizer can help make it easy to reach out to the inner part of the blind corner cabinet. All you need to do is turn the revolving tray to retrieve the item that you need. It comes with an adjustable height to make it easy to fit your cabinet.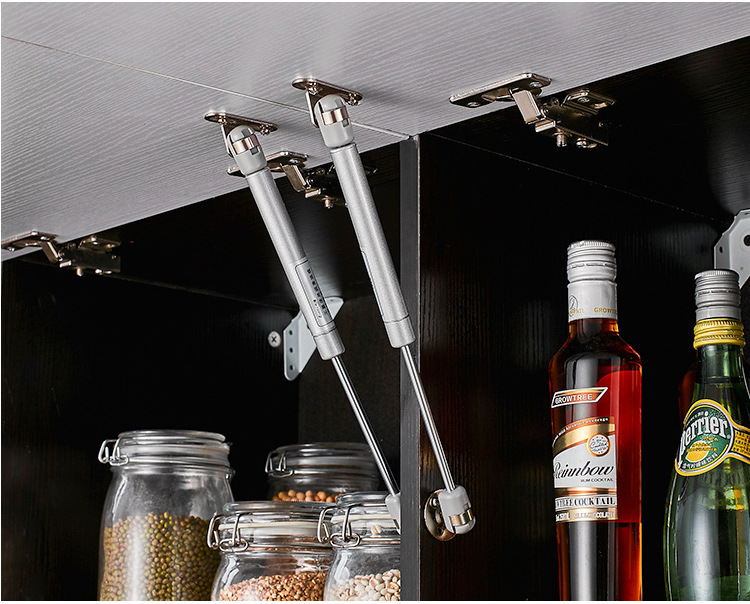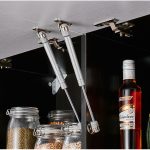 The hydro-pneumatic gas springs make it possible to lift, support, or lower cumbersome objects without sweating. It is one of the cabinet parts that can make things easier for you while working in the kitchen. The cabinet doors that use gas springs are easy to open. You don't need to close the cabinet door yourself when you are in a hurry.
The door will close slowly with the help of the cabinet gas spring. You don't even need to worry whether you closed the cabinet doors or not if you have the gas springs installed. The doors will eventually close.
Are you someone who puts importance on the aesthetic appeal of your kitchen? Are you someone who becomes more inspired to cook when you see that your kitchen is at its best? If you are, you will appreciate using cabinet concealed hinges for your kitchen cabinets. These hinges are also easy to install, adjust, and remove. They make opening and closing the cabinet doors softer and quieter.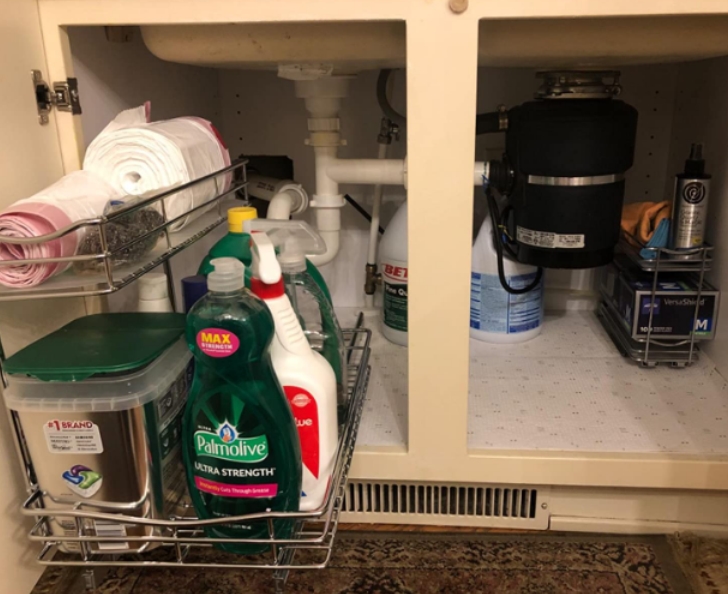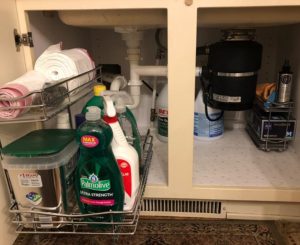 Cleaning agents and materials are usually kept under the sink in many homes. Often, they are not organized and even mar the aesthetic appeal of the entire kitchen. The Under Sink Pull-Out Organizer can help organize these cleaning agents and materials or whatever items you usually keep under the sink.
This under the sink organizer is a double-layer pull-out that can be detached and installed under the sinks. You can even use it in your bathroom. It is flexible enough to follow the layout of the plumbing fixtures. You can be certain that it will not cause trouble to the pipes.
7. Pantry Shelving Organizer
You may want to try the pantry shelving organizer to keep things orderly and well-maintained if you have large-capacity storage. You are free to create a storage system according to your requirements and preference. It is easy to locate the things you need when you have well-maintained, organized storage.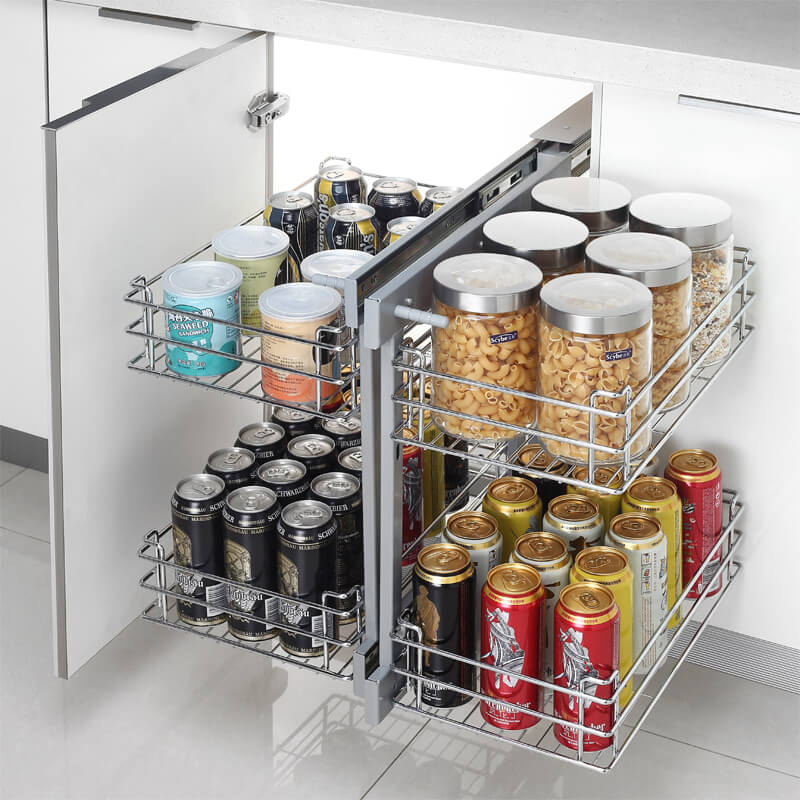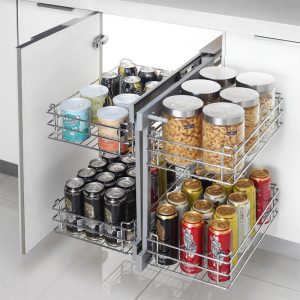 This organizer makes it easy to retrieve the things inside a medium to the large blind corner cabinet. It is heavy-duty storage that has four baskets. You can organize different utensils, kitchen appliances, and other essentials for each basket. It comes with a slide rail that makes it easy to push and pull the baskets when you need to retrieve the items that you need. It is a great space saver, and it allows you to use your blind corner cabinet to the fullest.
9. Kitchen Cabinet Lift System
Overhead kitchen cabinets are great space-savers, especially if you have a small kitchen. However, it may be a problem if you have trouble reaching the top cabinet. It is a good thing that there's Kitchen Cabinet Lift System that can make things easy for you.
With the lift system, you don't need to worry about not reaching the items in the topmost part of the cabinet because you can pull down the organizer even without using a ladder. The lift system can hold more than 50 kilos of kitchen supplies, appliances, and/or utensils.
Piling up the plates inside the cupboard may look organized and orderly, making it hard to get the particular plate you need within the pile. The Cabinet dish rack allows you to store the plates sideways, making it easier for you to retrieve the serving plate you need.
This dish rack has a durable construction that can hold many plates without getting wobbly. It will fit your cabinet perfectly.
Go get your 10 must-have cabinet parts and fixings today and whip up delicious meals without fuss.